Winsor & Newton Cotman Brushes Series 555 Long Handled Short Flat/Bright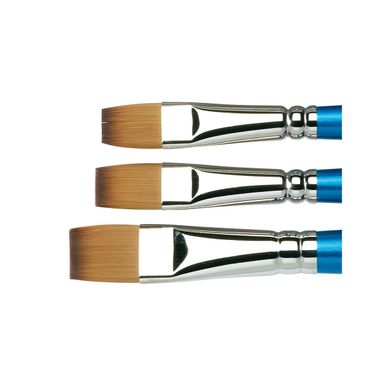 Cotman brushes are a range of pure synthetic watercolour brushes of the highest quality. By blending fibres of differing thickness, the three most important qualities sought after by artists' is achieved. Three thicker fibres contribute strength and spring whilst the thinner fibres improve colour carrying capacity. Together they retain a perfect point, time after time.
Series 555 brushes are designed for extra control and delicacy with Oil, Alkyd and Acrylic painting. This flat shaped, long-handled brush creates broad strokes with the flat side or thin lines with its fine chisel edge.
Size 0

0170736 - #0094376872590

Length: 0 mm

Width: 0 mm

Height: 0 mm

Weight: 0 g

Size 1

0170744 - #0094376872606

Length: 6 mm

Width: 6 mm

Height: 281 mm

Weight: 4 g

Size 3

0170760 - #0094376872620

Length: 6 mm

Width: 6 mm

Height: 285 mm

Weight: 4 g

Size 5

0170786 - #0094376872644

Length: 7 mm

Width: 7 mm

Height: 286 mm

Weight: 6 g

Size 8

0170809 - #0094376872668

Length: 8 mm

Width: 8 mm

Height: 293 mm

Weight: 9 g

Size 10

0170817 - #0094376872675

Length: 10 mm

Width: 10 mm

Height: 297 mm

Weight: 11 g

Size 12

0170825 - #0094376872682

Length: 11 mm

Width: 12 mm

Height: 304 mm

Weight: 15 g
|   | Barcode | Length (mm) | Width (mm) | Height (mm) | Weight (g) |
| --- | --- | --- | --- | --- | --- |
| | 0094376872590 | 0 | 0 | 0 | 0 |
| | 0094376872606 | 6 | 6 | 281 | 4 |
| | 0094376872620 | 6 | 6 | 285 | 4 |
| | 0094376872644 | 7 | 7 | 286 | 6 |
| | 0094376872668 | 8 | 8 | 293 | 9 |
| | 0094376872675 | 10 | 10 | 297 | 11 |
| | 0094376872682 | 11 | 12 | 304 | 15 |