Winsor & Newton Cotman Brushes Series 888 Long Handled Fan
Cotman brushes are a range of pure synthetic watercolour brushes of the highest quality. By blending fibres of differing thickness, the three most important qualities sought after by artists' is achieved. Three thicker fibres contribute strength and spring whilst the thinner fibres improve colour carrying capacity. Together they retain a perfect point, time after time.
Series 888 brushes are ideal for blending, softening edges and creating textures.
Retail Specifications
Barcode
Length
(mm)
Width
(mm)
Height
(mm)
Weight
(g)
EDP: 0170922 Size 2
0094376872736
7
40
291
8
EDP: 0170930 Size 4
0094376872743
7
45
297
3
EDP: 0170948 Size 6
0094376872750
8
65
313
11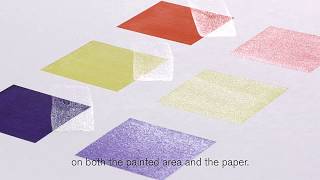 Iridescent watercolour medium | Winsor & Newton Masterclass
Tips and techniques of how to make your own iridescent watercolours.