Derwent Accessories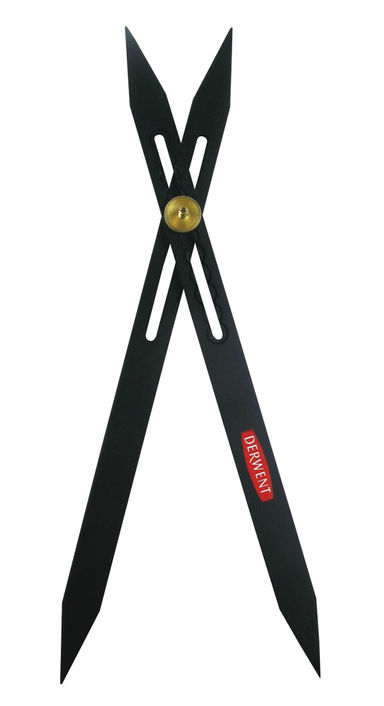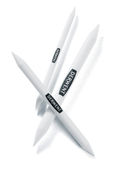 Scale Divider
The Derwent Scale Divider is an ingenious drawing tool invaluable to artists which allows you to scale your pictures in ratios from 4:1 to 1:4. It makes it easy to transfer measurements from life, photographs and sketches ensuring you achieve accurate proportions every time. A traditional tool, it is ideal for helping to achieve the correct perspective in your drawings. It folds nearly away and will slip easily into a backpack when you are out and about.
Paper stumps
The paper stump makes the difficult job of blending dusty media such as charcoal and pastel much easier and cleaner. Once the stumps get dirty and the points wear down they can be easily cleaned and re-pointed using a sandpaper block. Derwent paper stumps can be found individually or in a handy pack of 3 sizes ranging in diameter from 5.5mm to 10.5mm. The paper stumps are made from compressed rice paper and with a point at each end. It also enables you to get into small areas and smudge with the point.
Pencil Extenders
Prolong the life of your pencils with these handy extenders. The silver one fits the Derwent larger diameter pencils such as Inktense and Artists while the black one fits all the Derwent standard size pencils such as Graphic and Watercolour. Available in a pack containing one of each size.
Scale Divider

8632726 - #5028252322577

Length: 400 mm

Width: 70 mm

Height: 0 mm

Weight: 80 g

Pencil Extenders (Pack 2)

0426780 - #5028252050210

Length: 205 mm

Width: 80 mm

Height: 0 mm

Weight: 30 g

Paper Stump (Pack 3)

0426800 - #5028252321068

Length: 0 mm

Width: 0 mm

Height: 0 mm

Weight: 0 g
 
Barcode
Length (mm)
Width (mm)
Height (mm)
Weight (g)

EDP:8632726

Scale Divider

5028252322577
400
70
0
80

EDP:0426780

Pencil Extenders (Pack 2)

5028252050210
205
80
0
30

EDP:0426800

Paper Stump (Pack 3)

5028252321068
0
0
0
0