Derwent Artists Pencils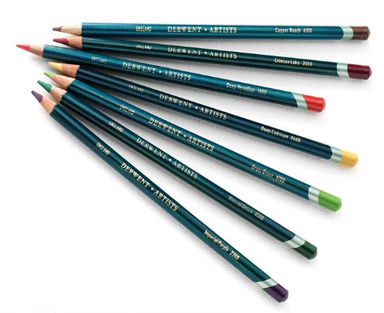 You'll be spoiled for choice with Derwent Artists Pencils. There are 120 colours in the range and they are ideal for layering and blending so you can create an infinite spectrum of subtly different hues and tints.
120 highly pigmented colours
Dry colour pencil
Wide 4mm core
Round 8mm barrel
Soft wide colour core for drawing and colouring.
Bright external lacquering.
Traditional round barrel allows easy movement for loose expressive drawing.
Barrel made from California incense cedar wood.
Extra wide 4.0mm core provides excellent point strength and useful for shading large areas.
Premium quality core, extremely long lasting and will not crumble.
Soft textured core, capable of both very intense and delicate shading.
Light fastness ensures the colours remain true, with no fixing required on finished work.
Assorted Tin of 12

0364020 - #5010255830593

Length: 0 mm

Width: 0 mm

Height: 0 mm

Weight: 0 g

Assorted Tin of 24

0364030 - #5010255830609

Length: 0 mm

Width: 0 mm

Height: 0 mm

Weight: 0 g

Assorted Tin of 36

0364040 - #5010255830630

Length: 0 mm

Width: 0 mm

Height: 0 mm

Weight: 0 g

Assorted Tin of 72

0364050 - #5010255830647

Length: 0 mm

Width: 0 mm

Height: 0 mm

Weight: 0 g

Assorted Wooden Box of 72

0364060 - #5010255712721

Length: 50 mm

Width: 425 mm

Height: 242 mm

Weight: 1680 g

Zinc Yellow

1804370 - #636638000145

Length: 9 mm

Width: 9 mm

Height: 179 mm

Weight: 8 g

Lemon Cadmium

1804371 - #636638000152

Length: 9 mm

Width: 9 mm

Height: 179 mm

Weight: 8 g

Primrose Yellow

1804373 - #636638000176

Length: 9 mm

Width: 9 mm

Height: 179 mm

Weight: 8 g

Straw Yellow

1804375 - #636638000190

Length: 9 mm

Width: 9 mm

Height: 179 mm

Weight: 8 g

Buttercup Yellow

1804376 - #636638000206

Length: 9 mm

Width: 9 mm

Height: 179 mm

Weight: 8 g

Deep Cadmium

1804377 - #636638000213

Length: 9 mm

Width: 9 mm

Height: 179 mm

Weight: 8 g

Naples Yellow

1804378 - #636638000220

Length: 9 mm

Width: 9 mm

Height: 179 mm

Weight: 8 g

Middle Chrome

1804379 - #636638000237

Length: 9 mm

Width: 9 mm

Height: 179 mm

Weight: 8 g

Deep Chrome

1804380 - #636638000244

Length: 9 mm

Width: 9 mm

Height: 179 mm

Weight: 8 g

Orange Chrome

1804381 - #636638000251

Length: 9 mm

Width: 9 mm

Height: 179 mm

Weight: 8 g

Spectrum Orange

1804382 - #636638000268

Length: 9 mm

Width: 9 mm

Height: 179 mm

Weight: 8 g

Scarlet Lake

1804383 - #636638000275

Length: 9 mm

Width: 9 mm

Height: 179 mm

Weight: 8 g

Pale Vermillion

1804384 - #636638000282

Length: 9 mm

Width: 9 mm

Height: 179 mm

Weight: 8 g

Deep Vermillion

1804385 - #636638000299

Length: 9 mm

Width: 9 mm

Height: 179 mm

Weight: 8 g

Bright Red

1804386 - #636638000305

Length: 9 mm

Width: 9 mm

Height: 179 mm

Weight: 8 g

Geranium Lake

1804387 - #636638000312

Length: 9 mm

Width: 9 mm

Height: 179 mm

Weight: 8 g

Flesh Pink

1804388 - #636638000329

Length: 9 mm

Width: 9 mm

Height: 179 mm

Weight: 8 g

Light Sienna

1804389 - #636638000336

Length: 9 mm

Width: 9 mm

Height: 179 mm

Weight: 8 g

Salmon

1804390 - #636638000343

Length: 9 mm

Width: 9 mm

Height: 179 mm

Weight: 8 g

Ash Rose

1804391 - #636638000350

Length: 9 mm

Width: 9 mm

Height: 179 mm

Weight: 8 g

Pink Madder Lake

1804392 - #636638000367

Length: 9 mm

Width: 9 mm

Height: 179 mm

Weight: 8 g

Rose Pink

1804393 - #636638000374

Length: 9 mm

Width: 9 mm

Height: 179 mm

Weight: 8 g

Rioja

1804394 - #636638000381

Length: 9 mm

Width: 9 mm

Height: 179 mm

Weight: 8 g

Madder Carmine

1804395 - #636638000398

Length: 9 mm

Width: 9 mm

Height: 179 mm

Weight: 8 g

Claret

1804396 - #636638000404

Length: 9 mm

Width: 9 mm

Height: 179 mm

Weight: 8 g

Crimson Lake

1804397 - #636638000411

Length: 9 mm

Width: 9 mm

Height: 179 mm

Weight: 8 g

Rose Madder Lake

1804398 - #636638000428

Length: 9 mm

Width: 9 mm

Height: 179 mm

Weight: 8 g

Plum

1804399 - #636638000435

Length: 9 mm

Width: 9 mm

Height: 179 mm

Weight: 8 g

Grape

1804489 - #636638000442

Length: 9 mm

Width: 9 mm

Height: 179 mm

Weight: 8 g

Magenta

1804401 - #636638000459

Length: 9 mm

Width: 9 mm

Height: 179 mm

Weight: 8 g

Heather

1804402 - #636638000466

Length: 9 mm

Width: 9 mm

Height: 179 mm

Weight: 8 g

Soft Violet

1804403 - #636638000473

Length: 9 mm

Width: 9 mm

Height: 179 mm

Weight: 8 g

Imperial Purple

1804404 - #636638000480

Length: 9 mm

Width: 9 mm

Height: 179 mm

Weight: 8 g

Red Violet Lake

1804405 - #636638000497

Length: 9 mm

Width: 9 mm

Height: 179 mm

Weight: 8 g

Slate Violet

1804406 - #636638000503

Length: 9 mm

Width: 9 mm

Height: 179 mm

Weight: 8 g

Dark Violet

1804407 - #636638000510

Length: 9 mm

Width: 9 mm

Height: 179 mm

Weight: 8 g

Light Violet

1804408 - #636638000527

Length: 9 mm

Width: 9 mm

Height: 179 mm

Weight: 8 g

Blue Violet Lake

1804409 - #636638000534

Length: 9 mm

Width: 9 mm

Height: 179 mm

Weight: 8 g

Delft Blue

1804491 - #636638000541

Length: 9 mm

Width: 9 mm

Height: 179 mm

Weight: 8 g

Royal Blue

1804492 - #636638000558

Length: 9 mm

Width: 9 mm

Height: 179 mm

Weight: 8 g

Mid Ultramarine

1804412 - #636638000565

Length: 9 mm

Width: 9 mm

Height: 179 mm

Weight: 8 g

Pale Ultramarine

1804414 - #636638000589

Length: 9 mm

Width: 9 mm

Height: 179 mm

Weight: 8 g

Ultramarine

1804415 - #636638000596

Length: 9 mm

Width: 9 mm

Height: 179 mm

Weight: 8 g

Smalt Blue

1804416 - #636638000602

Length: 9 mm

Width: 9 mm

Height: 179 mm

Weight: 8 g

Cobalt Blue

1804417 - #636638000619

Length: 9 mm

Width: 9 mm

Height: 179 mm

Weight: 8 g

Spectrum Blue

1804418 - #636638000626

Length: 9 mm

Width: 9 mm

Height: 179 mm

Weight: 8 g

Light Blue

1804419 - #636638000633

Length: 9 mm

Width: 9 mm

Height: 179 mm

Weight: 8 g

Sky Blue

1804420 - #636638000640

Length: 9 mm

Width: 9 mm

Height: 179 mm

Weight: 8 g

Prussian Blue

1804421 - #636638000657

Length: 9 mm

Width: 9 mm

Height: 179 mm

Weight: 8 g

Indigo Blue

1804422 - #636638000664

Length: 9 mm

Width: 9 mm

Height: 179 mm

Weight: 8 g

Ash Blue

1804423 - #636638000671

Length: 9 mm

Width: 9 mm

Height: 179 mm

Weight: 8 g

Phthalo Blue

1804424 - #636638000688

Length: 9 mm

Width: 9 mm

Height: 179 mm

Weight: 8 g

Oriental Blue

1804425 - #636638000695

Length: 9 mm

Width: 9 mm

Height: 179 mm

Weight: 8 g

Kingfisher Blue

1804427 - #636638000718

Length: 9 mm

Width: 9 mm

Height: 179 mm

Weight: 8 g

Turquoise Blue

1804428 - #636638000725

Length: 9 mm

Width: 9 mm

Height: 179 mm

Weight: 8 g

Turquoise Green

1804429 - #636638000732

Length: 9 mm

Width: 9 mm

Height: 179 mm

Weight: 8 g

Jade Green

1804430 - #636638000749

Length: 9 mm

Width: 9 mm

Height: 179 mm

Weight: 8 g

Cobalt Green

1804431 - #636638000756

Length: 9 mm

Width: 9 mm

Height: 179 mm

Weight: 8 g

Fir Green

1804432 - #636638000763

Length: 9 mm

Width: 9 mm

Height: 179 mm

Weight: 8 g

Spruce Green

1804433 - #636638000770

Length: 9 mm

Width: 9 mm

Height: 179 mm

Weight: 8 g

Distant Green

1804434 - #636638000787

Length: 9 mm

Width: 9 mm

Height: 179 mm

Weight: 8 g

Phthalo Green

1804435 - #636638000794

Length: 9 mm

Width: 9 mm

Height: 179 mm

Weight: 8 g

Juniper Green

1804436 - #636638000800

Length: 9 mm

Width: 9 mm

Height: 179 mm

Weight: 8 g

Bottle Green

1804437 - #636638000817

Length: 9 mm

Width: 9 mm

Height: 179 mm

Weight: 8 g

Water Green

1804438 - #636638000824

Length: 9 mm

Width: 9 mm

Height: 179 mm

Weight: 8 g

Mineral Green

1804439 - #636638000831

Length: 9 mm

Width: 9 mm

Height: 179 mm

Weight: 8 g

Emerald Green

1804440 - #636638000848

Length: 9 mm

Width: 9 mm

Height: 179 mm

Weight: 8 g

Grass Green

1804441 - #636638000855

Length: 9 mm

Width: 9 mm

Height: 179 mm

Weight: 8 g

May Green

1804442 - #636638000862

Length: 9 mm

Width: 9 mm

Height: 179 mm

Weight: 8 g

Sap Green

1804443 - #636638000879

Length: 9 mm

Width: 9 mm

Height: 179 mm

Weight: 8 g

Cedar Green

1804444 - #636638000886

Length: 9 mm

Width: 9 mm

Height: 179 mm

Weight: 8 g

Grey Green

1804445 - #636638000893

Length: 9 mm

Width: 9 mm

Height: 179 mm

Weight: 8 g

Olive Green

1804446 - #636638000909

Length: 9 mm

Width: 9 mm

Height: 179 mm

Weight: 8 g

Moss Green

1804447 - #636638000916

Length: 9 mm

Width: 9 mm

Height: 179 mm

Weight: 8 g

Light Moss

1804448 - #636638000923

Length: 9 mm

Width: 9 mm

Height: 179 mm

Weight: 8 g

Olive Earth

1804452 - #636638000961

Length: 9 mm

Width: 9 mm

Height: 179 mm

Weight: 8 g

Sepia

1804454 - #636638000985

Length: 9 mm

Width: 9 mm

Height: 179 mm

Weight: 8 g

Felt Grey

1804455 - #636638000992

Length: 9 mm

Width: 9 mm

Height: 179 mm

Weight: 8 g

Burnt Umber

1804456 - #636638001005

Length: 9 mm

Width: 9 mm

Height: 179 mm

Weight: 8 g

Vandyke Brown

1804457 - #636638001012

Length: 9 mm

Width: 9 mm

Height: 179 mm

Weight: 8 g

Raw Umber

1804458 - #636638001029

Length: 9 mm

Width: 9 mm

Height: 179 mm

Weight: 8 g

Brown Ochre

1804459 - #636638001036

Length: 9 mm

Width: 9 mm

Height: 179 mm

Weight: 8 g

Light Ochre

1804460 - #636638001043

Length: 9 mm

Width: 9 mm

Height: 179 mm

Weight: 8 g

Yellow Ochre

1804461 - #636638001050

Length: 9 mm

Width: 9 mm

Height: 179 mm

Weight: 8 g

Raw Sienna

1804462 - #636638001067

Length: 9 mm

Width: 9 mm

Height: 179 mm

Weight: 8 g

Golden Brown

1804463 - #636638001074

Length: 9 mm

Width: 9 mm

Height: 179 mm

Weight: 8 g

Burnt Yelow Ochre

1804464 - #636638001081

Length: 9 mm

Width: 9 mm

Height: 179 mm

Weight: 8 g

Copper Beech

1804465 - #636638001098

Length: 9 mm

Width: 9 mm

Height: 179 mm

Weight: 8 g

Burnt Sienna

1804466 - #636638001104

Length: 9 mm

Width: 9 mm

Height: 179 mm

Weight: 8 g

Venetian Red

1804467 - #636638001111

Length: 9 mm

Width: 9 mm

Height: 179 mm

Weight: 8 g

Terracotta

1804468 - #636638001128

Length: 9 mm

Width: 9 mm

Height: 179 mm

Weight: 8 g

Autumn Leaf

1804470 - #636638001142

Length: 9 mm

Width: 9 mm

Height: 179 mm

Weight: 8 g

Burnt Rose

1804474 - #636638001180

Length: 9 mm

Width: 9 mm

Height: 179 mm

Weight: 8 g

Taupe

1804476 - #636638001203

Length: 9 mm

Width: 9 mm

Height: 179 mm

Weight: 8 g

Bistre

1804477 - #636638001210

Length: 9 mm

Width: 9 mm

Height: 179 mm

Weight: 8 g

Burnt Carmine

1804478 - #636638001227

Length: 9 mm

Width: 9 mm

Height: 179 mm

Weight: 8 g

Chocolate

1804479 - #636638001234

Length: 9 mm

Width: 9 mm

Height: 179 mm

Weight: 8 g

Mars Black

1804480 - #636638001241

Length: 9 mm

Width: 9 mm

Height: 179 mm

Weight: 8 g

Ivory Black

1804481 - #636638001258

Length: 9 mm

Width: 9 mm

Height: 179 mm

Weight: 8 g

Blue Grey

1804482 - #636638001265

Length: 9 mm

Width: 9 mm

Height: 179 mm

Weight: 8 g

Gunmetal

1804483 - #636638001272

Length: 9 mm

Width: 9 mm

Height: 179 mm

Weight: 8 g

Storm Grey

1804484 - #636638001289

Length: 9 mm

Width: 9 mm

Height: 179 mm

Weight: 8 g

French Grey

1804485 - #636638001296

Length: 9 mm

Width: 9 mm

Height: 179 mm

Weight: 8 g

Silver Grey

1804486 - #636638001302

Length: 9 mm

Width: 9 mm

Height: 179 mm

Weight: 8 g

Fell Mist

1804487 - #636638001319

Length: 9 mm

Width: 9 mm

Height: 179 mm

Weight: 8 g

Chinese White

1804488 - #636638001326

Length: 9 mm

Width: 9 mm

Height: 179 mm

Weight: 8 g
 
Barcode
Length (mm)
Width (mm)
Height (mm)
Weight (g)

EDP:0364020

Assorted Tin of 12

5010255830593
0
0
0
0

EDP:0364030

Assorted Tin of 24

5010255830609
0
0
0
0

EDP:0364040

Assorted Tin of 36

5010255830630
0
0
0
0

EDP:0364050

Assorted Tin of 72

5010255830647
0
0
0
0

EDP:0364060

Assorted Wooden Box of 72

5010255712721
50
425
242
1680
636638000145
9
9
179
8

EDP:1804371

Lemon Cadmium

636638000152
9
9
179
8

EDP:1804373

Primrose Yellow

636638000176
9
9
179
8
636638000190
9
9
179
8

EDP:1804376

Buttercup Yellow

636638000206
9
9
179
8
636638000213
9
9
179
8

EDP:1804378

Naples Yellow

636638000220
9
9
179
8

EDP:1804379

Middle Chrome

636638000237
9
9
179
8
636638000244
9
9
179
8

EDP:1804381

Orange Chrome

636638000251
9
9
179
8

EDP:1804382

Spectrum Orange

636638000268
9
9
179
8
636638000275
9
9
179
8

EDP:1804384

Pale Vermillion

636638000282
9
9
179
8

EDP:1804385

Deep Vermillion

636638000299
9
9
179
8
636638000305
9
9
179
8

EDP:1804387

Geranium Lake

636638000312
9
9
179
8
636638000329
9
9
179
8
636638000336
9
9
179
8
636638000343
9
9
179
8
636638000350
9
9
179
8

EDP:1804392

Pink Madder Lake

636638000367
9
9
179
8
636638000374
9
9
179
8
636638000381
9
9
179
8

EDP:1804395

Madder Carmine

636638000398
9
9
179
8
636638000404
9
9
179
8
636638000411
9
9
179
8

EDP:1804398

Rose Madder Lake

636638000428
9
9
179
8
636638000435
9
9
179
8
636638000442
9
9
179
8
636638000459
9
9
179
8
636638000466
9
9
179
8
636638000473
9
9
179
8

EDP:1804404

Imperial Purple

636638000480
9
9
179
8

EDP:1804405

Red Violet Lake

636638000497
9
9
179
8
636638000503
9
9
179
8
636638000510
9
9
179
8
636638000527
9
9
179
8

EDP:1804409

Blue Violet Lake

636638000534
9
9
179
8
636638000541
9
9
179
8
636638000558
9
9
179
8

EDP:1804412

Mid Ultramarine

636638000565
9
9
179
8

EDP:1804414

Pale Ultramarine

636638000589
9
9
179
8
636638000596
9
9
179
8
636638000602
9
9
179
8
636638000619
9
9
179
8

EDP:1804418

Spectrum Blue

636638000626
9
9
179
8
636638000633
9
9
179
8
636638000640
9
9
179
8

EDP:1804421

Prussian Blue

636638000657
9
9
179
8
636638000664
9
9
179
8
636638000671
9
9
179
8
636638000688
9
9
179
8

EDP:1804425

Oriental Blue

636638000695
9
9
179
8

EDP:1804427

Kingfisher Blue

636638000718
9
9
179
8

EDP:1804428

Turquoise Blue

636638000725
9
9
179
8

EDP:1804429

Turquoise Green

636638000732
9
9
179
8
636638000749
9
9
179
8
636638000756
9
9
179
8
636638000763
9
9
179
8
636638000770
9
9
179
8

EDP:1804434

Distant Green

636638000787
9
9
179
8

EDP:1804435

Phthalo Green

636638000794
9
9
179
8

EDP:1804436

Juniper Green

636638000800
9
9
179
8
636638000817
9
9
179
8
636638000824
9
9
179
8

EDP:1804439

Mineral Green

636638000831
9
9
179
8

EDP:1804440

Emerald Green

636638000848
9
9
179
8
636638000855
9
9
179
8
636638000862
9
9
179
8
636638000879
9
9
179
8
636638000886
9
9
179
8
636638000893
9
9
179
8
636638000909
9
9
179
8
636638000916
9
9
179
8
636638000923
9
9
179
8
636638000961
9
9
179
8
636638000985
9
9
179
8
636638000992
9
9
179
8
636638001005
9
9
179
8

EDP:1804457

Vandyke Brown

636638001012
9
9
179
8
636638001029
9
9
179
8
636638001036
9
9
179
8
636638001043
9
9
179
8
636638001050
9
9
179
8
636638001067
9
9
179
8
636638001074
9
9
179
8

EDP:1804464

Burnt Yelow Ochre

636638001081
9
9
179
8
636638001098
9
9
179
8
636638001104
9
9
179
8
636638001111
9
9
179
8
636638001128
9
9
179
8
636638001142
9
9
179
8
636638001180
9
9
179
8
636638001203
9
9
179
8
636638001210
9
9
179
8

EDP:1804478

Burnt Carmine

636638001227
9
9
179
8
636638001234
9
9
179
8
636638001241
9
9
179
8
636638001258
9
9
179
8
636638001265
9
9
179
8
636638001272
9
9
179
8
636638001289
9
9
179
8
636638001296
9
9
179
8
636638001302
9
9
179
8
636638001319
9
9
179
8

EDP:1804488

Chinese White

636638001326
9
9
179
8