Derwent Charcoal Pencils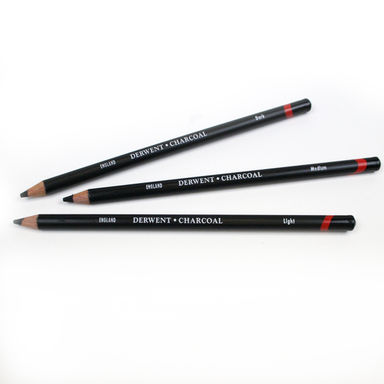 Often used for life studies charcoal is often considered very traditional. But encase it in wood and suddenly you have something much more contemporary - Derwent Charcoal Pencils! They will give you great control over your drawings but keep all those traditional charcoal effects with less mess!
3 grades
Round 8mm barrel
Wide 4mm core
Naturally water-soluble
Set of 6 contains: 1 x light, 2 x medium, 2 x dark, 1 x white charcoal pencils and a sharpener.
Set of 6

5008311 - #5028252170307

Length: 242 mm

Width: 65 mm

Height: 14 mm

Weight: 123 g

Light

1806910 - #636638004013

Length: 9 mm

Width: 9 mm

Height: 0 mm

Weight: 6 g

Medium

1806911 - #636638004020

Length: 9 mm

Width: 9 mm

Height: 0 mm

Weight: 6 g

Dark

1806912 - #636638004037

Length: 9 mm

Width: 9 mm

Height: 0 mm

Weight: 6 g
|   | Barcode | Length (mm) | Width (mm) | Height (mm) | Weight (g) |
| --- | --- | --- | --- | --- | --- |
| | 5028252170307 | 242 | 65 | 14 | 123 |
| | 636638004013 | 9 | 9 | 0 | 6 |
| | 636638004020 | 9 | 9 | 0 | 6 |
| | 636638004037 | 9 | 9 | 0 | 6 |