Derwent Coloursoft Pencils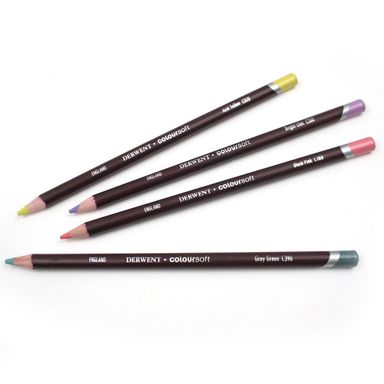 The Derwent Coloursoft is the softest Derwent pencil ever. They have a really soft texture which brings out the richness of the colour.
72 vibrant colours
Dry colour pencil
Round 8mm barrel
Wide 4mm core
Soft texture
The pencils have a soft, velvety strip, ideal for the quick application of bold colour.
The wide colour strip together with the rich colour allows building up of colour really quickly.
This is the perfect range for doing bold still-life drawings or contemporary landscapes.
Skintone Tin of 6

0426460 - #5028252101943

Length: 14 mm

Width: 65 mm

Height: 242 mm

Weight: 128 g

Assorted Tin of 12

7006860 - #5028252188920

Length: 14 mm

Width: 118 mm

Height: 198 mm

Weight: 193 g

Assorted Tin of 24

7006861 - #5028252188937

Length: 236 mm

Width: 198 mm

Height: 14 mm

Weight: 393 g

Assorted Tin of 36

7006862 - #5028252188944

Length: 14 mm

Width: 352 mm

Height: 198 mm

Weight: 630 g

Assorted Tin of 72

7006863 - #5028252188951

Length: 26 mm

Width: 354 mm

Height: 198 mm

Weight: 940 g

Cream

8004621 - #5028252188197

Length: 9 mm

Width: 9 mm

Height: 179 mm

Weight: 6 g

Acid Yellow

8004604 - #5028252188203

Length: 9 mm

Width: 9 mm

Height: 179 mm

Weight: 6 g

Lemon Yellow

8004635 - #5028252188210

Length: 9 mm

Width: 9 mm

Height: 179 mm

Weight: 6 g

Deep Cadmium

8004618 - #5028252188227

Length: 9 mm

Width: 9 mm

Height: 179 mm

Weight: 6 g

Yellow Ochre

8004675 - #5028252188234

Length: 9 mm

Width: 9 mm

Height: 179 mm

Weight: 6 g

Pale Orange

8004653 - #5028252188241

Length: 9 mm

Width: 9 mm

Height: 179 mm

Weight: 6 g

Orange

8004648 - #5028252188258

Length: 9 mm

Width: 9 mm

Height: 179 mm

Weight: 6 g

Bright Orange

8004612 - #5028252188265

Length: 9 mm

Width: 9 mm

Height: 179 mm

Weight: 6 g

Blood Orange

8004608 - #5028252188272

Length: 9 mm

Width: 9 mm

Height: 179 mm

Weight: 6 g

Rose

8004665 - #5028252188289

Length: 9 mm

Width: 9 mm

Height: 179 mm

Weight: 6 g

Scarlet

8004667 - #5028252188296

Length: 9 mm

Width: 9 mm

Height: 179 mm

Weight: 6 g

Red

8004664 - #5028252188302

Length: 9 mm

Width: 9 mm

Height: 179 mm

Weight: 6 g

Deep Red

8004625 - #5028252188319

Length: 9 mm

Width: 9 mm

Height: 179 mm

Weight: 6 g

Deep Fuchsia

8004628 - #5028252188326

Length: 9 mm

Width: 9 mm

Height: 179 mm

Weight: 6 g

Cranberry

8004620 - #5028252188333

Length: 9 mm

Width: 9 mm

Height: 179 mm

Weight: 6 g

Loganberry

8004641 - #5028252188340

Length: 9 mm

Width: 9 mm

Height: 179 mm

Weight: 6 g

Soft Pink

8004669 - #5028252188357

Length: 9 mm

Width: 9 mm

Height: 179 mm

Weight: 6 g

Blush Pink

8004610 - #5028252188364

Length: 9 mm

Width: 9 mm

Height: 179 mm

Weight: 6 g

Pink

8004660 - #5028252188371

Length: 9 mm

Width: 9 mm

Height: 179 mm

Weight: 6 g

Bright Pink

8004613 - #5028252188388

Length: 9 mm

Width: 9 mm

Height: 179 mm

Weight: 6 g

Pink Lavender

8004661 - #5028252188395

Length: 9 mm

Width: 9 mm

Height: 179 mm

Weight: 6 g

Grey Lavender

8004632 - #5028252188401

Length: 9 mm

Width: 9 mm

Height: 179 mm

Weight: 6 g

Pale Lavender

8004651 - #5028252188418

Length: 9 mm

Width: 9 mm

Height: 179 mm

Weight: 6 g

Bright Purple

8004614 - #5028252188425

Length: 9 mm

Width: 9 mm

Height: 179 mm

Weight: 6 g

Purple

8004663 - #5028252188432

Length: 9 mm

Width: 9 mm

Height: 179 mm

Weight: 6 g

Bright Lilac

8004611 - #5028252188449

Length: 9 mm

Width: 9 mm

Height: 179 mm

Weight: 6 g

Royal Purple

8004666 - #5028252188456

Length: 9 mm

Width: 9 mm

Height: 179 mm

Weight: 6 g

Blackberry

8004607 - #5028252188463

Length: 9 mm

Width: 9 mm

Height: 179 mm

Weight: 6 g

Ultramarine

8004671 - #5028252188470

Length: 9 mm

Width: 9 mm

Height: 179 mm

Weight: 6 g

Indigo

8004634 - #5028252188487

Length: 9 mm

Width: 9 mm

Height: 179 mm

Weight: 6 g

Prussian Blue

8004662 - #5028252188494

Length: 9 mm

Width: 9 mm

Height: 179 mm

Weight: 6 g

Electric Blue

8004627 - #5028252188500

Length: 9 mm

Width: 9 mm

Height: 179 mm

Weight: 6 g

Blue

8004609 - #5028252188517

Length: 9 mm

Width: 9 mm

Height: 179 mm

Weight: 6 g

Baby Blue

8004605 - #5028252188524

Length: 9 mm

Width: 9 mm

Height: 179 mm

Weight: 6 g

Iced Blue

8004633 - #5028252188531

Length: 9 mm

Width: 9 mm

Height: 179 mm

Weight: 6 g

Cloud Blue

8004619 - #5028252188548

Length: 9 mm

Width: 9 mm

Height: 179 mm

Weight: 6 g

Pale Blue

8004649 - #5028252188555

Length: 9 mm

Width: 9 mm

Height: 179 mm

Weight: 6 g

Sea Green

8004668 - #5028252188562

Length: 9 mm

Width: 9 mm

Height: 179 mm

Weight: 6 g

Grey Green

8004631 - #5028252188579

Length: 9 mm

Width: 9 mm

Height: 179 mm

Weight: 6 g

Mid Green

8004643 - #5028252188586

Length: 9 mm

Width: 9 mm

Height: 179 mm

Weight: 6 g

Dark Green

8004623 - #5028252188593

Length: 9 mm

Width: 9 mm

Height: 179 mm

Weight: 6 g

Green

8004630 - #5028252188609

Length: 9 mm

Width: 9 mm

Height: 179 mm

Weight: 6 g

Pea Green

8004655 - #5028252188616

Length: 9 mm

Width: 9 mm

Height: 179 mm

Weight: 6 g

Light Green

8004637 - #5028252188623

Length: 9 mm

Width: 9 mm

Height: 179 mm

Weight: 6 g

Yellow Green

8004674 - #5028252188630

Length: 9 mm

Width: 9 mm

Height: 179 mm

Weight: 6 g

Lime Green

8004639 - #5028252188647

Length: 9 mm

Width: 9 mm

Height: 179 mm

Weight: 6 g

Pencil Mint

8004646 - #5028252188654

Length: 9 mm

Width: 9 mm

Height: 179 mm

Weight: 6 g

Lincoln Green

8004640 - #5028252188661

Length: 9 mm

Width: 9 mm

Height: 179 mm

Weight: 6 g

Pale Mint

8004652 - #5028252188678

Length: 9 mm

Width: 9 mm

Height: 179 mm

Weight: 6 g

Lichen Green

8004636 - #5028252188685

Length: 9 mm

Width: 9 mm

Height: 179 mm

Weight: 6 g

Brown

8004616 - #5028252188692

Length: 9 mm

Width: 9 mm

Height: 179 mm

Weight: 6 g

Dark Brown

8004622 - #5028252188708

Length: 9 mm

Width: 9 mm

Height: 179 mm

Weight: 6 g

Pale Brown

8004650 - #5028252188715

Length: 9 mm

Width: 9 mm

Height: 179 mm

Weight: 6 g

Pimento

8004659 - #5028252188722

Length: 9 mm

Width: 9 mm

Height: 179 mm

Weight: 6 g

Ginger

8004629 - #5028252188739

Length: 9 mm

Width: 9 mm

Height: 179 mm

Weight: 6 g

Peach

8004656 - #5028252188746

Length: 9 mm

Width: 9 mm

Height: 179 mm

Weight: 6 g

Pale Peach

8004654 - #5028252188753

Length: 9 mm

Width: 9 mm

Height: 179 mm

Weight: 6 g

Light Sand

8004638 - #5028252188760

Length: 9 mm

Width: 9 mm

Height: 179 mm

Weight: 6 g

Ochre

8004647 - #5028252188777

Length: 9 mm

Width: 9 mm

Height: 179 mm

Weight: 6 g

Mid Brown

8004642 - #5028252188784

Length: 9 mm

Width: 9 mm

Height: 179 mm

Weight: 6 g

Dark Terracotta

8004624 - #5028252188791

Length: 9 mm

Width: 9 mm

Height: 179 mm

Weight: 6 g

Mid Terracotta

8004645 - #5028252188807

Length: 9 mm

Width: 9 mm

Height: 179 mm

Weight: 6 g

Brown Earth

8004617 - #5028252188814

Length: 9 mm

Width: 9 mm

Height: 179 mm

Weight: 6 g

Brown Black

8004615 - #5028252188821

Length: 9 mm

Width: 9 mm

Height: 179 mm

Weight: 6 g

Black

8004606 - #5028252188838

Length: 9 mm

Width: 9 mm

Height: 179 mm

Weight: 6 g

Persian Grey

8004657 - #5028252188845

Length: 9 mm

Width: 9 mm

Height: 179 mm

Weight: 6 g

Dove Grey

8004626 - #5028252188852

Length: 9 mm

Width: 9 mm

Height: 179 mm

Weight: 6 g

Petrel Grey

8004658 - #5028252188869

Length: 9 mm

Width: 9 mm

Height: 179 mm

Weight: 6 g

Steel Grey

8004670 - #5028252188876

Length: 9 mm

Width: 9 mm

Height: 179 mm

Weight: 6 g

Mid Grey

8004644 - #5028252188883

Length: 9 mm

Width: 9 mm

Height: 179 mm

Weight: 6 g

White Grey

8004673 - #5028252188890

Length: 9 mm

Width: 9 mm

Height: 179 mm

Weight: 6 g

White

8004672 - #5028252188906

Length: 9 mm

Width: 9 mm

Height: 179 mm

Weight: 6 g
 
Barcode
Length (mm)
Width (mm)
Height (mm)
Weight (g)

EDP:0426460

Skintone Tin of 6

5028252101943
14
65
242
128

EDP:7006860

Assorted Tin of 12

5028252188920
14
118
198
193

EDP:7006861

Assorted Tin of 24

5028252188937
236
198
14
393

EDP:7006862

Assorted Tin of 36

5028252188944
14
352
198
630

EDP:7006863

Assorted Tin of 72

5028252188951
26
354
198
940
5028252188197
9
9
179
6
5028252188203
9
9
179
6
5028252188210
9
9
179
6
5028252188227
9
9
179
6
5028252188234
9
9
179
6
5028252188241
9
9
179
6
5028252188258
9
9
179
6

EDP:8004612

Bright Orange

5028252188265
9
9
179
6
5028252188272
9
9
179
6
5028252188289
9
9
179
6
5028252188296
9
9
179
6
5028252188302
9
9
179
6
5028252188319
9
9
179
6
5028252188326
9
9
179
6
5028252188333
9
9
179
6
5028252188340
9
9
179
6
5028252188357
9
9
179
6
5028252188364
9
9
179
6
5028252188371
9
9
179
6
5028252188388
9
9
179
6

EDP:8004661

Pink Lavender

5028252188395
9
9
179
6

EDP:8004632

Grey Lavender

5028252188401
9
9
179
6

EDP:8004651

Pale Lavender

5028252188418
9
9
179
6

EDP:8004614

Bright Purple

5028252188425
9
9
179
6
5028252188432
9
9
179
6
5028252188449
9
9
179
6
5028252188456
9
9
179
6
5028252188463
9
9
179
6
5028252188470
9
9
179
6
5028252188487
9
9
179
6

EDP:8004662

Prussian Blue

5028252188494
9
9
179
6

EDP:8004627

Electric Blue

5028252188500
9
9
179
6
5028252188517
9
9
179
6
5028252188524
9
9
179
6
5028252188531
9
9
179
6
5028252188548
9
9
179
6
5028252188555
9
9
179
6
5028252188562
9
9
179
6
5028252188579
9
9
179
6
5028252188586
9
9
179
6
5028252188593
9
9
179
6
5028252188609
9
9
179
6
5028252188616
9
9
179
6
5028252188623
9
9
179
6
5028252188630
9
9
179
6
5028252188647
9
9
179
6
5028252188654
9
9
179
6

EDP:8004640

Lincoln Green

5028252188661
9
9
179
6
5028252188678
9
9
179
6
5028252188685
9
9
179
6
5028252188692
9
9
179
6
5028252188708
9
9
179
6
5028252188715
9
9
179
6
5028252188722
9
9
179
6
5028252188739
9
9
179
6
5028252188746
9
9
179
6
5028252188753
9
9
179
6
5028252188760
9
9
179
6
5028252188777
9
9
179
6
5028252188784
9
9
179
6

EDP:8004624

Dark Terracotta

5028252188791
9
9
179
6

EDP:8004645

Mid Terracotta

5028252188807
9
9
179
6
5028252188814
9
9
179
6
5028252188821
9
9
179
6
5028252188838
9
9
179
6
5028252188845
9
9
179
6
5028252188852
9
9
179
6
5028252188869
9
9
179
6
5028252188876
9
9
179
6
5028252188883
9
9
179
6
5028252188890
9
9
179
6
5028252188906
9
9
179
6