Derwent Drawing Pencils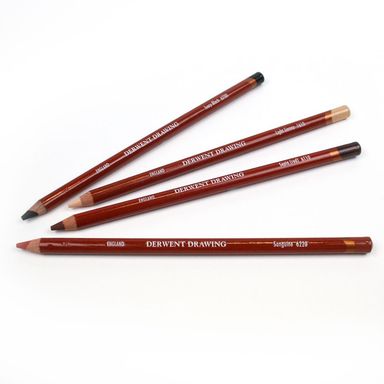 Soft, creamy pencils ideal for wildlife drawings, nature studies and portraiture. The colour range includes a number of soft greens, greys, blues and creams as well as an increased choice of traditional sepia tones.
Round 8ply pencil (8mm diameter) with a 5mm strip.
Light mahogany stained barrel with colour coded end dip and distinctive angled gold band.
Clear white imprint detailing range, colour name and number.
Soft creamy texture provides a smooth velvety lay down.
Assorted Tin of 6

0426650 - #5028252195775

Length: 242 mm

Width: 65 mm

Height: 14 mm

Weight: 143 g

Assorted Tin of 12

3562765 - #5028252147576

Length: 198 mm

Width: 118 mm

Height: 14 mm

Weight: 213 g

Assorted Tin of 24

1829401 - #5028252147583

Length: 238 mm

Width: 198 mm

Height: 14 mm

Weight: 440 g

Light Sienna

1804339 - #636638006543

Length: 9 mm

Width: 9 mm

Height: 179 mm

Weight: 10 g

Solway Blue

1804340 - #636638006550

Length: 9 mm

Width: 9 mm

Height: 179 mm

Weight: 10 g

Ink Blue

1804341 - #636638006567

Length: 9 mm

Width: 9 mm

Height: 179 mm

Weight: 10 g

Smoke Blue

1804342 - #0636638006574

Length: 9 mm

Width: 9 mm

Height: 179 mm

Weight: 10 g

Pale Cedar

1804343 - #0636638006581

Length: 9 mm

Width: 9 mm

Height: 179 mm

Weight: 10 g

Green Shadow

1804344 - #0636638006598

Length: 9 mm

Width: 9 mm

Height: 179 mm

Weight: 10 g

Crag Green

1804345 - #0636638006604

Length: 9 mm

Width: 9 mm

Height: 179 mm

Weight: 10 g

Olive Earth

1804346 - #0636638006611

Length: 9 mm

Width: 9 mm

Height: 179 mm

Weight: 10 g

Warm Earth

1804347 - #0636638006628

Length: 9 mm

Width: 9 mm

Height: 179 mm

Weight: 10 g

Wheat

1804349 - #636638006635

Length: 9 mm

Width: 9 mm

Height: 179 mm

Weight: 10 g

Yellow Ochre

1804350 - #0636638006642

Length: 9 mm

Width: 9 mm

Height: 179 mm

Weight: 10 g

Sepia (Red)

1804351 - #0636638006659

Length: 9 mm

Width: 9 mm

Height: 179 mm

Weight: 10 g

Mars Orange

1804352 - #0636638006666

Length: 9 mm

Width: 9 mm

Height: 179 mm

Weight: 10 g

Sanguine

1804353 - #636638006673

Length: 9 mm

Width: 9 mm

Height: 179 mm

Weight: 10 g

Venetian Red

1804354 - #0636638004051

Length: 9 mm

Width: 9 mm

Height: 0 mm

Weight: 10 g

Terracotta

1804355 - #0636638004068

Length: 9 mm

Width: 9 mm

Height: 0 mm

Weight: 10 g

Mars Violet

1804356 - #636638006680

Length: 9 mm

Width: 9 mm

Height: 179 mm

Weight: 10 g

Ruby Earth

1804357 - #0636638006697

Length: 9 mm

Width: 9 mm

Height: 179 mm

Weight: 10 g

Chocolate

1804358 - #0636638004075

Length: 9 mm

Width: 9 mm

Height: 0 mm

Weight: 10 g

Ivory Black

1804359 - #636638004082

Length: 9 mm

Width: 9 mm

Height: 0 mm

Weight: 10 g

Warm Grey

1804360 - #0636638006703

Length: 9 mm

Width: 9 mm

Height: 179 mm

Weight: 10 g

Cool Gray

1804361 - #0636638006710

Length: 9 mm

Width: 9 mm

Height: 179 mm

Weight: 10 g

Chinese White

1804362 - #636638004099

Length: 9 mm

Width: 9 mm

Height: 0 mm

Weight: 10 g
 
Barcode
Length (mm)
Width (mm)
Height (mm)
Weight (g)

EDP:0426650

Assorted Tin of 6

5028252195775
242
65
14
143

EDP:3562765

Assorted Tin of 12

5028252147576
198
118
14
213

EDP:1829401

Assorted Tin of 24

5028252147583
238
198
14
440
636638006543
9
9
179
10
636638006550
9
9
179
10
636638006567
9
9
179
10
0636638006574
9
9
179
10
0636638006581
9
9
179
10
0636638006598
9
9
179
10
0636638006604
9
9
179
10
0636638006611
9
9
179
10
0636638006628
9
9
179
10
636638006635
9
9
179
10
0636638006642
9
9
179
10
0636638006659
9
9
179
10
0636638006666
9
9
179
10
636638006673
9
9
179
10
0636638004051
9
9
0
10
0636638004068
9
9
0
10
636638006680
9
9
179
10
0636638006697
9
9
179
10
0636638004075
9
9
0
10
636638004082
9
9
0
10
0636638006703
9
9
179
10
0636638006710
9
9
179
10

EDP:1804362

Chinese White

636638004099
9
9
0
10