Derwent Graphic Pencils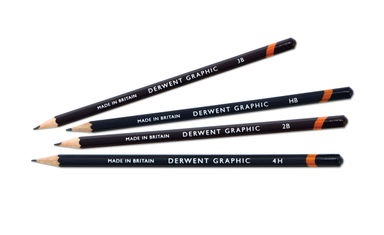 A good graphite drawing starts with a good graphite pencil. With Derwent Graphic you've got a wide choice of degrees from a fine and crisp 9H to soft and smudgy 9B, so whether you are doing fine detailed illustrations or adding shading and texture to your drawing there is a right pencil for you in the Derwent Graphic range.
20 degrees 9H to 9B
Hexagonal 6.9mm barrel
2.2mm core for hard degrees, 3.5mm for soft degrees
Smooth, finely textured graphite strip for professional application, made from the finest quality graphite and purest clays
Hexagonal matt black barrel with a distinctive dark orange band.
Full range of 20 degrees: 9B - B, HB, F, H - 9H
Harder degrees (B - 9H) have a slim 2.2mm strip, perfect for detailed work.
Softer degrees (9B - H) have a thicker 3.5mm strip, added strength and covering power.
Soft Spectrum (9B - H Sketching) are for expressive sketches and portraiture. Medium Spectrum (6B - 4H Designer) are for general drawing and design work. Hard Spectrum (B - 9H) are for crisply detailed illustrations.
Assorted Pencils Tin of 6

5008308 - #5028252170277

Length: 242 mm

Width: 65 mm

Height: 15 mm

Weight: 113 g

Hard Pencils Tin of 12

1803800 - #5010255716583

Length: 0 mm

Width: 0 mm

Height: 0 mm

Weight: 0 g

Medium Pencils Tin of 12

1803400 - #5010255716590

Length: 0 mm

Width: 0 mm

Height: 0 mm

Weight: 0 g

Soft Pencils Tin of 12

1803600 - #5010255716606

Length: 0 mm

Width: 0 mm

Height: 0 mm

Weight: 0 g

Hard/Medium/Soft Pencils Tin of 24

1802800 - #5010255342027

Length: 0 mm

Width: 0 mm

Height: 0 mm

Weight: 0 g

B

1804315 - #636638003795

Length: 8 mm

Width: 8 mm

Height: 179 mm

Weight: 5 g

2B

1804314 - #636638003788

Length: 8 mm

Width: 8 mm

Height: 179 mm

Weight: 5 g

3B

1804320 - #636638003771

Length: 8 mm

Width: 8 mm

Height: 179 mm

Weight: 5 g

4B

1804313 - #636638003764

Length: 8 mm

Width: 8 mm

Height: 179 mm

Weight: 5 g

5B

1804319 - #636638003757

Length: 8 mm

Width: 8 mm

Height: 179 mm

Weight: 5 g

6B

1804312 - #636638003740

Length: 8 mm

Width: 8 mm

Height: 179 mm

Weight: 5 g

7B

1804318 - #636638003733

Length: 8 mm

Width: 8 mm

Height: 179 mm

Weight: 5 g

8B

1804317 - #636638003726

Length: 8 mm

Width: 8 mm

Height: 179 mm

Weight: 5 g

9B

1804311 - #636638003719

Length: 8 mm

Width: 8 mm

Height: 179 mm

Weight: 5 g

HB

1804316 - #636638003801

Length: 8 mm

Width: 8 mm

Height: 179 mm

Weight: 5 g

H

1804322 - #636638003825

Length: 8 mm

Width: 8 mm

Height: 179 mm

Weight: 5 g

2H

1804323 - #636638003832

Length: 8 mm

Width: 8 mm

Height: 179 mm

Weight: 5 g

3H

1804324 - #636638003849

Length: 8 mm

Width: 8 mm

Height: 179 mm

Weight: 5 g

4H

1804325 - #636638003856

Length: 8 mm

Width: 8 mm

Height: 179 mm

Weight: 5 g

5H

1804326 - #636638003863

Length: 8 mm

Width: 8 mm

Height: 0 mm

Weight: 5 g

6H

1804327 - #636638003870

Length: 8 mm

Width: 8 mm

Height: 0 mm

Weight: 5 g

7H

1804328 - #636638003887

Length: 8 mm

Width: 8 mm

Height: 0 mm

Weight: 5 g

8H

1804495 - #636638003894

Length: 8 mm

Width: 8 mm

Height: 0 mm

Weight: 5 g

9H

1804496 - #636638003900

Length: 8 mm

Width: 8 mm

Height: 0 mm

Weight: 5 g
 
Barcode
Length (mm)
Width (mm)
Height (mm)
Weight (g)

EDP:5008308

Assorted Pencils Tin of 6

5028252170277
242
65
15
113

EDP:1803800

Hard Pencils Tin of 12

5010255716583
0
0
0
0

EDP:1803400

Medium Pencils Tin of 12

5010255716590
0
0
0
0

EDP:1803600

Soft Pencils Tin of 12

5010255716606
0
0
0
0

EDP:1802800

Hard/Medium/Soft Pencils Tin of 24

5010255342027
0
0
0
0
636638003795
8
8
179
5
636638003788
8
8
179
5
636638003771
8
8
179
5
636638003764
8
8
179
5
636638003757
8
8
179
5
636638003740
8
8
179
5
636638003733
8
8
179
5
636638003726
8
8
179
5
636638003719
8
8
179
5
636638003801
8
8
179
5
636638003825
8
8
179
5
636638003832
8
8
179
5
636638003849
8
8
179
5
636638003856
8
8
179
5
636638003863
8
8
0
5
636638003870
8
8
0
5
636638003887
8
8
0
5
636638003894
8
8
0
5
636638003900
8
8
0
5