Derwent Inktense Blocks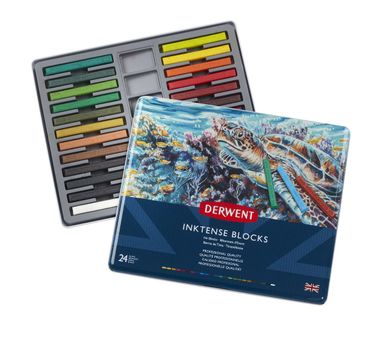 These water-soluble blocks combine the versatility of Inktense pencils and the freedom of blocks, opening up an exciting world of endless possibilities.
Perfect for covering large areas and creating free and expressive marks. Add water to create a pure, translucent, ink-like effect. Once dry Inktense becomes permanent so you can work over the top of it, and it's great for using on silk or cotton!
Easy to blend colours, can be mixed and layered to create an infinite range of hues and tints.
Firm consistent texture produces minimal dusting.
Square shape is ideal for both fine and detail and broad, expressive strokes.
So versatile they can be used wet or dry, or mixed with other media.
Assorted Tin of 12

8622768 - #5028252301978

Length: 14 mm

Width: 118 mm

Height: 0 mm

Weight: 200 g

Assorted Tin of 24

8622769 - #5028252301992

Length: 14 mm

Width: 236 mm

Height: 0 mm

Weight: 420 g

Assorted Tin of 36

0428140 - #5028252351966

Length: 0 mm

Width: 0 mm

Height: 0 mm

Weight: 0 g

Assorted Tin of 72

0428150 - #5028252352000

Length: 0 mm

Width: 0 mm

Height: 0 mm

Weight: 1100 g

Sherbet Lemon 0100

0427420 - #5028252301190

Length: 184 mm

Width: 46 mm

Height: 22 mm

Weight: 124 g

Sun Yellow 0200

0427430 - #5028252301282

Length: 184 mm

Width: 46 mm

Height: 22 mm

Weight: 124 g

Cadmium Yellow 0210

0427440 - #5028252360111

Length: 184 mm

Width: 46 mm

Height: 22 mm

Weight: 124 g

Sicilian Yellow 0220

0427450 - #5028252360173

Length: 184 mm

Width: 46 mm

Height: 22 mm

Weight: 124 g

Golden Yellow 0230

0427460 - #5028252360234

Length: 184 mm

Width: 46 mm

Height: 22 mm

Weight: 124 g

Sienna Gold 0240

0427470 - #5028252360296

Length: 184 mm

Width: 46 mm

Height: 22 mm

Weight: 124 g

Cadmium Orange 0250

0427480 - #5028252360357

Length: 184 mm

Width: 46 mm

Height: 22 mm

Weight: 124 g

Burnt Orange 0260

0427490 - #5028252360418

Length: 184 mm

Width: 46 mm

Height: 22 mm

Weight: 124 g

Tangerine 0300

0427500 - #5028252301312

Length: 184 mm

Width: 46 mm

Height: 22 mm

Weight: 124 g

Mid Vermilion 0310

0427510 - #5028252360470

Length: 184 mm

Width: 46 mm

Height: 22 mm

Weight: 124 g

Scarlet Pink 0320

0427520 - #5028252360531

Length: 184 mm

Width: 46 mm

Height: 22 mm

Weight: 124 g

Poppy Red 0400

0427530 - #5028252301343

Length: 184 mm

Width: 46 mm

Height: 22 mm

Weight: 124 g

Hot Red 0410

0427540 - #5028252360593

Length: 74 mm

Width: 8 mm

Height: 11 mm

Weight: 11 g

Chilli Red 0500

0427550 - #5028252301374

Length: 184 mm

Width: 46 mm

Height: 22 mm

Weight: 124 g

Cherry 0510

0427560 - #5028252360654

Length: 184 mm

Width: 46 mm

Height: 22 mm

Weight: 124 g

Carmine Pink 0520

0427570 - #5028252360715

Length: 184 mm

Width: 46 mm

Height: 22 mm

Weight: 124 g

Crimson 0530

0427580 - #5028252360777

Length: 184 mm

Width: 46 mm

Height: 22 mm

Weight: 124 g

Shiraz 0600

0427590 - #5028252301404

Length: 184 mm

Width: 46 mm

Height: 22 mm

Weight: 124 g

Red Violet 0610

0427600 - #5028252360838

Length: 184 mm

Width: 46 mm

Height: 22 mm

Weight: 124 g

Fuchsia 0700

0427610 - #5028252301435

Length: 184 mm

Width: 46 mm

Height: 22 mm

Weight: 124 g

Deep Rose 0710

0427620 - #5028252360890

Length: 184 mm

Width: 46 mm

Height: 22 mm

Weight: 124 g

Thistle 0720

0427630 - #5028252360951

Length: 184 mm

Width: 46 mm

Height: 22 mm

Weight: 124 g

Dusky Purple 0730

0427640 - #5028252361019

Length: 184 mm

Width: 46 mm

Height: 22 mm

Weight: 124 g

Mauve 0740

0427650 - #5028252361064

Length: 184 mm

Width: 46 mm

Height: 22 mm

Weight: 124 g

Dark Purple 0750

0427660 - #5028252361101

Length: 184 mm

Width: 46 mm

Height: 22 mm

Weight: 124 g

Deep Violet 0760

0427670 - #5028252361163

Length: 74 mm

Width: 8 mm

Height: 11 mm

Weight: 11 g

Violet 0800

0427680 - #5028252301466

Length: 184 mm

Width: 46 mm

Height: 22 mm

Weight: 124 g

Lagoon 0810

0427690 - #5028252361224

Length: 184 mm

Width: 46 mm

Height: 22 mm

Weight: 124 g

Peacock Blue 0820

0427700 - #5028252361286

Length: 74 mm

Width: 8 mm

Height: 11 mm

Weight: 11 g

Navy Blue 0830

0427710 - #5028252361347

Length: 184 mm

Width: 46 mm

Height: 22 mm

Weight: 124 g

Iron Blue 0840

0427720 - #5028252361408

Length: 184 mm

Width: 46 mm

Height: 22 mm

Weight: 124 g

Deep Blue 0850

0427730 - #5028252361460

Length: 184 mm

Width: 46 mm

Height: 22 mm

Weight: 124 g

Iris Blue 0900

0427740 - #5028252301497

Length: 184 mm

Width: 46 mm

Height: 22 mm

Weight: 124 g

Bright Blue 1000

0427750 - #5028252301527

Length: 184 mm

Width: 46 mm

Height: 22 mm

Weight: 124 g

Deep Indigo 1100

0427760 - #5028252301558

Length: 184 mm

Width: 46 mm

Height: 22 mm

Weight: 124 g

Sea Blue 1200

0427770 - #5028252301589

Length: 184 mm

Width: 46 mm

Height: 22 mm

Weight: 124 g

Dark Aquamarine 1210

0427780 - #5028252361521

Length: 184 mm

Width: 46 mm

Height: 22 mm

Weight: 124 g

Turquoise 1215

0427790 - #5028252361583

Length: 74 mm

Width: 8 mm

Height: 11 mm

Weight: 11 g

Green Aquamarine 1220

0427810 - #5028252361644

Length: 184 mm

Width: 46 mm

Height: 22 mm

Weight: 124 g

Mallard Green 1230

0427800 - #5028252361699

Length: 184 mm

Width: 46 mm

Height: 22 mm

Weight: 124 g

Teal Green 1300

0427820 - #5028252301619

Length: 184 mm

Width: 46 mm

Height: 22 mm

Weight: 124 g

Iron Green 1310

0427830 - #5028252361736

Length: 184 mm

Width: 46 mm

Height: 22 mm

Weight: 124 g

Ionian Green 1320

0427840 - #5028252301640

Length: 184 mm

Width: 46 mm

Height: 22 mm

Weight: 124 g

Vivid Green 1330

0427850 - #5028252361798

Length: 184 mm

Width: 46 mm

Height: 22 mm

Weight: 124 g

Apple Green 1400

0427860 - #5028252301671

Length: 184 mm

Width: 46 mm

Height: 22 mm

Weight: 124 g

Field Green 1500

0427870 - #5028252301701

Length: 184 mm

Width: 46 mm

Height: 22 mm

Weight: 124 g

Beech Green 1510

0427880 - #5028252361859

Length: 184 mm

Width: 46 mm

Height: 22 mm

Weight: 124 g

Hooker's Green 1520

0427890 - #5028252361910

Length: 184 mm

Width: 46 mm

Height: 22 mm

Weight: 124 g

Felt Green 1530

0427900 - #5028252361972

Length: 184 mm

Width: 46 mm

Height: 22 mm

Weight: 124 g

Light Olive 1540

0427910 - #5028252362030

Length: 184 mm

Width: 46 mm

Height: 22 mm

Weight: 124 g

Spring Green 1550

0427920 - #5028252362092

Length: 74 mm

Width: 8 mm

Height: 11 mm

Weight: 11 g

Fern 1560

0427930 - #5028252362153

Length: 184 mm

Width: 46 mm

Height: 22 mm

Weight: 124 g

Leaf Green 1600

0427940 - #5028252301732

Length: 184 mm

Width: 46 mm

Height: 22 mm

Weight: 124 g

Mustard 1700

0427950 - #5028252301763

Length: 184 mm

Width: 46 mm

Height: 22 mm

Weight: 124 g

Amber 1710

0427960 - #5028252362214

Length: 184 mm

Width: 46 mm

Height: 22 mm

Weight: 124 g

Tan 1720

0427970 - #5028252362276

Length: 184 mm

Width: 46 mm

Height: 22 mm

Weight: 124 g

Oak 1730

0427980 - #5028252362337

Length: 184 mm

Width: 46 mm

Height: 22 mm

Weight: 124 g

Saddle Brown 1740

0427990 - #5028252362399

Length: 184 mm

Width: 46 mm

Height: 22 mm

Weight: 124 g

Baked Earth 1800

0428000 - #5028252301794

Length: 184 mm

Width: 46 mm

Height: 22 mm

Weight: 124 g

Willow 1900

0428010 - #5028252301824

Length: 184 mm

Width: 46 mm

Height: 22 mm

Weight: 124 g

Red Oxide 1910

0428020 - #5028252362450

Length: 74 mm

Width: 8 mm

Height: 11 mm

Weight: 11 g

Madder Brown 1920

0428030 - #5028252362511

Length: 184 mm

Width: 46 mm

Height: 22 mm

Weight: 124 g

Dark Chocolate 1930

0428040 - #5028252362573

Length: 74 mm

Width: 8 mm

Height: 11 mm

Weight: 11 g

Bark 2000

0428050 - #5028252301855

Length: 184 mm

Width: 46 mm

Height: 22 mm

Weight: 124 g

Sepia Ink 2010

0428060 - #5028252362634

Length: 74 mm

Width: 8 mm

Height: 11 mm

Weight: 11 g

Indian Ink 2020

0428070 - #5028252362696

Length: 184 mm

Width: 46 mm

Height: 22 mm

Weight: 124 g

Chinese Ink 2030

0428080 - #5028252362757

Length: 74 mm

Width: 8 mm

Height: 11 mm

Weight: 11 g

Charcoal Grey 2100

0428090 - #5028252301886

Length: 184 mm

Width: 46 mm

Height: 22 mm

Weight: 124 g

Payne's Grey 2110

0428100 - #5028252362818

Length: 74 mm

Width: 8 mm

Height: 11 mm

Weight: 11 g

Neutral Grey 2120

0428110 - #5028252362870

Length: 184 mm

Width: 46 mm

Height: 22 mm

Weight: 124 g

Ink Black 2200

0428120 - #5028252301916

Length: 184 mm

Width: 46 mm

Height: 22 mm

Weight: 124 g

Antique White 2300

0428130 - #5028252301947

Length: 74 mm

Width: 8 mm

Height: 8 mm

Weight: 11 g
 
Barcode
Length (mm)
Width (mm)
Height (mm)
Weight (g)

EDP:8622768

Assorted Tin of 12

5028252301978
14
118
0
200

EDP:8622769

Assorted Tin of 24

5028252301992
14
236
0
420

EDP:0428140

Assorted Tin of 36

5028252351966
0
0
0
0

EDP:0428150

Assorted Tin of 72

5028252352000
0
0
0
1100

EDP:0427420

Sherbet Lemon 0100

5028252301190
184
46
22
124

EDP:0427430

Sun Yellow 0200

5028252301282
184
46
22
124

EDP:0427440

Cadmium Yellow 0210

5028252360111
184
46
22
124

EDP:0427450

Sicilian Yellow 0220

5028252360173
184
46
22
124

EDP:0427460

Golden Yellow 0230

5028252360234
184
46
22
124

EDP:0427470

Sienna Gold 0240

5028252360296
184
46
22
124

EDP:0427480

Cadmium Orange 0250

5028252360357
184
46
22
124

EDP:0427490

Burnt Orange 0260

5028252360418
184
46
22
124

EDP:0427500

Tangerine 0300

5028252301312
184
46
22
124

EDP:0427510

Mid Vermilion 0310

5028252360470
184
46
22
124

EDP:0427520

Scarlet Pink 0320

5028252360531
184
46
22
124

EDP:0427530

Poppy Red 0400

5028252301343
184
46
22
124
5028252360593
74
8
11
11

EDP:0427550

Chilli Red 0500

5028252301374
184
46
22
124
5028252360654
184
46
22
124

EDP:0427570

Carmine Pink 0520

5028252360715
184
46
22
124
5028252360777
184
46
22
124
5028252301404
184
46
22
124

EDP:0427600

Red Violet 0610

5028252360838
184
46
22
124
5028252301435
184
46
22
124

EDP:0427620

Deep Rose 0710

5028252360890
184
46
22
124
5028252360951
184
46
22
124

EDP:0427640

Dusky Purple 0730

5028252361019
184
46
22
124
5028252361064
184
46
22
124

EDP:0427660

Dark Purple 0750

5028252361101
184
46
22
124

EDP:0427670

Deep Violet 0760

5028252361163
74
8
11
11
5028252301466
184
46
22
124
5028252361224
184
46
22
124

EDP:0427700

Peacock Blue 0820

5028252361286
74
8
11
11

EDP:0427710

Navy Blue 0830

5028252361347
184
46
22
124

EDP:0427720

Iron Blue 0840

5028252361408
184
46
22
124

EDP:0427730

Deep Blue 0850

5028252361460
184
46
22
124

EDP:0427740

Iris Blue 0900

5028252301497
184
46
22
124

EDP:0427750

Bright Blue 1000

5028252301527
184
46
22
124

EDP:0427760

Deep Indigo 1100

5028252301558
184
46
22
124

EDP:0427770

Sea Blue 1200

5028252301589
184
46
22
124

EDP:0427780

Dark Aquamarine 1210

5028252361521
184
46
22
124

EDP:0427790

Turquoise 1215

5028252361583
74
8
11
11

EDP:0427810

Green Aquamarine 1220

5028252361644
184
46
22
124

EDP:0427800

Mallard Green 1230

5028252361699
184
46
22
124

EDP:0427820

Teal Green 1300

5028252301619
184
46
22
124

EDP:0427830

Iron Green 1310

5028252361736
184
46
22
124

EDP:0427840

Ionian Green 1320

5028252301640
184
46
22
124

EDP:0427850

Vivid Green 1330

5028252361798
184
46
22
124

EDP:0427860

Apple Green 1400

5028252301671
184
46
22
124

EDP:0427870

Field Green 1500

5028252301701
184
46
22
124

EDP:0427880

Beech Green 1510

5028252361859
184
46
22
124

EDP:0427890

Hooker's Green 1520

5028252361910
184
46
22
124

EDP:0427900

Felt Green 1530

5028252361972
184
46
22
124

EDP:0427910

Light Olive 1540

5028252362030
184
46
22
124

EDP:0427920

Spring Green 1550

5028252362092
74
8
11
11
5028252362153
184
46
22
124

EDP:0427940

Leaf Green 1600

5028252301732
184
46
22
124
5028252301763
184
46
22
124
5028252362214
184
46
22
124
5028252362276
184
46
22
124
5028252362337
184
46
22
124

EDP:0427990

Saddle Brown 1740

5028252362399
184
46
22
124

EDP:0428000

Baked Earth 1800

5028252301794
184
46
22
124
5028252301824
184
46
22
124

EDP:0428020

Red Oxide 1910

5028252362450
74
8
11
11

EDP:0428030

Madder Brown 1920

5028252362511
184
46
22
124

EDP:0428040

Dark Chocolate 1930

5028252362573
74
8
11
11
5028252301855
184
46
22
124

EDP:0428060

Sepia Ink 2010

5028252362634
74
8
11
11

EDP:0428070

Indian Ink 2020

5028252362696
184
46
22
124

EDP:0428080

Chinese Ink 2030

5028252362757
74
8
11
11

EDP:0428090

Charcoal Grey 2100

5028252301886
184
46
22
124

EDP:0428100

Payne's Grey 2110

5028252362818
74
8
11
11

EDP:0428110

Neutral Grey 2120

5028252362870
184
46
22
124

EDP:0428120

Ink Black 2200

5028252301916
184
46
22
124

EDP:0428130

Antique White 2300

5028252301947
74
8
8
11
Derwent Pencils and Colour Sticks

Download