Derwent Pastel Shades Paint Pans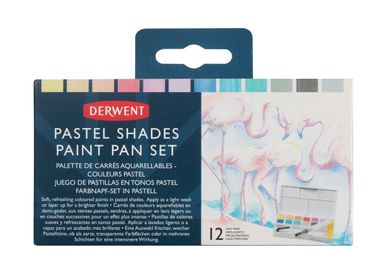 Derwent Pastel Shades Paint is a gouache style pigmented paint within a palette formulation, in soft and playful pastel shades
Fast-absorbing paints and can be applied delicately as a light wash, or layered for brighter colour combinations.
Layer up in thick opaque layers allowing the colour to dry as a bright, matte finish.
Ideal as a complimentary set to the Inktense and Metallic paint sets to create an array of dramatic effects.
Colour Palette:
Lemon, Peach, Coral Pink, Pink Flamingo, Orchid Pink, Lavender, Cornflower Blue, Turquoise, Mint, Artichoke, Storm Grey and Silver Blue
12 Pan

2306865 - #5028252620338

Length: 23 mm

Width: 147 mm

Height: 100 mm

Weight: 140 g
|   | Barcode | Length (mm) | Width (mm) | Height (mm) | Weight (g) |
| --- | --- | --- | --- | --- | --- |
| | 5028252620338 | 23 | 147 | 100 | 140 |