Derwent Pencil Storage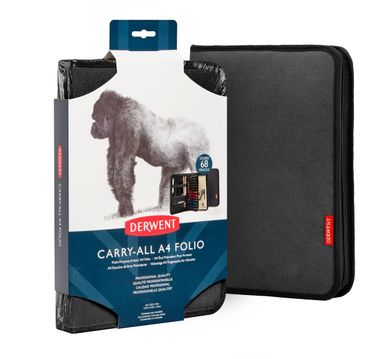 A multi-purpose artist folio which can store pencils, artists' accessories and an A4 sketchbook in one handy case.
Ideal for travel, the Carry-All Folio is compact and robust with a woven canvas outer and zip around closure to keep all contents secure. The folio contains:
3 ring binder with a Carry All Sleeve
Stores up to 68 pencils
Convenient internal mesh zip compartment for artists accessories.
Slip in pouch on internal back panel, perfect for holding an A4 Sketchbook or notepad
Robust enough to draw straight from the folio
Pencil Wrap
Stylish canvas pencil wrap has individual compartments to hold and protect up to 30 full size pencils and accessories. The wrap unrolls flat for easy access to the contents and when you are ready to move on, you just roll it up again. It is quite simply a must-have when you're out and about.
The original classic Derwent pencil wrap.
Individual compartments hold 32 pencils plus accessories.
Durable canvas like wrap rolls up compactly.
Artpack
The Artpack is a neat and handy size, slightly smaller than A5 and less than an inch deep when closed (115mm x 200mm x 20mm). It can easily be slipped into a shoulder bag or backpack. When you want to use your favourite pencils it opens flat for easy access and once finished just folds over and is secured with a Velcro fastening (contents not included).
Durable, canvas like compact case
Holds 20 standard pencils.
Features one mesh zipped pocket for accessories.One transparent pocket for east pencil selection.
Carry-all
The ultimate pencil storage solution for up to 132 pencils plus a range of drawing accessories and an A5 sketchbook. It features 3 easy-access 'pencil leaves' that hold up to 44 individual pencils held in place by a wide elastic strap. The leaves are easily removable and there is a mesh pocket at one end for holding drawing accessories and a strap to keep your sketchbook in place. Just 225mm x 275mm x 130mm it comes complete with a detachable shoulder strap, two robust carrying handles and a handy external pocket.
Ultimate storage solution for 132 pencils.
Includes accessory and A5 sketchbook pocket.
Contains 3 removable pencil leaves (can hold up to 5).
Durable canvas like bag with adjustable shoulder strap.
Carry-all Folio

2302646 - #5028252523592

Length: 40 mm

Width: 240 mm

Height: 509 mm

Weight: 509 g

Artpack

8633228 - #5028252322348

Length: 245 mm

Width: 130 mm

Height: 0 mm

Weight: 101 g

Wrap

1804010 - #5028252102841

Length: 245 mm

Width: 150 mm

Height: 35 mm

Weight: 140 g

Carry-all

0426910 - #5028252327497

Length: 0 mm

Width: 0 mm

Height: 0 mm

Weight: 0 g
 
Barcode
Length (mm)
Width (mm)
Height (mm)
Weight (g)

EDP:2302646

Carry-all Folio

5028252523592
40
240
509
509
5028252322348
245
130
0
101
5028252102841
245
150
35
140
5028252327497
0
0
0
0