Derwent Sets Collection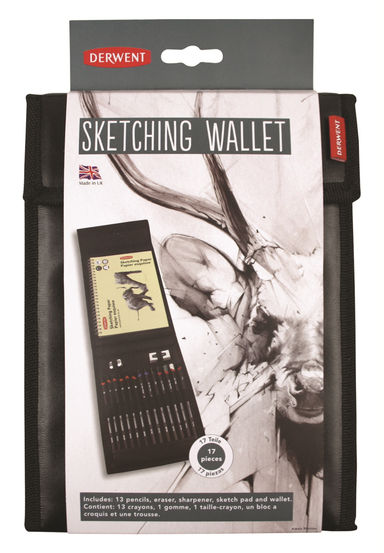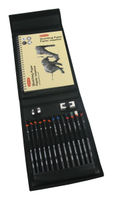 Sketching Wallet
This Derwent Sketching Wallet is perfect for the artist who loves to get outdoors. Small enough to fit in your bag it contains a selection of handy drawing media;
Contains:
6 x Graphic pencils (2H, H, B, 2B, 4B, 6B)
2 x Watersoluble sketching pencils (4B, 8B)
1 x Onyx pencil (Dark)
3 x Tinted charcoal pencils
1 x Charcoal pencil (Dark)
1 x Metal sharpener
1 x Plastic eraser
1 x A5 sketching pad.
The portable sketching wallet protects the pencils and keeps everything together.
Line and Wash Sketching Set
A complete graphite set in a silver tin to include accessories for producing a variety of effects with graphite pencils, dry and wet.
Create exciting splashes of graphite, dynamic tones, and dramatic lines
Presented in a stylish and practical double layer silver tin.
Includes:
6 x Graphic pencils (4B, 2B, B, HB, H, 2H)
2 x Watersoluble Sketching pencils (4B, HB)
1 x Waterbrush
1 x Eraser Shield
1 x Paper Stump
1 x Sharpener
1 x Plastic eraser
Sketching Wallet (Wallet 17)

8629981 - #5028252101950

Length: 35 mm

Width: 180 mm

Height: 0 mm

Weight: 486 g

Line and Wash Sketching Set (Set 14)

8629980 - #5028252389389

Length: 35 mm

Width: 192 mm

Height: 0 mm

Weight: 288 g
 
Barcode
Length (mm)
Width (mm)
Height (mm)
Weight (g)

EDP:8629981

Sketching Wallet (Wallet 17)

5028252101950
35
180
0
486

EDP:8629980

Line and Wash Sketching Set (Set 14)

5028252389389
35
192
0
288