Derwent Shade And Tone Mixed Media Collection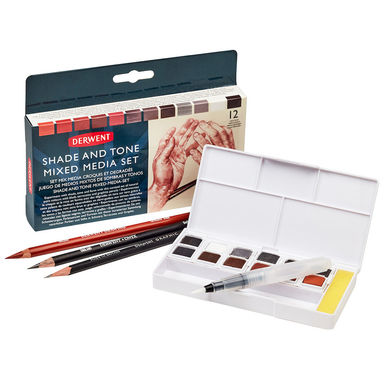 Derwent Shade Tone Mixed Media Collection is a curated mixed media collection consisting of muted colours in natural and monochrome to discover shades and tones.
Includes 3 x pencils for sketching and form drawing. Ideal for landscapes, portrait and tonal studies.
Derwent Shade Tone Mixed Media Collection contains:
7 x Inktense Paint Pans
2 x Graphitint Paint Pans
2 x Tinted Charcoal Paint Pans
1 x Pastel Paint Pan
3 x Pencils (black & white Coloursoft, 3B Graphic)
1 x Mini waterbrush
Colour Palette:
Black, White, Storm Grey, Graphite Grey, Sepia Ink, Burnt Earth, Burnt, Embers, Autumn Brown, Sepia, Venetian Red, Sanguine and Mars Orange
Curated collection specifically for art students and beginners.
12 Pans and 3 Pencils

2305903 - #5028252622424

Length: 185 mm

Width: 155 mm

Height: 155 mm

Weight: 1120 g
 
Barcode
Length (mm)
Width (mm)
Height (mm)
Weight (g)

EDP:2305903

12 Pans and 3 Pencils

5028252622424
185
155
155
1120