Derwent Sharpeners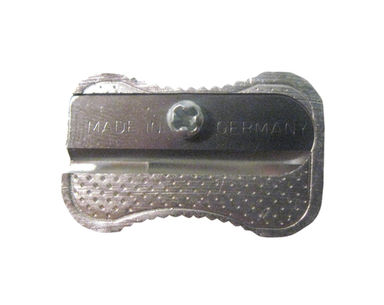 Metal Sharpener - Quality single hole sharpener for use with colour and graphic pencils
The Super Point Sharpeners have a durable helical blade which sharpens pencils to super points for fine detail work.
Suitable for pencils up to 8mm in diameter.
The extendable front plate has a self feeding mechanism which stops when the pencil has reached a superb point.
The transparent sliding tray reservoir is easily emptied and each sharpener comes with a desk clamp.
Available in two sizes.
Metal

0426750 - #5028252088930

Length: 0 mm

Width: 0 mm

Height: 0 mm

Weight: 0 g

Super Point Sharpener

0426720 - #5028252356466

Length: 134 mm

Width: 126 mm

Height: 0 mm

Weight: 520 g

Super Point Mini Sharpener

0426730 - #5028252356404

Length: 112 mm

Width: 104 mm

Height: 0 mm

Weight: 270 g
 
Barcode
Length (mm)
Width (mm)
Height (mm)
Weight (g)
5028252088930
0
0
0
0

EDP:0426720

Super Point Sharpener

5028252356466
134
126
0
520

EDP:0426730

Super Point Mini Sharpener

5028252356404
112
104
0
270