Derwent Studio Pencils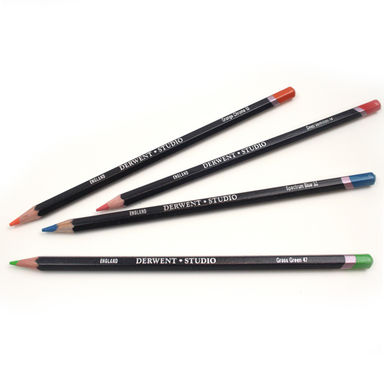 The Derwent Studio pencils have the same colour strip as the Derwent Artists range but are a lot finer for more detailed work. The barrel is hexagonal rather than round for a really good grip when getting down to the most detailed bits!
72 highly pigmented colours.
Dry colour
3.4mm core
Hexagonal 6.9mm barrel
Soft, fine and blendable colour strip for detailed drawing ideal for illustrators, designers and artists.
Hexagonal barrel allows a firm grip, with greater control on detailed artwork and ideal for slanted work surfaces.
Barrel made from California incense cedar wood.
Slim 3.4mm diameter strip sharpens to a fine long lasting point which will not crumble during use.
Finest pigments ensure maximum colour purity and light fastness.
Assorted Tin of 12

0363930 - #5010255713476

Length: 0 mm

Width: 0 mm

Height: 0 mm

Weight: 0 g

Assorted Tin of 24

0363940 - #5010255713490

Length: 0 mm

Width: 0 mm

Height: 0 mm

Weight: 0 g

Assorted Tin of 36

0363950 - #5010255713506

Length: 0 mm

Width: 0 mm

Height: 0 mm

Weight: 0 g

Assorted Tin of 72

0363960 - #5010255713520

Length: 0 mm

Width: 0 mm

Height: 0 mm

Weight: 0 g

Zinc Yellow

8004844 - #636638001333

Length: 8 mm

Width: 8 mm

Height: 179 mm

Weight: 6 g

Gold

8004797 - #0636638001357

Length: 8 mm

Width: 8 mm

Height: 179 mm

Weight: 6 g

Primrose Yellow

8004821 - #636638001371

Length: 8 mm

Width: 8 mm

Height: 179 mm

Weight: 6 g

Straw Yellow

8004836 - #636638001388

Length: 8 mm

Width: 8 mm

Height: 179 mm

Weight: 6 g

Deep Cadmium

8004789 - #636638001395

Length: 8 mm

Width: 8 mm

Height: 179 mm

Weight: 6 g

Middle Chrome

8004813 - #636638001418

Length: 8 mm

Width: 8 mm

Height: 179 mm

Weight: 6 g

Deep Chrome

8004790 - #0636638001425

Length: 8 mm

Width: 8 mm

Height: 179 mm

Weight: 6 g

Orange Chrome

8004817 - #636638001432

Length: 8 mm

Width: 8 mm

Height: 179 mm

Weight: 6 g

Pale Vermilion

8004819 - #0636638001456

Length: 8 mm

Width: 8 mm

Height: 179 mm

Weight: 6 g

Flesh Pink

8004794 - #636638001487

Length: 8 mm

Width: 8 mm

Height: 179 mm

Weight: 6 g

Pink Madder Lake

8004820 - #0636638001494

Length: 8 mm

Width: 8 mm

Height: 179 mm

Weight: 6 g

Rose Pink

8004826 - #636638001500

Length: 8 mm

Width: 8 mm

Height: 179 mm

Weight: 6 g

Rose Madder Lake

8004825 - #636638001531

Length: 8 mm

Width: 8 mm

Height: 179 mm

Weight: 6 g

Magenta

8004811 - #636638001548

Length: 8 mm

Width: 8 mm

Height: 179 mm

Weight: 6 g

Red Violet Lake

8004831 - #0636638001562

Length: 8 mm

Width: 8 mm

Height: 179 mm

Weight: 6 g

Dark Violet

8004788 - #636638001579

Length: 8 mm

Width: 8 mm

Height: 179 mm

Weight: 6 g

Light Violet

8004809 - #636638001586

Length: 8 mm

Width: 8 mm

Height: 179 mm

Weight: 6 g

Blue Violet Lake

8004774 - #636638001593

Length: 8 mm

Width: 8 mm

Height: 179 mm

Weight: 6 g

Delft Blue

8004792 - #636638001609

Length: 8 mm

Width: 8 mm

Height: 179 mm

Weight: 6 g

Cobalt Blue

8004785 - #636638001630

Length: 8 mm

Width: 8 mm

Height: 179 mm

Weight: 6 g

Light Blue

8004808 - #636638001654

Length: 8 mm

Width: 8 mm

Height: 179 mm

Weight: 6 g

Sky Blue

8004832 - #636638001661

Length: 8 mm

Width: 8 mm

Height: 179 mm

Weight: 6 g

Prussian Blue

8004822 - #636638001678

Length: 8 mm

Width: 8 mm

Height: 179 mm

Weight: 6 g

Indigo

8004802 - #636638001685

Length: 8 mm

Width: 8 mm

Height: 179 mm

Weight: 6 g

Kingfisher Blue

8004806 - #636638001708

Length: 8 mm

Width: 8 mm

Height: 179 mm

Weight: 6 g

Turquoise Blue

8004838 - #636638001715

Length: 8 mm

Width: 8 mm

Height: 179 mm

Weight: 6 g

Turquoise Green

8004839 - #636638001722

Length: 8 mm

Width: 8 mm

Height: 179 mm

Weight: 6 g

Juniper Green

8004805 - #636638001746

Length: 8 mm

Width: 8 mm

Height: 179 mm

Weight: 6 g

Water Green

8004843 - #636638001760

Length: 8 mm

Width: 8 mm

Height: 179 mm

Weight: 6 g

Mineral Green

8004814 - #636638001777

Length: 8 mm

Width: 8 mm

Height: 179 mm

Weight: 6 g

Emerald Green

8004793 - #636638001784

Length: 8 mm

Width: 8 mm

Height: 179 mm

Weight: 6 g

Grass Green

8004799 - #636638001791

Length: 8 mm

Width: 8 mm

Height: 179 mm

Weight: 6 g

May Green

8004812 - #636638001807

Length: 8 mm

Width: 8 mm

Height: 179 mm

Weight: 6 g

Sap Green

8004827 - #0636638001814

Length: 8 mm

Width: 8 mm

Height: 179 mm

Weight: 6 g

Olive Green

8004816 - #636638001838

Length: 8 mm

Width: 8 mm

Height: 179 mm

Weight: 6 g

Bronze

8004776 - #636638001845

Length: 8 mm

Width: 8 mm

Height: 179 mm

Weight: 6 g

Sepia

8004829 - #0636638001852

Length: 8 mm

Width: 8 mm

Height: 179 mm

Weight: 6 g

Burnt Umber

8004780 - #636638001869

Length: 8 mm

Width: 8 mm

Height: 179 mm

Weight: 6 g

Vandyke Brown

8004841 - #636638001876

Length: 8 mm

Width: 8 mm

Height: 179 mm

Weight: 6 g

Raw Umber

8004824 - #0636638001883

Length: 8 mm

Width: 8 mm

Height: 179 mm

Weight: 6 g

Brown Ochre

8004777 - #636638001890

Length: 8 mm

Width: 8 mm

Height: 179 mm

Weight: 6 g

Raw Sienna

8004823 - #636638001906

Length: 8 mm

Width: 8 mm

Height: 179 mm

Weight: 6 g

Burnt Sienna

8004779 - #0636638001944

Length: 8 mm

Width: 8 mm

Height: 179 mm

Weight: 6 g

Venetian Red

8004842 - #636638001951

Length: 8 mm

Width: 8 mm

Height: 179 mm

Weight: 6 g

Terracotta

8004837 - #636638001968

Length: 8 mm

Width: 8 mm

Height: 179 mm

Weight: 6 g

Burnt Carmine

8004778 - #0636638001975

Length: 8 mm

Width: 8 mm

Height: 179 mm

Weight: 6 g

Ivory Black

8004803 - #636638001999

Length: 8 mm

Width: 8 mm

Height: 179 mm

Weight: 6 g

Blue Grey

8004773 - #636638002002

Length: 8 mm

Width: 8 mm

Height: 179 mm

Weight: 6 g

French Grey

8004795 - #636638002026

Length: 8 mm

Width: 8 mm

Height: 179 mm

Weight: 6 g

Silver Grey

8004830 - #636638002033

Length: 8 mm

Width: 8 mm

Height: 179 mm

Weight: 6 g

Chinese White

8004783 - #636638002040

Length: 8 mm

Width: 8 mm

Height: 179 mm

Weight: 6 g
 
Barcode
Length (mm)
Width (mm)
Height (mm)
Weight (g)

EDP:0363930

Assorted Tin of 12

5010255713476
0
0
0
0

EDP:0363940

Assorted Tin of 24

5010255713490
0
0
0
0

EDP:0363950

Assorted Tin of 36

5010255713506
0
0
0
0

EDP:0363960

Assorted Tin of 72

5010255713520
0
0
0
0
636638001333
8
8
179
6
0636638001357
8
8
179
6

EDP:8004821

Primrose Yellow

636638001371
8
8
179
6
636638001388
8
8
179
6
636638001395
8
8
179
6

EDP:8004813

Middle Chrome

636638001418
8
8
179
6
0636638001425
8
8
179
6

EDP:8004817

Orange Chrome

636638001432
8
8
179
6

EDP:8004819

Pale Vermilion

0636638001456
8
8
179
6
636638001487
8
8
179
6

EDP:8004820

Pink Madder Lake

0636638001494
8
8
179
6
636638001500
8
8
179
6

EDP:8004825

Rose Madder Lake

636638001531
8
8
179
6
636638001548
8
8
179
6

EDP:8004831

Red Violet Lake

0636638001562
8
8
179
6
636638001579
8
8
179
6
636638001586
8
8
179
6

EDP:8004774

Blue Violet Lake

636638001593
8
8
179
6
636638001609
8
8
179
6
636638001630
8
8
179
6
636638001654
8
8
179
6
636638001661
8
8
179
6

EDP:8004822

Prussian Blue

636638001678
8
8
179
6
636638001685
8
8
179
6

EDP:8004806

Kingfisher Blue

636638001708
8
8
179
6

EDP:8004838

Turquoise Blue

636638001715
8
8
179
6

EDP:8004839

Turquoise Green

636638001722
8
8
179
6

EDP:8004805

Juniper Green

636638001746
8
8
179
6
636638001760
8
8
179
6

EDP:8004814

Mineral Green

636638001777
8
8
179
6

EDP:8004793

Emerald Green

636638001784
8
8
179
6
636638001791
8
8
179
6
636638001807
8
8
179
6
0636638001814
8
8
179
6
636638001838
8
8
179
6
636638001845
8
8
179
6
0636638001852
8
8
179
6
636638001869
8
8
179
6

EDP:8004841

Vandyke Brown

636638001876
8
8
179
6
0636638001883
8
8
179
6
636638001890
8
8
179
6
636638001906
8
8
179
6
0636638001944
8
8
179
6
636638001951
8
8
179
6
636638001968
8
8
179
6

EDP:8004778

Burnt Carmine

0636638001975
8
8
179
6
636638001999
8
8
179
6
636638002002
8
8
179
6
636638002026
8
8
179
6
636638002033
8
8
179
6

EDP:8004783

Chinese White

636638002040
8
8
179
6