Derwent Watersoluble Graphitone Sticks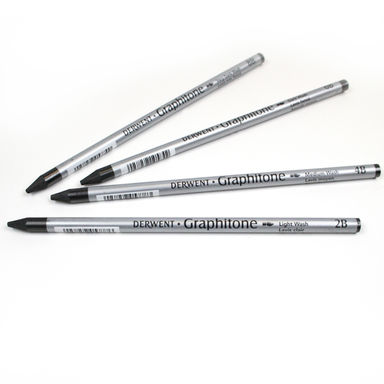 Awash with possibilities, no wood casing just pure water-soluble graphite in a stick! There are so many things you can do with Derwent Water-soluble Graphitone. You can use it like a pencil but the real fun begins when you peel off the wrapper! Use the stick whole or break it into chunks to create broad sweeps of tone really quickly. Then just add water and watch the graphite dissolve into softness. Choose from four wash strengths from a light
to a very dark wash.
Newly formulated stick of pure artist quality graphite with the added advantage of being watersoluble.
Can be used as a traditional pencil, or remove the paper wrap and produce broader strokes using the side of the stick.
Unique "easy to peel" paper wrap.
Perfect for expressive sketching and drawing.
Available in 4 degrees : 2B (Light Wash), 4B (Medium Wash), 4B (Dark Wash) and 8B (Very Dark Wash).
Water-soluble
Round 7mm stick of pure graphite
100% useable material
2B

1804335 - #5028252057776

Length: 8 mm

Width: 8 mm

Height: 0 mm

Weight: 12 g

4B

1804336 - #5028252057783

Length: 8 mm

Width: 8 mm

Height: 0 mm

Weight: 12 g

6B

1804337 - #5028252105842

Length: 8 mm

Width: 8 mm

Height: 178 mm

Weight: 12 g

8B

1804338 - #5028252057790

Length: 8 mm

Width: 8 mm

Height: 0 mm

Weight: 12 g

2B/4B/6B/8B Pack of 4

0426580 - #5028252057806

Length: 0 mm

Width: 0 mm

Height: 0 mm

Weight: 0 g
 
Barcode
Length (mm)
Width (mm)
Height (mm)
Weight (g)
5028252057776
8
8
0
12
5028252057783
8
8
0
12
5028252105842
8
8
178
12
5028252057790
8
8
0
12

EDP:0426580

2B/4B/6B/8B Pack of 4

5028252057806
0
0
0
0