Derwent Watersoluble Sketching Pencil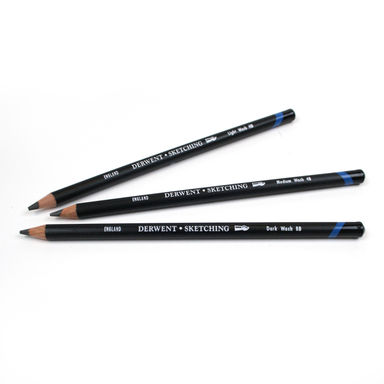 A brilliant combination of graphite with water! Like the Sketching Pencil, the Derwent Watersoluble Sketching Pencil has a wide strip which is great for quick loose sketches but when added with water the graphite gently dissolves and the drawing takes on a new, softer feel. Available in 3 easy to use wash strngths, light, medium and dark to help bring great to any piece of art work.
Available in 3 wash strengths
Round 8mm barrel
Wide 4mm graphite core
Water-soluble
Watersoluble Sketching pencils couldn't be easier to use; just 3 simple degrees HB, 2B and 4B for light, medium and dark wash strengths.
The wide strip is perfect for a loose sketch or sharpening to a fine point to add detail!
Ideal for creating expressive tonal drawings and line and wash sketches.
The TIn of 6 contains 2 x HB, 2 x 4B, 2 x 8B and a pencil sharpener.
Assorted Tin of 6

5008310 - #5028252170291

Length: 242 mm

Width: 65 mm

Height: 14 mm

Weight: 128 g

HB

1804329 - #636638003986

Length: 9 mm

Width: 9 mm

Height: 0 mm

Weight: 7 g

4B

1804330 - #636638003993

Length: 9 mm

Width: 9 mm

Height: 0 mm

Weight: 7 g

8B

1804331 - #636638004006

Length: 9 mm

Width: 9 mm

Height: 0 mm

Weight: 7 g
 
Barcode
Length (mm)
Width (mm)
Height (mm)
Weight (g)

EDP:5008310

Assorted Tin of 6

5028252170291
242
65
14
128
636638003986
9
9
0
7
636638003993
9
9
0
7
636638004006
9
9
0
7