Fabriano Oil Pads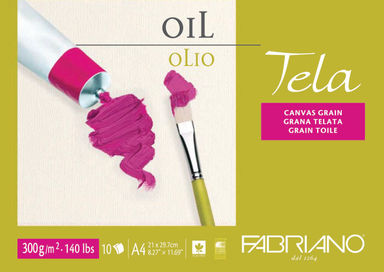 Fabriano oil painting paper 'Tela' has an internal and external sizing that offers an ideal absorption for oil colours.
It is Acid Free and archival.
The unique paper surface, obtained through a specialized texturing process, creates a surface similar to linen cancas.
It is recommended for oil painting techniques.
A5

0417130 - #9311960417137

Length: 0 mm

Width: 0 mm

Height: 0 mm

Weight: 0 g

A4

0417140 - #9311960417144

Length: 0 mm

Width: 0 mm

Height: 0 mm

Weight: 0 g

A3

0417150 - #9311960417151

Length: 0 mm

Width: 0 mm

Height: 0 mm

Weight: 0 g
|   | Barcode | Length (mm) | Width (mm) | Height (mm) | Weight (g) |
| --- | --- | --- | --- | --- | --- |
| | 9311960417137 | 0 | 0 | 0 | 0 |
| | 9311960417144 | 0 | 0 | 0 | 0 |
| | 9311960417151 | 0 | 0 | 0 | 0 |