Fabriano Tiziano Pastel Paper Pads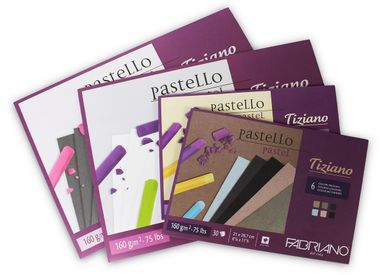 This paper has highly lightfast colours, an excellent surface making and sizing which make this paper particularly suitable for pastels, pencil, graphite, charcoal, tempera, airbrush and watercolour techniques. Tiziano can be used for all printing techniques.
This paper is produced with a high cotton content and pure ECF cellulose.
It is acid free to guarantee long permanence in time.
160 gsm
FSC Certified
Assorted colours pads contain 30sheets
White and Black pads contain 24 sheets
Soft Colours: sahara, cream, pearl grey, zabaione, white and light blue grey
Bright colours: marine, rose grey, felt grey, steel grey, charcoal and black
23 x 30.5cm Black Pad 160gsm 24 sheets

0013960 - #8001348159032

Length: 230 mm

Width: 305 mm

Height: 15 mm

Weight: 350 g

30.5 x 41cm White Pad 160gsm 24 sheets

0013950 - #8001348159025

Length: 305 mm

Width: 410 mm

Height: 15 mm

Weight: 600 g

23 x 30.5cm White Pad 160gsm 24 sheets

0013940 - #8001348159018

Length: 230 mm

Width: 305 mm

Height: 15 mm

Weight: 350 g

A4 Flecked Colours Pad 160gsm 30 sheets

0013930 - #8001348156895

Length: 210 mm

Width: 297 mm

Height: 15 mm

Weight: 300 g

A4 Soft Colours Pad 160gsm 30 sheets

0013910 - #8001348156871

Length: 210 mm

Width: 297 mm

Height: 15 mm

Weight: 300 g

A3 Flecked Colours Pad 160gsm 30 sheets

0425040 - #8001348156901

Length: 297 mm

Width: 420 mm

Height: 15 mm

Weight: 550 g

A3 Soft Colours Pad 160gsm 30 sheets

0431430 - #8001348156888

Length: 297 mm

Width: 420 mm

Height: 15 mm

Weight: 550 g

30.5 x 41cm Black Pad 160gsm 24 sheets

0431420 - #8001348159049

Length: 305 mm

Width: 410 mm

Height: 15 mm

Weight: 600 g
 
Barcode
Length (mm)
Width (mm)
Height (mm)
Weight (g)

EDP:0013960

23 x 30.5cm Black Pad 160gsm 24 sheets

8001348159032
230
305
15
350

EDP:0013950

30.5 x 41cm White Pad 160gsm 24 sheets

8001348159025
305
410
15
600

EDP:0013940

23 x 30.5cm White Pad 160gsm 24 sheets

8001348159018
230
305
15
350

EDP:0013930

A4 Flecked Colours Pad 160gsm 30 sheets

8001348156895
210
297
15
300

EDP:0013910

A4 Soft Colours Pad 160gsm 30 sheets

8001348156871
210
297
15
300

EDP:0425040

A3 Flecked Colours Pad 160gsm 30 sheets

8001348156901
297
420
15
550

EDP:0431430

A3 Soft Colours Pad 160gsm 30 sheets

8001348156888
297
420
15
550

EDP:0431420

30.5 x 41cm Black Pad 160gsm 24 sheets

8001348159049
305
410
15
600