Fabriano Artistico Watercolour Blocks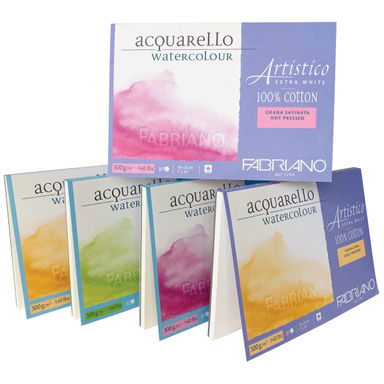 Fabriano Artistico watercolour paper is mould made, produced with 100% cotton, chlorine and acid free.
Blocks are made up of multiple sheets of watercolour paper that are glued on all 4 sides, allowing for no buckling and no need to tape/stretch the paper before use.
300gsm in and assortment of sizes and sheet counts.
Available in 3 textures:
Hot Pressed (Smooth)
Cold Pressed (Medium)
Rough
Available in both Traditional White and Extra White.
Cold Pressed (Medium) Traditional White 300gsm 18X26CM 20 SHT Enhanced

0084420 - #8001348209522

Length: 180 mm

Width: 260 mm

Height: 150 mm

Weight: 200 g

Cold Pressed (Medium) Extra White 300gsm 18X26CM 20 SHT Enhanced

0084880 - #8001348210047

Length: 180 mm

Width: 260 mm

Height: 150 mm

Weight: 200 g

Cold Pressed (Medium) Traditional White 300gsm 23X30.5CM 20 SHT Enhanced

0084450 - #8001348209539

Length: 230 mm

Width: 305 mm

Height: 150 mm

Weight: 300 g

Cold Pressed (Medium) Extra White 300gsm 23X30CM 20 SHT Enhanced

0084910 - #8001348210054

Length: 230 mm

Width: 305 mm

Height: 150 mm

Weight: 300 g

Cold Pressed (Medium) Natural White 300gsm 26X36CM 20 SHT Enhanced

0084490 - #8001348209546

Length: 260 mm

Width: 360 mm

Height: 150 mm

Weight: 350 g

Cold Pressed (Medium) Extra White 300gsm 26X36CM 20 SHT Enhanced

0084940 - #8001348210061

Length: 260 mm

Width: 360 mm

Height: 150 mm

Weight: 350 g

Cold Pressed (Medium) Traditional White 300gsm 31X41CM 20 SHT Enhanced

0084550 - #8001348209560

Length: 310 mm

Width: 410 mm

Height: 150 mm

Weight: 420 g

Cold Pressed (Medium) Extra White 300gsm 31X41CM 20 SHT Enhanced

0085000 - #8001348210085

Length: 310 mm

Width: 410 mm

Height: 150 mm

Weight: 420 g

Cold Pressed (Medium) Traditional White 300gsm 35X51CM 15 SHT Enhanced

0084580 - #8001348209577

Length: 350 mm

Width: 510 mm

Height: 150 mm

Weight: 450 g

Cold Pressed (Medium) Extra White 300gsm 35X51CM 15 SHT Enhanced

0085030 - #8001348210092

Length: 350 mm

Width: 510 mm

Height: 150 mm

Weight: 450 g

Cold Pressed (Medium) Traditional White 300gsm 45X61CM 10 SHT Enhanced

0084610 - #8001348209584

Length: 450 mm

Width: 610 mm

Height: 150 mm

Weight: 500 g

Hot Pressed (Smooth) Traditional White 300gsm 18X26CM 20 SHT Enhanced

0084430 - #8001348209362

Length: 180 mm

Width: 260 mm

Height: 150 mm

Weight: 200 g

Hot Pressed (Smooth) Extra White 300gsm 18X26CM 20 SHT Enhanced

0084890 - #8001348209904

Length: 180 mm

Width: 260 mm

Height: 150 mm

Weight: 200 g

Hot Pressed (Smooth) Traditional White 300gsm 23X30.5CM 20 SHT Enhanced

0084460 - #8001348209379

Length: 230 mm

Width: 305 mm

Height: 150 mm

Weight: 300 g

Hot Pressed (Smooth) Extra White 300gsm 23X30.5CM 20 SHT Enhanced

0084920 - #8001348209911

Length: 230 mm

Width: 305 mm

Height: 150 mm

Weight: 300 g

Hot Pressed (Smooth) Traditional White 300gsm 26X36CM 20 SHT Enhanced

0084500 - #8001348209386

Length: 260 mm

Width: 360 mm

Height: 150 mm

Weight: 350 g

Hot Pressed (Smooth) Extra White 300gsm 26X36CM 20 SHT Enhanced

0084950 - #8001348209928

Length: 260 mm

Width: 360 mm

Height: 150 mm

Weight: 350 g

Hot Pressed (Smooth) Natural White 300gsm 31X41CM 20 SHT Enhanced

0084560 - #8001348209409

Length: 310 mm

Width: 410 mm

Height: 150 mm

Weight: 420 g

Hot Pressed (Smooth) Extra White 300gsm 31X41CM 20 SHT Enhanced

0085010 - #8001348209942

Length: 310 mm

Width: 410 mm

Height: 150 mm

Weight: 420 g

Hot Pressed (Smooth) Traditional White 300gsm 35X51CM 15 SHT Enhanced

0084590 - #8001348209416

Length: 350 mm

Width: 510 mm

Height: 150 mm

Weight: 450 g

Hot Pressed (Smooth) Extra White 300gsm 35X51CM 15 SHT Enhanced

0085040 - #8001348209959

Length: 350 mm

Width: 510 mm

Height: 150 mm

Weight: 450 g

Hot Pressed (Smooth) Traditional White 300gsm 45X61CM 10 SHT Enhanced

0084620 - #8001348209423

Length: 450 mm

Width: 610 mm

Height: 150 mm

Weight: 500 g

Rough Traditional White 300gsm 18X26CM 20 SHT Enhanced

0084440 - #8001348209683

Length: 180 mm

Width: 260 mm

Height: 150 mm

Weight: 200 g

Rough Extra White 300gsm 18X26CM 20 SHT Enhanced

0084900 - #8001348210184

Length: 180 mm

Width: 260 mm

Height: 150 mm

Weight: 200 g

Rough Traditional White 300gsm 23X30.5CM 20 SHT Enhanced

0084470 - #8001348209690

Length: 230 mm

Width: 300 mm

Height: 150 mm

Weight: 300 g

Rough Extra White 300gsm 23X30.5CM 20 SHT Enhanced

0084930 - #8001348210191

Length: 230 mm

Width: 305 mm

Height: 150 mm

Weight: 300 g

Rough Traditional White 300gsm 26X36CM 20 SHT Enhanced

0084510 - #8001348209706

Length: 260 mm

Width: 360 mm

Height: 150 mm

Weight: 350 g

Rough Extra White 300gsm 26X36CM 20 SHT Enhanced

0084960 - #8001348210207

Length: 260 mm

Width: 360 mm

Height: 150 mm

Weight: 350 g

Rough Traditional White 300gsm 31X41CM 20 SHT Enhanced

0084570 - #8001348209720

Length: 310 mm

Width: 410 mm

Height: 150 mm

Weight: 420 g

Rough Extra White 300gsm 31X41CM 20 SHT Enhanced

0085020 - #8001348210221

Length: 310 mm

Width: 410 mm

Height: 150 mm

Weight: 420 g

Rough Traditional White 300gsm 35X51CM 15 SHT Enhanced

0084600 - #8001348209737

Length: 350 mm

Width: 510 mm

Height: 150 mm

Weight: 450 g

Rough Extra White 300gsm 35.5X51CM 15 SHT Enhanced

0085050 - #8001348210238

Length: 350 mm

Width: 510 mm

Height: 150 mm

Weight: 450 g

Rough Traditional White 300gsm 45X61CM 10 SHT Enhanced

0084630 - #8001348209744

Length: 450 mm

Width: 610 mm

Height: 150 mm

Weight: 500 g
 
Barcode
Length (mm)
Width (mm)
Height (mm)
Weight (g)

EDP:0084420

Cold Pressed (Medium) Traditional White 300gsm 18X26CM 20 SHT Enhanced

8001348209522
180
260
150
200

EDP:0084880

Cold Pressed (Medium) Extra White 300gsm 18X26CM 20 SHT Enhanced

8001348210047
180
260
150
200

EDP:0084450

Cold Pressed (Medium) Traditional White 300gsm 23X30.5CM 20 SHT Enhanced

8001348209539
230
305
150
300

EDP:0084910

Cold Pressed (Medium) Extra White 300gsm 23X30CM 20 SHT Enhanced

8001348210054
230
305
150
300

EDP:0084490

Cold Pressed (Medium) Natural White 300gsm 26X36CM 20 SHT Enhanced

8001348209546
260
360
150
350

EDP:0084940

Cold Pressed (Medium) Extra White 300gsm 26X36CM 20 SHT Enhanced

8001348210061
260
360
150
350

EDP:0084550

Cold Pressed (Medium) Traditional White 300gsm 31X41CM 20 SHT Enhanced

8001348209560
310
410
150
420

EDP:0085000

Cold Pressed (Medium) Extra White 300gsm 31X41CM 20 SHT Enhanced

8001348210085
310
410
150
420

EDP:0084580

Cold Pressed (Medium) Traditional White 300gsm 35X51CM 15 SHT Enhanced

8001348209577
350
510
150
450

EDP:0085030

Cold Pressed (Medium) Extra White 300gsm 35X51CM 15 SHT Enhanced

8001348210092
350
510
150
450

EDP:0084610

Cold Pressed (Medium) Traditional White 300gsm 45X61CM 10 SHT Enhanced

8001348209584
450
610
150
500

EDP:0084430

Hot Pressed (Smooth) Traditional White 300gsm 18X26CM 20 SHT Enhanced

8001348209362
180
260
150
200

EDP:0084890

Hot Pressed (Smooth) Extra White 300gsm 18X26CM 20 SHT Enhanced

8001348209904
180
260
150
200

EDP:0084460

Hot Pressed (Smooth) Traditional White 300gsm 23X30.5CM 20 SHT Enhanced

8001348209379
230
305
150
300

EDP:0084920

Hot Pressed (Smooth) Extra White 300gsm 23X30.5CM 20 SHT Enhanced

8001348209911
230
305
150
300

EDP:0084500

Hot Pressed (Smooth) Traditional White 300gsm 26X36CM 20 SHT Enhanced

8001348209386
260
360
150
350

EDP:0084950

Hot Pressed (Smooth) Extra White 300gsm 26X36CM 20 SHT Enhanced

8001348209928
260
360
150
350

EDP:0084560

Hot Pressed (Smooth) Natural White 300gsm 31X41CM 20 SHT Enhanced

8001348209409
310
410
150
420

EDP:0085010

Hot Pressed (Smooth) Extra White 300gsm 31X41CM 20 SHT Enhanced

8001348209942
310
410
150
420

EDP:0084590

Hot Pressed (Smooth) Traditional White 300gsm 35X51CM 15 SHT Enhanced

8001348209416
350
510
150
450

EDP:0085040

Hot Pressed (Smooth) Extra White 300gsm 35X51CM 15 SHT Enhanced

8001348209959
350
510
150
450

EDP:0084620

Hot Pressed (Smooth) Traditional White 300gsm 45X61CM 10 SHT Enhanced

8001348209423
450
610
150
500

EDP:0084440

Rough Traditional White 300gsm 18X26CM 20 SHT Enhanced

8001348209683
180
260
150
200

EDP:0084900

Rough Extra White 300gsm 18X26CM 20 SHT Enhanced

8001348210184
180
260
150
200

EDP:0084470

Rough Traditional White 300gsm 23X30.5CM 20 SHT Enhanced

8001348209690
230
300
150
300

EDP:0084930

Rough Extra White 300gsm 23X30.5CM 20 SHT Enhanced

8001348210191
230
305
150
300

EDP:0084510

Rough Traditional White 300gsm 26X36CM 20 SHT Enhanced

8001348209706
260
360
150
350

EDP:0084960

Rough Extra White 300gsm 26X36CM 20 SHT Enhanced

8001348210207
260
360
150
350

EDP:0084570

Rough Traditional White 300gsm 31X41CM 20 SHT Enhanced

8001348209720
310
410
150
420

EDP:0085020

Rough Extra White 300gsm 31X41CM 20 SHT Enhanced

8001348210221
310
410
150
420

EDP:0084600

Rough Traditional White 300gsm 35X51CM 15 SHT Enhanced

8001348209737
350
510
150
450

EDP:0085050

Rough Extra White 300gsm 35.5X51CM 15 SHT Enhanced

8001348210238
350
510
150
450

EDP:0084630

Rough Traditional White 300gsm 45X61CM 10 SHT Enhanced

8001348209744
450
610
150
500