Graphik Line Painter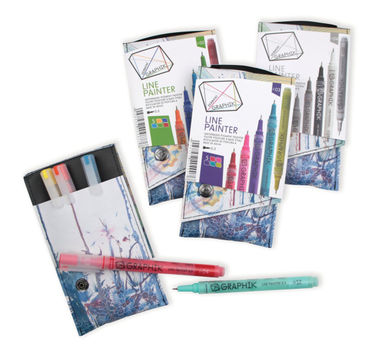 A fusion of fine lines and opaque paint make these unusual pens a must for illustrators, artists and designers. The free-flowing water based paint is
highly pigmented, allowing for layers of contrasting colours, paint runs and splashes, fine lines and colour blending. Whilst wet, the paint is water-soluble, once dry the paint is waterproof and permanent (on porous surfaces such as paper and untreated wood).
Fluid opaque paint.
Immense depth of colour.
Create layers, dribbles and washes.
Japanese nib.
20 colours.
Lightfast, permanent, opaque waterbased paint.
The 0.5 Japan nib is robust and delivers a fluid paint line.
Dilutes with water so you can create washes and add layers.
Palette 1 contains Brickroad #01, Tom #03, Herring #04, Paradise #11, Minted #12
Palette 2 contains Clockwork #02, Brilliant #08, High #09, Envy #13 and Bricklane #15
Palette 3 contains Blood #5, Tickled #6, Rain #7, Billy #10 and Fingers #14
Palette 4 contains Jungle #16, Graphite #17, Magic #18, Snow #19, and Fox #20
Palette #01 (Pack 5)

0427020 - #5028252404846

Length: 15 mm

Width: 83 mm

Height: 0 mm

Weight: 72 g

Palette #02 (Pack 5)

0427030 - #5028252404877

Length: 15 mm

Width: 83 mm

Height: 0 mm

Weight: 72 g

Palette #03 (Pack 5)

0427040 - #5028252404907

Length: 15 mm

Width: 85 mm

Height: 0 mm

Weight: 72 g
 
Barcode
Length (mm)
Width (mm)
Height (mm)
Weight (g)

EDP:0427020

Palette #01 (Pack 5)

5028252404846
15
83
0
72

EDP:0427030

Palette #02 (Pack 5)

5028252404877
15
83
0
72

EDP:0427040

Palette #03 (Pack 5)

5028252404907
15
85
0
72