How To Make Resin Jewellery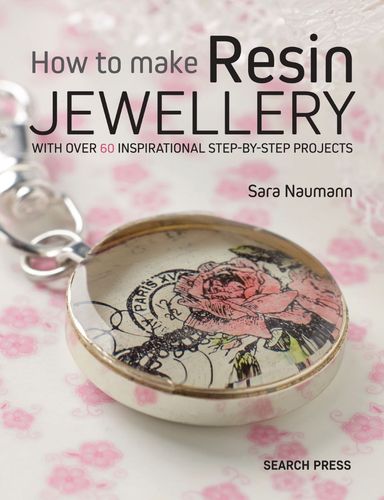 ISBN 9781782213376
Publisher Search Press
Format BC Paperback
Dimensions 216mm x 280mm
Pages 96
Pub Date February 2017
Description
Resin jewellery first started in the US around 6 years ago and has now become one of the fastest-growing trends in jewellery making. The technique is very simple you simply mix the two-part resin together and pour into a bezel or pendant. Rings, pendants, brooches, cufflinks, hairpins and bracelets are all easy to make and look incredibly professional when done.
In this inspiring book, well-known crafter Sara Naumann shows you just how easy and quick resin jewellery is to make, using minimal equipment and readily available products, and provides over 50 fabulous projects for you to try. You can add numerous items to the resin to achieve different effects. You can place paper in the bezels to act as a background to the resin such as old book paper, map paper, scrapbook paper and photographs. Paper can also be painted, stencilled, or layered with washi tape before being coated with resin. Try sheet music for a vintage vibe, or origami papers for a fresh, contemporary look.
In addition, you can also immerse various items in the resin before it cures, such as dried flowers and leaves, feathers, shells, beads and charms, or try adding glitter, coloured inks, nail polish and virtually anything else you can think of.
The versatility of resin jewellery is awe-inspiring, providing papercrafters as well as jewellery-makers with all the skills and inspiration they need to design and make their own stunning pieces.
About the Author
Sara Naumann is an American mixed-media artist, writer and workshop instructor. She lives with her husband and small daughter in the Baltic sea town of Sopot, Poland, having moved there after 5 years in Amsterdam. Her passion is for stamping and mixed-media - and she shares that passion through teaching, writing and designing. Her aim is to take the mystery out of things that can seem intimidating or unfamiliar, leaving you free to enjoy the creative process.
Book

0077740 - #9781782213376

Length: 7 mm

Width: 216 mm

Height: 280 mm

Weight: 420 g
|   | Barcode | Length (mm) | Width (mm) | Height (mm) | Weight (g) |
| --- | --- | --- | --- | --- | --- |
| | 9781782213376 | 7 | 216 | 280 | 420 |