Winsor & Newton Calligraphy Ink Sets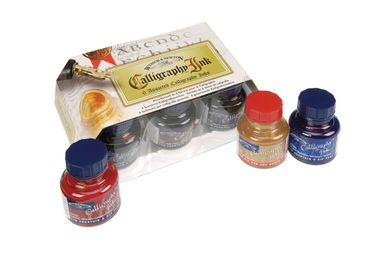 Winsor & Newton Calligraphy Inks have been formulated to provide the artist with an unrivalled level of permanence and quality. All the Calligraphy Ink colours have a permanence rating of AA or A. The formulations of the Inks are non-waterproof ensuring they are non-clogging and have good flow characteristics when used in a Fountain or Dip pen.
Calligraphy Inks are available in a selection of sets.
6 Assorted Colours
Contains:

6 x 30ml calligraphy inks: Black, Crimson, Dark Blue, Green Sepia and Gold.
Complete Set
Includes everything you need to get started in calligraphy.
Contains:

3 Drawing inks in 14ml bottles: Black Indian, Deep Red and Gold
5 Calligraphy Nibs in a variety of different widths
1 x Solid Wood Dip Pen
1 x A5 Smooth Cartridge Pad 110gsm (20 Sheets)
1 x Instruction leaflet for beginners
Wooden Box Set
This beautifully finished set offers a selection of calligraphy items in an attractive wooden box, with space for storage of inks and nibs.
Contains:

8 x 14ml Drawing Inks

5 x Calligraphy nibs in a variety of width

1 x Reservoir for nibs

1 x Wooden dip pen

1 x Instructional leaflet.
6 Assorted Colours

0244150 - #094376907407

Length: 170 mm

Width: 62 mm

Height: 10 mm

Weight: 680 g

Complete Set

0308920 - #094376968583

Length: 268 mm

Width: 49 mm

Height: 195 mm

Weight: 440 g
 
Barcode
Length (mm)
Width (mm)
Height (mm)
Weight (g)

EDP:0244150

6 Assorted Colours

094376907407
170
62
10
680
094376968583
268
49
195
440
Winsor & Newton Calligraphy Inks

Download