Jasart Academy Thick Edge Canvas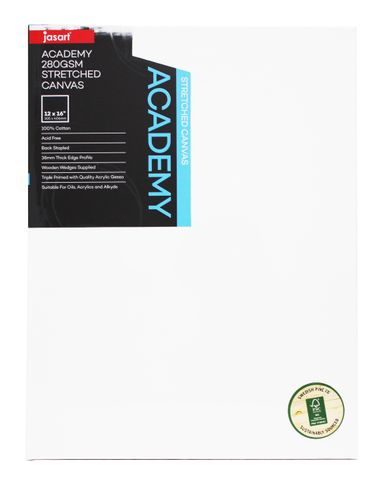 Jasart Academy Canvas is an economy 280gsm canvas suitable for use at home or school.
The surface is a fine grain with a 1 to 1 weave.
Each canvas is hand stretched over FSC® Swedish Pine stretcher bars for superior strength. 100% Cotton. Acid Free.
Bright white back with neat cut corners.
Triple primed with premium acrylic gesso ensures the surface ready to paint.
Suitable for Oils, Acrylics and Alkyds.
Available in both thin 19mm & thick 38mm edge profile
36 x 48 inch (609 x 1219mm)

0013100 - #9311960013100

Length: 914 mm

Width: 1219 mm

Height: 37 mm

Weight: 1800 g

30 x 20 inch (762 x 508mm)

0013090 - #9311960013094

Length: 762 mm

Width: 508 mm

Height: 37 mm

Weight: 867 g

18 x 24 inch (457 x 609mm)

0013070 - #9311960013070

Length: 458 mm

Width: 609 mm

Height: 37 mm

Weight: 733 g

16 x 20 inch (406 x 508mm)

0013060 - #9311960013063

Length: 406 mm

Width: 508 mm

Height: 37 mm

Weight: 533 g

12 x 36 inch (305 x 609mm)

0013080 - #9311960013087

Length: 305 mm

Width: 914 mm

Height: 37 mm

Weight: 767 g

12 x 16 inch (305 x 406mm)

0013050 - #9311960013056

Length: 305 mm

Width: 406 mm

Height: 37 mm

Weight: 525 g

12 x 12 inch (305 x 305mm)

0013040 - #9311960013049

Length: 305 mm

Width: 305 mm

Height: 37 mm

Weight: 425 g

10 x 12 inch (254 x 305mm)

0013030 - #9311960013032

Length: 254 mm

Width: 305 mm

Height: 37 mm

Weight: 333 g

10 x 10 inch (254 x 254mm)

0013020 - #9311960013025

Length: 254 mm

Width: 254 mm

Height: 37 mm

Weight: 342 g

8 x 10 inch (204 x 254mm)

0013010 - #9311960013018

Length: 205 mm

Width: 254 mm

Height: 37 mm

Weight: 250 g

8 x 8 inch (204 x 204mm)

0013000 - #9311960013001

Length: 205 mm

Width: 205 mm

Height: 37 mm

Weight: 233 g

4 x 4 inch (102 x 102mm)

0012990 - #9311960012998

Length: 102 mm

Width: 102 mm

Height: 37 mm

Weight: 117 g
 
Barcode
Length (mm)
Width (mm)
Height (mm)
Weight (g)

EDP:0013100

36 x 48 inch (609 x 1219mm)

9311960013100
914
1219
37
1800

EDP:0013090

30 x 20 inch (762 x 508mm)

9311960013094
762
508
37
867

EDP:0013070

18 x 24 inch (457 x 609mm)

9311960013070
458
609
37
733

EDP:0013060

16 x 20 inch (406 x 508mm)

9311960013063
406
508
37
533

EDP:0013080

12 x 36 inch (305 x 609mm)

9311960013087
305
914
37
767

EDP:0013050

12 x 16 inch (305 x 406mm)

9311960013056
305
406
37
525

EDP:0013040

12 x 12 inch (305 x 305mm)

9311960013049
305
305
37
425

EDP:0013030

10 x 12 inch (254 x 305mm)

9311960013032
254
305
37
333

EDP:0013020

10 x 10 inch (254 x 254mm)

9311960013025
254
254
37
342

EDP:0013010

8 x 10 inch (204 x 254mm)

9311960013018
205
254
37
250

EDP:0013000

8 x 8 inch (204 x 204mm)

9311960013001
205
205
37
233

EDP:0012990

4 x 4 inch (102 x 102mm)

9311960012998
102
102
37
117