Jasart Crafter Lamps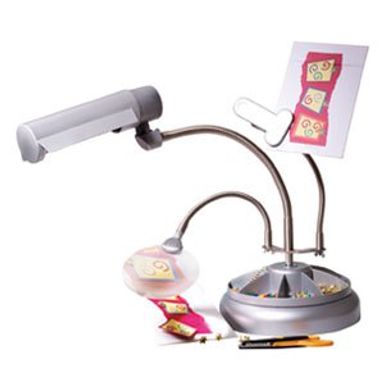 These Natural Light Lamps and Bulb are designed to stimulates natural light output which ensures a true colour representation and allows accurate colour matching.
Compact and stylish design which folds together for easy storage.
Reach of lamp is adjustable.
Max 300mm reach.
Energy efficient.
13 watt lamp (includes bulb).
Replacement bulb available.
The Jasart Deluxe Craft Lamp is a great multitasked lamp with built in clamp to hold images and references while you work and a magnifying glass to help you focust on the details.
1.75 magnification
Flexible neck allows varying lamp positions and a reach of up to 450mm
Energy efficient 15 watt lamp (includes bulb)
Includes magnifier and clamp - positions can be swapped
Rotating storage compartment
15W Deluxe Silver

0344270 - #9311960344273

Length: 225 mm

Width: 74 mm

Height: 400 mm

Weight: 2720 g

13W 4 Pin

0344290 - #9311960344297

Length: 140 mm

Width: 60 mm

Height: 260 mm

Weight: 950 g
 
Barcode
Length (mm)
Width (mm)
Height (mm)
Weight (g)

EDP:0344270

15W Deluxe Silver

9311960344273
225
74
400
2720
9311960344297
140
60
260
950