Jasart Dual Nib Marker Sets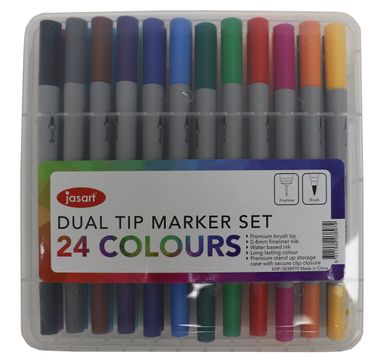 Jasart Dual Nib Markers.
Brush and 0.4mm Fineliner nibs are ideal for colouring, calligraphy, lettering, drawing and journaling.
Create sweeping strokes with the brush tip when lettering or use directly for colouring, shading and blending.
Flip the marker and use the fine tip for smaller fine line work and detailing.
Set 24 includes a premium clip close case.
Water-based & vibrant colours.
Triangular barrel for easy grip
Available in a Set 24 and Set 100.
Set 24 Dual Nib Markers: Brush and Fine

0038970 - #9311960038974

Length: 89 mm

Width: 13 mm

Height: 142 mm

Weight: 900 g

Set 100 Dual Nib Markers: Brush and Fine

0038930 - #9311960038936

Length: 89 mm

Width: 13 mm

Height: 142 mm

Weight: 900 g
 
Barcode
Length (mm)
Width (mm)
Height (mm)
Weight (g)

EDP:0038970

Set 24 Dual Nib Markers: Brush and Fine

9311960038974
89
13
142
900

EDP:0038930

Set 100 Dual Nib Markers: Brush and Fine

9311960038936
89
13
142
900
Jasart Dual Nib Brush Fineliner

Download