Jasart Fineliner Marker Set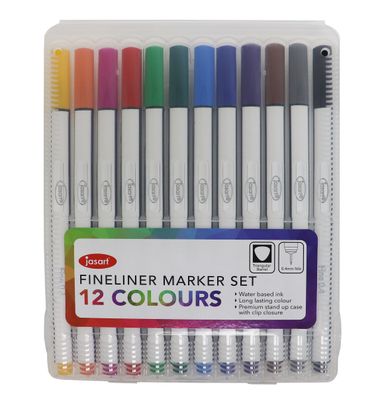 Premium Fineliner Marker Set.
12 vibrant colours with a triangular barrell.
The 0.4mm tip is perfect for writing & detailed work.
Water-based ink with long-lasting colour and high-quality performance.
Perfect for colouring, journaling, illustration, writing, note taking, diagrams, color coding and producing original works of art.
Premium stand up case allowa simple access to the markers whilst keeping them secure for transport.
Fineliner 0.4mm Set 12

0038980 - #9311960038981

Length: 89 mm

Width: 13 mm

Height: 142 mm

Weight: 900 g
 
Barcode
Length (mm)
Width (mm)
Height (mm)
Weight (g)

EDP:0038980

Fineliner 0.4mm Set 12

9311960038981
89
13
142
900