Jasart Floater Frames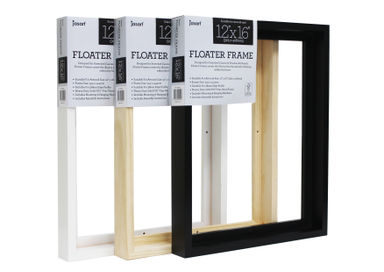 Complete Framing Solution.
Floater Frames create the illusion that the artwork is floating within the frame.
Everything you need to frame and hang your artwork is included. Quick and Easy.
Designed for Stretched Canvas & Wooden Art Boards.
Available to suit both Thin 19mm and Thick 38mm edge profiles.
Frame size measures slightly larger than the artwork size.
Heavy Duty Solid FSC Wood Frame.
Each frame comes complete with Mounting & Hanging Hardware. Frames include clear assembly instructions.
Canvas Panel Artwork Size 12x16inch Natural

0112320 - #9311960112322

Length: 305 mm

Width: 25 mm

Height: 460 mm

Weight: 300 g

Thin Edge Artwork Size 8x10inch Natural

0093740 - #9311960093744

Length: 203 mm

Width: 35 mm

Height: 203 mm

Weight: 350 g

Thin Edge Artwork Size 12x12inch Natural

0029000 - #9311960029002

Length: 305 mm

Width: 305 mm

Height: 35 mm

Weight: 350 g

Thin Edge Artwork Size 12x16inch Black

0029320 - #9311960029323

Length: 406 mm

Width: 305 mm

Height: 35 mm

Weight: 500 g

Thin Edge Artwork Size 12x16inch White

0029160 - #9311960029163

Length: 406 mm

Width: 305 mm

Height: 35 mm

Weight: 500 g

Thin Edge Artwork Size 12x16inch Natural

0029010 - #9311960029019

Length: 406 mm

Width: 305 mm

Height: 35 mm

Weight: 500 g

Thin Edge Artwork Size 16x16inch Natural

0029020 - #9311960029026

Length: 406 mm

Width: 406 mm

Height: 35 mm

Weight: 650 g

Thin Edge Artwork Size 16x20inch Black

0029340 - #9311960029347

Length: 406 mm

Width: 508 mm

Height: 35 mm

Weight: 800 g

Thin Edge Artwork Size 16x20inch White

0029180 - #9311960029187

Length: 406 mm

Width: 508 mm

Height: 35 mm

Weight: 800 g

Thin Edge Artwork Size 16x20inch Natural

0029030 - #9311960029033

Length: 406 mm

Width: 508 mm

Height: 35 mm

Weight: 800 g

Thin Edge Artwork Size 18x24inch Natural

0029040 - #9311960029040

Length: 457 mm

Width: 610 mm

Height: 35 mm

Weight: 1000 g

Thin Edge Artwork Size 20x30inch Natural

0093750 - #9311960093751

Length: 508 mm

Width: 35 mm

Height: 762 mm

Weight: 900 g

Thin Edge Artwork Size 24x36inch Natural

0029060 - #9311960029064

Length: 610 mm

Width: 914 mm

Height: 35 mm

Weight: 1200 g

Thick Edge Artwork Size 8x10inch Natural

0093770 - #9311960093775

Length: 203 mm

Width: 55 mm

Height: 254 mm

Weight: 350 g

Thick Edge Artwork Size 12x12inch Natural

0093780 - #9311960093782

Length: 305 mm

Width: 55 mm

Height: 305 mm

Weight: 500 g

Thick Edge Artwork Size 12x16inch Black

0029390 - #9311960029392

Length: 406 mm

Width: 305 mm

Height: 55 mm

Weight: 500 g

Thick Edge Artwork Size 12x16inch White

0029240 - #9311960029248

Length: 406 mm

Width: 305 mm

Height: 55 mm

Weight: 500 g

Thick Edge Artwork Size 12x16inch Natural

0029090 - #9311960029095

Length: 406 mm

Width: 305 mm

Height: 55 mm

Weight: 500 g

Thick Edge Artwork Size 16x20inch Black

0029410 - #9311960029415

Length: 406 mm

Width: 508 mm

Height: 55 mm

Weight: 800 g

Thick Edge Artwork Size 16x20inch White

0029260 - #9311960029262

Length: 406 mm

Width: 508 mm

Height: 55 mm

Weight: 800 g

Thick Edge Artwork Size 16x20inch Natural

0029110 - #9311960029118

Length: 406 mm

Width: 508 mm

Height: 55 mm

Weight: 800 g

Thick Edge Artwork Size 18x24inch Natural

0029120 - #9311960029125

Length: 457 mm

Width: 610 mm

Height: 55 mm

Weight: 1000 g

Thick Edge Artwork Size 20x30inch Natural

0093760 - #9311960093768

Length: 508 mm

Width: 55 mm

Height: 762 mm

Weight: 900 g
 
Barcode
Length (mm)
Width (mm)
Height (mm)
Weight (g)

EDP:0112320

Canvas Panel Artwork Size 12x16inch Natural

9311960112322
305
25
460
300

EDP:0093740

Thin Edge Artwork Size 8x10inch Natural

9311960093744
203
35
203
350

EDP:0029000

Thin Edge Artwork Size 12x12inch Natural

9311960029002
305
305
35
350

EDP:0029320

Thin Edge Artwork Size 12x16inch Black

9311960029323
406
305
35
500

EDP:0029160

Thin Edge Artwork Size 12x16inch White

9311960029163
406
305
35
500

EDP:0029010

Thin Edge Artwork Size 12x16inch Natural

9311960029019
406
305
35
500

EDP:0029020

Thin Edge Artwork Size 16x16inch Natural

9311960029026
406
406
35
650

EDP:0029340

Thin Edge Artwork Size 16x20inch Black

9311960029347
406
508
35
800

EDP:0029180

Thin Edge Artwork Size 16x20inch White

9311960029187
406
508
35
800

EDP:0029030

Thin Edge Artwork Size 16x20inch Natural

9311960029033
406
508
35
800

EDP:0029040

Thin Edge Artwork Size 18x24inch Natural

9311960029040
457
610
35
1000

EDP:0093750

Thin Edge Artwork Size 20x30inch Natural

9311960093751
508
35
762
900

EDP:0029060

Thin Edge Artwork Size 24x36inch Natural

9311960029064
610
914
35
1200

EDP:0093770

Thick Edge Artwork Size 8x10inch Natural

9311960093775
203
55
254
350

EDP:0093780

Thick Edge Artwork Size 12x12inch Natural

9311960093782
305
55
305
500

EDP:0029390

Thick Edge Artwork Size 12x16inch Black

9311960029392
406
305
55
500

EDP:0029240

Thick Edge Artwork Size 12x16inch White

9311960029248
406
305
55
500

EDP:0029090

Thick Edge Artwork Size 12x16inch Natural

9311960029095
406
305
55
500

EDP:0029410

Thick Edge Artwork Size 16x20inch Black

9311960029415
406
508
55
800

EDP:0029260

Thick Edge Artwork Size 16x20inch White

9311960029262
406
508
55
800

EDP:0029110

Thick Edge Artwork Size 16x20inch Natural

9311960029118
406
508
55
800

EDP:0029120

Thick Edge Artwork Size 18x24inch Natural

9311960029125
457
610
55
1000

EDP:0093760

Thick Edge Artwork Size 20x30inch Natural

9311960093768
508
55
762
900