Jasart Gallery Thick Edge Canvas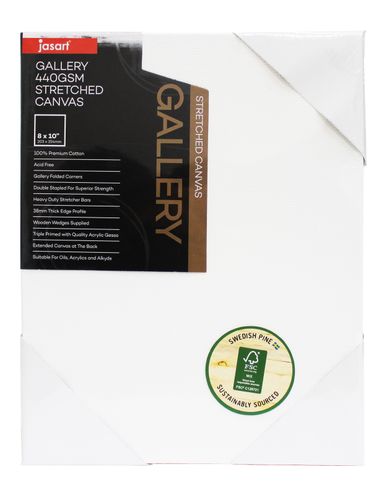 Jasart Gallery Canvas is an premium 440gsm canvas ideal for artists.
The surface is a medium grain with a premium 2 to 2 weave. Each canvas is hand stretched over FSC® Swedish Pine stretcher bars for superior strength. 100% Cotton. Acid Free.
Natural colour back with strong double stapled with generous canvas allowance. Wooden Wedges with folded corners allows for re-stretching. Triple primed with premium acrylic gesso ensuring the surface ready to paint.
Suitable for Oils, Acrylics and Alkyds.
Each canvas is supplied with corner protectors for extra protection during transport.
48 x 72 inch (1219 x 1829mm)

0013900 - #9311960013902

Length: 1219 mm

Width: 1828 mm

Height: 37 mm

Weight: 4067 g

48 x 60 inch (1219 x 1524mm)

0013880 - #9311960013889

Length: 1219 mm

Width: 1254 mm

Height: 37 mm

Weight: 3633 g

36 x 60 inch (914 x 1524mm)

0013870 - #9311960013872

Length: 914 mm

Width: 1254 mm

Height: 37 mm

Weight: 3133 g

36 x 48 inch (914 x 1219mm)

0013860 - #9311960013865

Length: 914 mm

Width: 1219 mm

Height: 37 mm

Weight: 2700 g

30 x 40 inch (762 x 1016mm)

0013850 - #9311960013858

Length: 762 mm

Width: 1016 mm

Height: 37 mm

Weight: 2960 g

30 x 30 inch (762 x 762mm)

0013840 - #9311960013841

Length: 762 mm

Width: 762 mm

Height: 37 mm

Weight: 1867 g

24 x 36 inch (609 x 914mm)

0013830 - #9311960013834

Length: 609 mm

Width: 914 mm

Height: 37 mm

Weight: 1567 g

24 x 30 inch (609 x 762mm)

0013820 - #9311960013827

Length: 609 mm

Width: 762 mm

Height: 37 mm

Weight: 1600 g

24 x 18 inch (609 x 457mm)

0013780 - #9311960013780

Length: 305 mm

Width: 458 mm

Height: 37 mm

Weight: 1600 g

20 x 30 inch (508 x 762mm)

0013800 - #9311960013803

Length: 406 mm

Width: 762 mm

Height: 37 mm

Weight: 1600 g

20 x 24 inch (508 x 609mm)

0013790 - #9311960013797

Length: 406 mm

Width: 609 mm

Height: 37 mm

Weight: 1600 g

18 x 36 inch (457 x 914mm)

0013810 - #9311960013810

Length: 305 mm

Width: 914 mm

Height: 37 mm

Weight: 1600 g

16 x 20 inch (406 x 508mm)

0013770 - #9311960013773

Length: 508 mm

Width: 406 mm

Height: 37 mm

Weight: 950 g

14 x 18 inch (356 x 457mm)

0013760 - #9311960013766

Length: 356 mm

Width: 457 mm

Height: 37 mm

Weight: 700 g

12 x 16 inch (305 x 406mm)

0013750 - #9311960013759

Length: 305 mm

Width: 406 mm

Height: 37 mm

Weight: 717 g

12 x 10 inch 305 x 254mm)

0013730 - #9311960013735

Length: 305 mm

Width: 254 mm

Height: 37 mm

Weight: 550 g

11 x 14 inch (279 x 356mm)

0013740 - #9311960013742

Length: 279 mm

Width: 356 mm

Height: 37 mm

Weight: 550 g

10 x 10 inch (254 x 254mm)

0013720 - #9311960013728

Length: 254 mm

Width: 254 mm

Height: 37 mm

Weight: 500 g

8 x 10 inch (204 x 254mm)

0013710 - #9311960013711

Length: 203 mm

Width: 254 mm

Height: 37 mm

Weight: 490 g

8 x 8 inch (204 x 204mm)

0013700 - #9311960013704

Length: 203 mm

Width: 203 mm

Height: 37 mm

Weight: 480 g
 
Barcode
Length (mm)
Width (mm)
Height (mm)
Weight (g)

EDP:0013900

48 x 72 inch (1219 x 1829mm)

9311960013902
1219
1828
37
4067

EDP:0013880

48 x 60 inch (1219 x 1524mm)

9311960013889
1219
1254
37
3633

EDP:0013870

36 x 60 inch (914 x 1524mm)

9311960013872
914
1254
37
3133

EDP:0013860

36 x 48 inch (914 x 1219mm)

9311960013865
914
1219
37
2700

EDP:0013850

30 x 40 inch (762 x 1016mm)

9311960013858
762
1016
37
2960

EDP:0013840

30 x 30 inch (762 x 762mm)

9311960013841
762
762
37
1867

EDP:0013830

24 x 36 inch (609 x 914mm)

9311960013834
609
914
37
1567

EDP:0013820

24 x 30 inch (609 x 762mm)

9311960013827
609
762
37
1600

EDP:0013780

24 x 18 inch (609 x 457mm)

9311960013780
305
458
37
1600

EDP:0013800

20 x 30 inch (508 x 762mm)

9311960013803
406
762
37
1600

EDP:0013790

20 x 24 inch (508 x 609mm)

9311960013797
406
609
37
1600

EDP:0013810

18 x 36 inch (457 x 914mm)

9311960013810
305
914
37
1600

EDP:0013770

16 x 20 inch (406 x 508mm)

9311960013773
508
406
37
950

EDP:0013760

14 x 18 inch (356 x 457mm)

9311960013766
356
457
37
700

EDP:0013750

12 x 16 inch (305 x 406mm)

9311960013759
305
406
37
717

EDP:0013730

12 x 10 inch 305 x 254mm)

9311960013735
305
254
37
550

EDP:0013740

11 x 14 inch (279 x 356mm)

9311960013742
279
356
37
550

EDP:0013720

10 x 10 inch (254 x 254mm)

9311960013728
254
254
37
500

EDP:0013710

8 x 10 inch (204 x 254mm)

9311960013711
203
254
37
490

EDP:0013700

8 x 8 inch (204 x 204mm)

9311960013704
203
203
37
480