Jasart Studio Thick Edge Canvas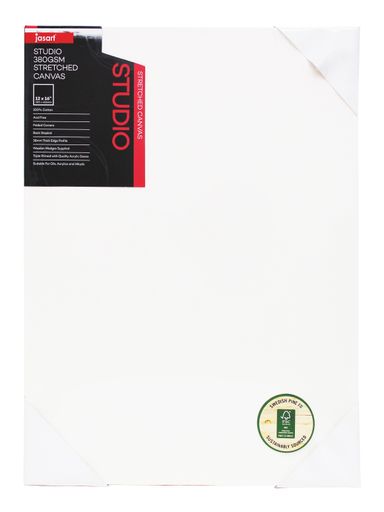 Jasart Studio Canvas is an classic 380gsm (7oz) canvas ideal for students, hobbyists and artists.The surface is a medium grain with a 1 to 2 weave.
Each canvas is hand stretched over FSC® Swedish Pine stretcher bars for superior strength.
100% Cotton.
Acid Free.
Natural colour back with generous canvas allowance. Wooden Wedges with folded corners allows for re-stretching.
Triple primed with premium acrylic gesso primes the surface ready to paint.
Suitable for Oils, Acrylics and Alkyds. Each canvas is supplied with corner protectors for extra protection during transport.
Available in both thin 19mm & thick 38mm edge profile
40 x 60 inch (1016 x 1524mm)

0013680 - #9311960013681

Length: 1016 mm

Width: 1524 mm

Height: 37 mm

Weight: 2600 g

40 x 40 inch (1016 x 1016mm)

0013670 - #9311960013674

Length: 1016 mm

Width: 1016 mm

Height: 37 mm

Weight: 2287 g

40 x 30 inch (1016 x 762mm)

0013640 - #9311960013643

Length: 762 mm

Width: 1016 mm

Height: 37 mm

Weight: 6733 g

36 x 72 inch (914 z 1829mm)

0013690 - #9311960013698

Length: 762 mm

Width: 1828 mm

Height: 37 mm

Weight: 2933 g

36 x 24 inch (914 x 609mm)

0013610 - #9311960013612

Length: 602 mm

Width: 914 mm

Height: 37 mm

Weight: 1972 g

30 x 30 inch (762 x 762mm)

0013620 - #9311960013629

Length: 762 mm

Width: 762 mm

Height: 37 mm

Weight: 1980 g

28 x 28 inch (711 x 711mm)

0013600 - #9311960013605

Length: 712 mm

Width: 712 mm

Height: 37 mm

Weight: 1717 g

24 x 72 inch (609 x 1829mm)

0013660 - #9311960013667

Length: 602 mm

Width: 1828 mm

Height: 37 mm

Weight: 3513 g

24 x 60 inch (609 x 1524mm)

0013650 - #9311960013650

Length: 602 mm

Width: 1524 mm

Height: 37 mm

Weight: 2733 g

24 x 48 inch (609 x 1219mm)

0013630 - #9311960013636

Length: 602 mm

Width: 1204 mm

Height: 37 mm

Weight: 2400 g

24 x 24 inch (609 x 609mm)

0013550 - #9311960013551

Length: 609 mm

Width: 609 mm

Height: 37 mm

Weight: 1412 g

24 x 18 inch (609 x 457mm)

0013540 - #9311960013544

Length: 457 mm

Width: 602 mm

Height: 37 mm

Weight: 1317 g

20 x 20 inch (508 x 508mm)

0013530 - #9311960013537

Length: 508 mm

Width: 508 mm

Height: 37 mm

Weight: 863 g

18 x 36 inch (457 x 914mm)

0013580 - #9311960013582

Length: 457 mm

Width: 914 mm

Height: 37 mm

Weight: 1583 g

18 x 18 inch (457 x 457mm)

0013510 - #9311960013513

Length: 458 mm

Width: 458 mm

Height: 37 mm

Weight: 657 g

16 x 48 inch (406 x 1219mm)

0013590 - #9311960013599

Length: 406 mm

Width: 1219 mm

Height: 37 mm

Weight: 2150 g

16 x 40 inch (406 x 1016mm)

0013570 - #9311960013575

Length: 406 mm

Width: 1016 mm

Height: 37 mm

Weight: 1500 g

16 x 20 inch (406 x 508mm)

0013500 - #9311960013506

Length: 508 mm

Width: 406 mm

Height: 37 mm

Weight: 950 g

16 x 16 inch (406 x 406mm)

0013490 - #9311960013490

Length: 406 mm

Width: 406 mm

Height: 37 mm

Weight: 575 g

12 x 48 inch (305 x 1219mm)

0013560 - #9311960013568

Length: 305 mm

Width: 1219 mm

Height: 37 mm

Weight: 1600 g

12 x 30 inch (305 x 762mm)

0013520 - #9311960013520

Length: 305 mm

Width: 762 mm

Height: 37 mm

Weight: 1217 g

12 x 16 inch (305 x 406mm)

0013480 - #9311960013483

Length: 305 mm

Width: 406 mm

Height: 37 mm

Weight: 433 g

12 x 12 inch (305 x 305mm)

0013470 - #9311960013476

Length: 305 mm

Width: 305 mm

Height: 37 mm

Weight: 617 g

10 x 10 inch (254 x 254mm)

0013460 - #9311960013469

Length: 254 mm

Width: 254 mm

Height: 37 mm

Weight: 400 g

8 x 8 inch (204 x 204mm)

0013450 - #9311960013452

Length: 203 mm

Width: 203 mm

Height: 37 mm

Weight: 300 g

6 x 6 inch (152 x 152mm)

0013430 - #9311960013438

Length: 153 mm

Width: 153 mm

Height: 37 mm

Weight: 182 g

4 x 12 inch (102 x 305mm)

0013440 - #9311960013445

Length: 102 mm

Width: 305 mm

Height: 37 mm

Weight: 267 g

4 x 4 inch (102 x 102mm)

0013420 - #9311960117273

Length: 102 mm

Width: 102 mm

Height: 37 mm

Weight: 117 g
 
Barcode
Length (mm)
Width (mm)
Height (mm)
Weight (g)

EDP:0013680

40 x 60 inch (1016 x 1524mm)

9311960013681
1016
1524
37
2600

EDP:0013670

40 x 40 inch (1016 x 1016mm)

9311960013674
1016
1016
37
2287

EDP:0013640

40 x 30 inch (1016 x 762mm)

9311960013643
762
1016
37
6733

EDP:0013690

36 x 72 inch (914 z 1829mm)

9311960013698
762
1828
37
2933

EDP:0013610

36 x 24 inch (914 x 609mm)

9311960013612
602
914
37
1972

EDP:0013620

30 x 30 inch (762 x 762mm)

9311960013629
762
762
37
1980

EDP:0013600

28 x 28 inch (711 x 711mm)

9311960013605
712
712
37
1717

EDP:0013660

24 x 72 inch (609 x 1829mm)

9311960013667
602
1828
37
3513

EDP:0013650

24 x 60 inch (609 x 1524mm)

9311960013650
602
1524
37
2733

EDP:0013630

24 x 48 inch (609 x 1219mm)

9311960013636
602
1204
37
2400

EDP:0013550

24 x 24 inch (609 x 609mm)

9311960013551
609
609
37
1412

EDP:0013540

24 x 18 inch (609 x 457mm)

9311960013544
457
602
37
1317

EDP:0013530

20 x 20 inch (508 x 508mm)

9311960013537
508
508
37
863

EDP:0013580

18 x 36 inch (457 x 914mm)

9311960013582
457
914
37
1583

EDP:0013510

18 x 18 inch (457 x 457mm)

9311960013513
458
458
37
657

EDP:0013590

16 x 48 inch (406 x 1219mm)

9311960013599
406
1219
37
2150

EDP:0013570

16 x 40 inch (406 x 1016mm)

9311960013575
406
1016
37
1500

EDP:0013500

16 x 20 inch (406 x 508mm)

9311960013506
508
406
37
950

EDP:0013490

16 x 16 inch (406 x 406mm)

9311960013490
406
406
37
575

EDP:0013560

12 x 48 inch (305 x 1219mm)

9311960013568
305
1219
37
1600

EDP:0013520

12 x 30 inch (305 x 762mm)

9311960013520
305
762
37
1217

EDP:0013480

12 x 16 inch (305 x 406mm)

9311960013483
305
406
37
433

EDP:0013470

12 x 12 inch (305 x 305mm)

9311960013476
305
305
37
617

EDP:0013460

10 x 10 inch (254 x 254mm)

9311960013469
254
254
37
400

EDP:0013450

8 x 8 inch (204 x 204mm)

9311960013452
203
203
37
300

EDP:0013430

6 x 6 inch (152 x 152mm)

9311960013438
153
153
37
182

EDP:0013440

4 x 12 inch (102 x 305mm)

9311960013445
102
305
37
267

EDP:0013420

4 x 4 inch (102 x 102mm)

9311960117273
102
102
37
117