Jasart Voyager Watercolour Empty Storage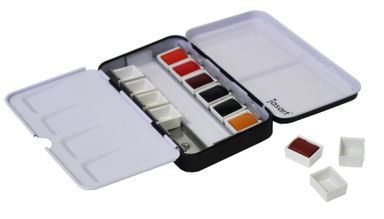 Your own paint set is easy to create & store with these empty Watercolour accessories.
Plastic Half Pans:
Create pans from tube watercolours, simply pour the liquid paint into the pan and allow to dry. Paint can be re-activated straight from the pan. Suitable to use colours straight from the tubes or ideal to store uniquely mixed colours.
Solid white plastic.
Metal Palette Boxes:
Offered in two sizes and configurations.
They are sturdy, re-useable, and feature a black enamel exterior and white enamel interior with foldout palette wells.
Metal Palette Box 12 (Empty): Holds 12 x half pans OR 6 x full pans
Metal Palette Box 24 (Empty): Holds 24 x half pans OR 12 x full pans
Plastic Half Pan (Empty)

0432110 - #

Length: 20 mm

Width: 20 mm

Height: 25 mm

Weight: 10 g

Metal Palette Box 12 (Empty)

0432090 - #9311960432093

Length: 120 mm

Width: 70 mm

Height: 25 mm

Weight: 105 g

Metal Palette Box 24 (Empty)

0432100 - #9311960432109

Length: 210 mm

Width: 70 mm

Height: 25 mm

Weight: 170 g
 
Barcode
Length (mm)
Width (mm)
Height (mm)
Weight (g)

EDP:0432110

Plastic Half Pan (Empty)

20
20
25
10

EDP:0432090

Metal Palette Box 12 (Empty)

9311960432093
120
70
25
105

EDP:0432100

Metal Palette Box 24 (Empty)

9311960432109
210
70
25
170