Jasart Wooden Boards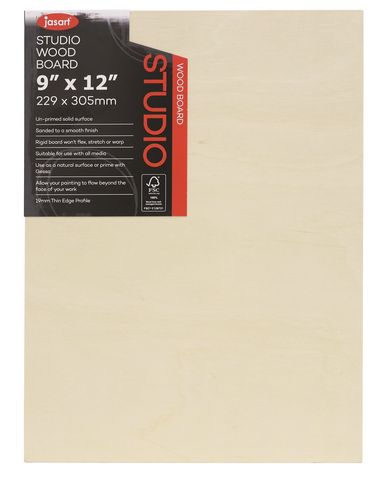 Premium Beechwood Art Boards.
The smooth edges allow your painting to flow beyond the front surface and around the sides.
Jasart Wooden Boards are suiitable to use in their natural state or use gesso to prime before painting.
The surface is also great for mounting prints, photographs and other mixed media applications.
Jasart Wooden Boards are available in Thick & Thin Edge.
Thin Edge 9x12inch

0040090 - #9311960040090

Length: 228 mm

Width: 304 mm

Height: 19 mm

Weight: 0 g

Thin Edge 12x12inch

0040100 - #9311960040106

Length: 304 mm

Width: 304 mm

Height: 19 mm

Weight: 0 g

Thin Edge 12x16inch

0040110 - #9311960040113

Length: 304 mm

Width: 406 mm

Height: 19 mm

Weight: 0 g

Thin Edge 16x16inch

0040120 - #9311960040120

Length: 406 mm

Width: 406 mm

Height: 19 mm

Weight: 0 g

Thin Edge 16x20inch

0040130 - #9311960040137

Length: 406 mm

Width: 508 mm

Height: 19 mm

Weight: 0 g

Thin Edge 18x24inch

0040140 - #9311960040144

Length: 457 mm

Width: 610 mm

Height: 19 mm

Weight: 0 g

Thick Edge 9x12inch

0040150 - #9311960040151

Length: 228 mm

Width: 304 mm

Height: 38 mm

Weight: 0 g

Thick Edge 12x12inch

0040160 - #9311960040168

Length: 304 mm

Width: 304 mm

Height: 38 mm

Weight: 0 g

Thick Edge 12x16inch

0040170 - #9311960040175

Length: 304 mm

Width: 406 mm

Height: 38 mm

Weight: 0 g

Thick Edge 16x16inch

0040180 - #9311960040182

Length: 406 mm

Width: 406 mm

Height: 38 mm

Weight: 0 g

Thick Edge 16x20inch

0040190 - #9311960040199

Length: 406 mm

Width: 508 mm

Height: 38 mm

Weight: 0 g

Thick Edge 18x24inch

0040200 - #9311960040205

Length: 457 mm

Width: 610 mm

Height: 38 mm

Weight: 0 g
 
Barcode
Length (mm)
Width (mm)
Height (mm)
Weight (g)

EDP:0040090

Thin Edge 9x12inch

9311960040090
228
304
19
0

EDP:0040100

Thin Edge 12x12inch

9311960040106
304
304
19
0

EDP:0040110

Thin Edge 12x16inch

9311960040113
304
406
19
0

EDP:0040120

Thin Edge 16x16inch

9311960040120
406
406
19
0

EDP:0040130

Thin Edge 16x20inch

9311960040137
406
508
19
0

EDP:0040140

Thin Edge 18x24inch

9311960040144
457
610
19
0

EDP:0040150

Thick Edge 9x12inch

9311960040151
228
304
38
0

EDP:0040160

Thick Edge 12x12inch

9311960040168
304
304
38
0

EDP:0040170

Thick Edge 12x16inch

9311960040175
304
406
38
0

EDP:0040180

Thick Edge 16x16inch

9311960040182
406
406
38
0

EDP:0040190

Thick Edge 16x20inch

9311960040199
406
508
38
0

EDP:0040200

Thick Edge 18x24inch

9311960040205
457
610
38
0