Kent #1 Craft Knife Set 16pc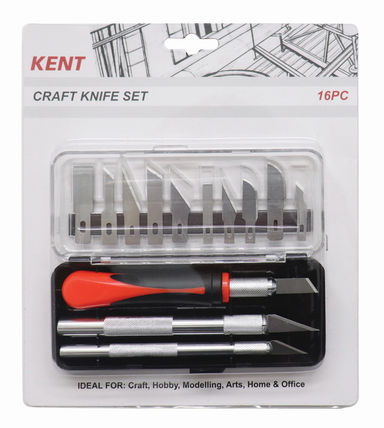 Precision cutting tools for art & crafting projects.
Superior blades which cut easily through paper, cardstock, wood, vinyl, wallpaper and most other light-weight crafting. Kent cutting is ideal for use by Graphic Designers, Model Makers, Hobbyists, Crafters and General Purpose.
Set contains: 3 handles, 12 interchangeable blades and a sturdy case with a magnetic strip to hold the blades.
Craft Knives and Blades Set 16pc

0040080 - #9311960040083

Length: 190 mm

Width: 25 mm

Height: 230 mm

Weight: 230 g
 
Barcode
Length (mm)
Width (mm)
Height (mm)
Weight (g)

EDP:0040080

Craft Knives and Blades Set 16pc

9311960040083
190
25
230
230