Kent Profile Drawing Board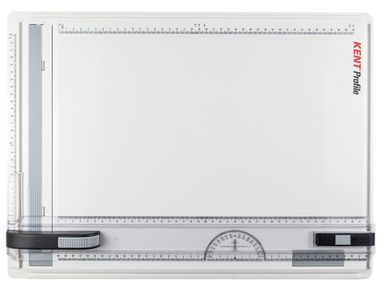 Kent A3 Drawing Board.
Protractor with opposite scale.
Compass plotting scale.
Parallel straightedge with STOP-and-GO locking/unlocking action (double locking).
Ergonomically designed, portable and lightweight.
Made from shock resistant, non-warping plastic.
The L-system straightedge design allows drawing along the top edge of the straightedge right down to the bottom of the sheet, with full accuracy and stability.
Guide rails designed for permanently smooth, feather light straightedge movement.
Magnetic Clamping rail with windows for controlling paper margin plus additional corner clamp to hold media securely.
End lock on A3 straightedges for added stability.
Ergonomic grip with push button and stop and go mechanism.
Graduation with markings for format and paper margin.
Anti-slip guide track for smooth straight edge.
A3

0407870 - #9311960407879

Length: 55 mm

Width: 520 mm

Height: 385 mm

Weight: 1445 g
|   | Barcode | Length (mm) | Width (mm) | Height (mm) | Weight (g) |
| --- | --- | --- | --- | --- | --- |
| | 9311960407879 | 55 | 520 | 385 | 1445 |