Learn To Paint In Acrylics With 50 More Small Paintings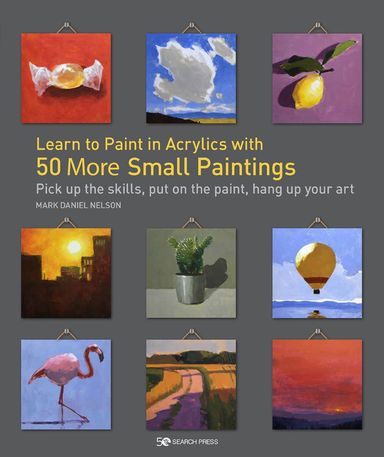 ISBN 9781782218517
Publisher Search Press
Format BC Paperback
Dimensions 215mm x 254mm
Page Extent 144
Pub Date May 2020
Description
Short exercises walk readers through creating 50 small-format finished paintings using a wide range of techniques.
Whether you're a weekend painter or a painting-a-day kind of painter, there are plenty of wonderful challenges here to keep you occupied and build your skills. Mark Daniel Nelson's first book proved so popular that he has written a sequel. Old fans and new followers will love this practical, how-to paint acrylics book. All the subjects you could possibly want are served up here and presented in the same thoughtful and thorough way in five simple steps.
About the Author
Mark Daniel Nelson studied classical sculpture and drawing at the prestigious La Scuola Classical Sculpture School and holds a degree in Visual Communications from the Colorado Institute of Art. He has taught courses in Human Anatomy, Art History, and Oil Painting at the Art Students League of Denver and at the Curtis Arts and Humanities Centre. His work can be found in numerous public and private collections around the US. He lives in Arizona in the US.
Book

0074440 - #9781782218517

Length: 10 mm

Width: 216 mm

Height: 545 mm

Weight: 545 g
|   | Barcode | Length (mm) | Width (mm) | Height (mm) | Weight (g) |
| --- | --- | --- | --- | --- | --- |
| | 9781782218517 | 10 | 216 | 545 | 545 |