Liquitex Acrylic Gouache 59ml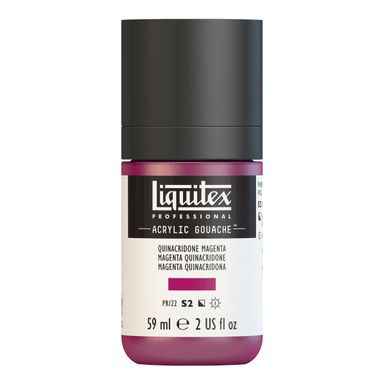 The innovative formula of Liquitex Professional Acrylic Gouache has a super-concentration of pure, ultra-fine pigments dispersed evenly in a flexible acrylic vehicle. It contains the highest intensity of pigment in any of the paints in the Liquitex range and took 2 years in the lab to develop.
When developing the formulation, Liquitex set out to provide the artist with the flexibility and smooth application you expect from an acrylic, with the best opacity possible.The range is full of opaque and and semi-opaque colors, giving you the best possible combination of opacity versus flexibility, with minimum show-through.
The acrylic vehicle for the pigment ensures a crack-free finish, unlike traditional gouache colour. The creamy, fluid texture means it can be used straight from the uniquely shaped bottle.
Ideal for design and illustration, Liquitex Professional Acrylic Gouache has a flat, matte finish which does not reflect the light. Also ideal for scanning and mixing with digital effects.
As with all Liquitex products, the pigments in Acrylic Gouache have passed extensive tests for lightfastness. Each pigment is rated according to the American Society for Testing & Materials (ASTM), and Liquitex only use pigments rated ASTM I or II*. Work will have the greatest archival permanence possible – at least 50 years+ in gallery conditions – with no color shifting or fading, to stay vibrant and true. *Some pigments, such as fluorescents, are not rated
Opaque / Semi-Opaque
No need to dilute with water
No brush strokes
Non cracking
Water resistant
Permanent when dry
Ergonomic bottle design
Available in 50 colours
Cadmium Free Yellow Light

0038350 - #887452999454

Length: 40 mm

Width: 40 mm

Height: 97 mm

Weight: 100 g

Primary Yellow

0038610 - #887452999478

Length: 40 mm

Width: 40 mm

Height: 97 mm

Weight: 86 g

Cadmium Free Yellow Medium

0038360 - #887452999461

Length: 40 mm

Width: 40 mm

Height: 97 mm

Weight: 97 g

Cadmium Free Yellow Deep

0038330 - #887452999447

Length: 40 mm

Width: 40 mm

Height: 97 mm

Weight: 96 g

Cadmium Free Orange

0038290 - #887452999492

Length: 40 mm

Width: 40 mm

Height: 97 mm

Weight: 93 g

Light Portrait Pink

0038520 - #887452999522

Length: 40 mm

Width: 40 mm

Height: 97 mm

Weight: 93 g

Peach

0038570 - #887452999485

Length: 40 mm

Width: 40 mm

Height: 97 mm

Weight: 93 g

Cadmium Free Red Light

0038310 - #887452999553

Length: 40 mm

Width: 40 mm

Height: 97 mm

Weight: 86 g

Scarlett

0038680 - #887452999515

Length: 40 mm

Width: 40 mm

Height: 97 mm

Weight: 86 g

Cadmium Free Red Medium

0038320 - #887452999508

Length: 40 mm

Width: 40 mm

Height: 97 mm

Weight: 86 g

Primary Red

0038600 - #887452999577

Length: 40 mm

Width: 40 mm

Height: 97 mm

Weight: 87 g

Cadmium Free Red Deep

0038300 - #887452999560

Length: 40 mm

Width: 40 mm

Height: 97 mm

Weight: 90 g

Quinacridone Magenta

0038640 - #887452999546

Length: 40 mm

Width: 40 mm

Height: 97 mm

Weight: 90 g

Medium Magenta

0038540 - #887452999539

Length: 40 mm

Width: 40 mm

Height: 97 mm

Weight: 94 g

Brilliant Purple

0038260 - #887452999607

Length: 40 mm

Width: 40 mm

Height: 97 mm

Weight: 93 g

Prism Violet

0038620 - #887452999584

Length: 40 mm

Width: 40 mm

Height: 97 mm

Weight: 86 g

Dioxazine Purple

0038380 - #887452999591

Length: 40 mm

Width: 40 mm

Height: 97 mm

Weight: 90 g

Prussian Blue Hue

0038630 - #887452999652

Length: 40 mm

Width: 40 mm

Height: 97 mm

Weight: 83 g

Phthalo Blue Green Shade

0038580 - #887452999645

Length: 40 mm

Width: 40 mm

Height: 97 mm

Weight: 83 g

Ultramarine Blue

0038720 - #887452999621

Length: 40 mm

Width: 40 mm

Height: 97 mm

Weight: 96 g

Primary Blue

0038590 - #887452999676

Length: 40 mm

Width: 40 mm

Height: 97 mm

Weight: 97 g

Cerulean Blue Hue

0038370 - #887452999669

Length: 40 mm

Width: 40 mm

Height: 97 mm

Weight: 96 g

Sky Blue

0038690 - #887452999614

Length: 40 mm

Width: 40 mm

Height: 97 mm

Weight: 90 g

Light Permanent Blue

0038510 - #887452999638

Length: 40 mm

Width: 40 mm

Height: 97 mm

Weight: 97 g

Bright Aqua Green

0038250 - #887452999713

Length: 40 mm

Width: 40 mm

Height: 97 mm

Weight: 93 g

Vivid Lime Green

0038760 - #887452999683

Length: 40 mm

Width: 40 mm

Height: 97 mm

Weight: 103 g

Turquoise Deep

0038710 - #887452999720

Length: 40 mm

Width: 40 mm

Height: 97 mm

Weight: 92 g

Viridian Hue

0038750 - #887452999706

Length: 40 mm

Width: 40 mm

Height: 97 mm

Weight: 93 g

Emerald Green

0038400 - #887452999690

Length: 40 mm

Width: 40 mm

Height: 97 mm

Weight: 93 g

Hookers Green Hue Permanent

0038470 - #887452999737

Length: 40 mm

Width: 40 mm

Height: 97 mm

Weight: 86 g

Yellow Oxide

0038770 - #887452999751

Length: 40 mm

Width: 40 mm

Height: 97 mm

Weight: 90 g

Raw Sienna

0038650 - #887452999782

Length: 40 mm

Width: 40 mm

Height: 97 mm

Weight: 93 g

Red Oxide

0038670 - #887452999799

Length: 40 mm

Width: 40 mm

Height: 97 mm

Weight: 93 g

Burnt Sienna

0038270 - #887452999744

Length: 40 mm

Width: 40 mm

Height: 97 mm

Weight: 93 g

Raw Umber

0038660 - #887452999768

Length: 40 mm

Width: 40 mm

Height: 97 mm

Weight: 90 g

Burnt Umber

0038280 - #887452999775

Length: 40 mm

Width: 40 mm

Height: 97 mm

Weight: 93 g

Neutral Grey 5

0038550 - #887452999867

Length: 40 mm

Width: 40 mm

Height: 97 mm

Weight: 98 g

Neutral Grey 7

0038560 - #887452999874

Length: 40 mm

Width: 40 mm

Height: 97 mm

Weight: 93 g

Unbleached Titan

0038740 - #887452999423

Length: 40 mm

Width: 40 mm

Height: 97 mm

Weight: 93 g

Titan White

0038700 - #887452999409

Length: 40 mm

Width: 40 mm

Height: 97 mm

Weight: 97 g

Ivory Black

0038500 - #887452999416

Length: 40 mm

Width: 40 mm

Height: 97 mm

Weight: 93 g

Mars Black

0038530 - #887452030614

Length: 40 mm

Width: 40 mm

Height: 97 mm

Weight: 97 g

Fluorescent Green

0038410 - #887452999829

Length: 40 mm

Width: 40 mm

Height: 97 mm

Weight: 86 g

Fluorescent Yellow

0038460 - #887452999812

Length: 40 mm

Width: 40 mm

Height: 97 mm

Weight: 87 g

Fluorescent Orange

0038430 - #887452999836

Length: 40 mm

Width: 40 mm

Height: 97 mm

Weight: 91 g

Fluorescent Red

0038440 - #887452999843

Length: 40 mm

Width: 40 mm

Height: 97 mm

Weight: 86 g

Fluorescent Opera Pink

0038420 - #887452999805

Length: 40 mm

Width: 40 mm

Height: 97 mm

Weight: 90 g

Fluorescent Violet

0038450 - #887452999850

Length: 40 mm

Width: 40 mm

Height: 97 mm

Weight: 86 g

Iridescent Bright Gold

0038480 - #887452999881

Length: 40 mm

Width: 40 mm

Height: 97 mm

Weight: 83 g

Iridescent Bright Silver

0038490 - #887452999898

Length: 40 mm

Width: 40 mm

Height: 97 mm

Weight: 83 g
 
Barcode
Length (mm)
Width (mm)
Height (mm)
Weight (g)

EDP:0038350

Cadmium Free Yellow Light

887452999454
40
40
97
100

EDP:0038610

Primary Yellow

887452999478
40
40
97
86

EDP:0038360

Cadmium Free Yellow Medium

887452999461
40
40
97
97

EDP:0038330

Cadmium Free Yellow Deep

887452999447
40
40
97
96

EDP:0038290

Cadmium Free Orange

887452999492
40
40
97
93

EDP:0038520

Light Portrait Pink

887452999522
40
40
97
93
887452999485
40
40
97
93

EDP:0038310

Cadmium Free Red Light

887452999553
40
40
97
86
887452999515
40
40
97
86

EDP:0038320

Cadmium Free Red Medium

887452999508
40
40
97
86
887452999577
40
40
97
87

EDP:0038300

Cadmium Free Red Deep

887452999560
40
40
97
90

EDP:0038640

Quinacridone Magenta

887452999546
40
40
97
90

EDP:0038540

Medium Magenta

887452999539
40
40
97
94

EDP:0038260

Brilliant Purple

887452999607
40
40
97
93
887452999584
40
40
97
86

EDP:0038380

Dioxazine Purple

887452999591
40
40
97
90

EDP:0038630

Prussian Blue Hue

887452999652
40
40
97
83

EDP:0038580

Phthalo Blue Green Shade

887452999645
40
40
97
83

EDP:0038720

Ultramarine Blue

887452999621
40
40
97
96
887452999676
40
40
97
97

EDP:0038370

Cerulean Blue Hue

887452999669
40
40
97
96
887452999614
40
40
97
90

EDP:0038510

Light Permanent Blue

887452999638
40
40
97
97

EDP:0038250

Bright Aqua Green

887452999713
40
40
97
93

EDP:0038760

Vivid Lime Green

887452999683
40
40
97
103

EDP:0038710

Turquoise Deep

887452999720
40
40
97
92
887452999706
40
40
97
93

EDP:0038400

Emerald Green

887452999690
40
40
97
93

EDP:0038470

Hookers Green Hue Permanent

887452999737
40
40
97
86
887452999751
40
40
97
90
887452999782
40
40
97
93
887452999799
40
40
97
93
887452999744
40
40
97
93
887452999768
40
40
97
90
887452999775
40
40
97
93

EDP:0038550

Neutral Grey 5

887452999867
40
40
97
98

EDP:0038560

Neutral Grey 7

887452999874
40
40
97
93

EDP:0038740

Unbleached Titan

887452999423
40
40
97
93
887452999409
40
40
97
97
887452999416
40
40
97
93
887452030614
40
40
97
97

EDP:0038410

Fluorescent Green

887452999829
40
40
97
86

EDP:0038460

Fluorescent Yellow

887452999812
40
40
97
87

EDP:0038430

Fluorescent Orange

887452999836
40
40
97
91

EDP:0038440

Fluorescent Red

887452999843
40
40
97
86

EDP:0038420

Fluorescent Opera Pink

887452999805
40
40
97
90

EDP:0038450

Fluorescent Violet

887452999850
40
40
97
86

EDP:0038480

Iridescent Bright Gold

887452999881
40
40
97
83

EDP:0038490

Iridescent Bright Silver

887452999898
40
40
97
83