Liquitex Slow-Dri Blending Fluid Medium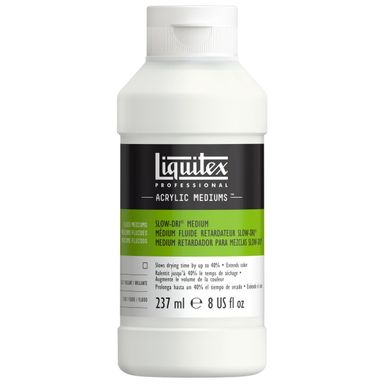 A unique formulation that extends drying time up to 40% for blending with acrylics .
Adds flow to Liquitex Heavy Body Professional Artist Colour and is similar in body to Liquitex Soft Body Professional Artist Colour.
Mix any amount into colour to enhance the depth of colour intensity, increase transparency, gloss, ease flow of paint, and add flexibility and adhesion to paint film .
Dries clear to reveal full, rich colour. Flexible, non-yellowing and water resistant when dry.
118ml

0383896 - #094376931457

Length: 46 mm

Width: 46 mm

Height: 110 mm

Weight: 155 g

Slow Dri Blend Fluid 237ml

0383898 - #094376931433

Length: 56 mm

Width: 56 mm

Height: 140 mm

Weight: 300 g

Slow Dri Blend Fluid 473ml

0383900 - #094376931440

Length: 66 mm

Width: 66 mm

Height: 187 mm

Weight: 561 g
 
Barcode
Length (mm)
Width (mm)
Height (mm)
Weight (g)
094376931457
46
46
110
155

EDP:0383898

Slow Dri Blend Fluid 237ml

094376931433
56
56
140
300

EDP:0383900

Slow Dri Blend Fluid 473ml

094376931440
66
66
187
561