Liquitex Soft Body Acrylic 59ml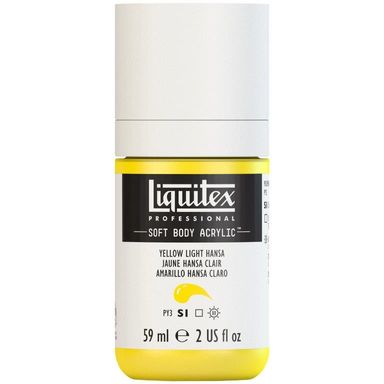 Liquitex Soft Body Acrylic paints are an incredibly versatile product. This low viscosity professional acrylic paint gives excellent coverage, a satin finish and high levels of artist-quality pigment for archival brilliance. Use it to paint, pour, glaze or print on almost any surface.
Suitable for a range of surfaces including stretched canvas, photo paper, plaster and brick, clay and pottery, paper and board, wood, fabric and glass
Professional standard with the greatest archival permanence possible - at least 50 years+ in gallery conditions - with no colour shifting or fading to stay vibrant and true
Fully intermixable across Liquitex Professional range
Fully AP certified for studio and educational use
Available in 100 colours.
Fluorescent Yellow (981) S2

0044570 - #887452997979

Length: 40 mm

Width: 40 mm

Height: 97 mm

Weight: 87 g

Yellow Light Hansa (411) S1

0045250 - #887452998570

Length: 40 mm

Width: 40 mm

Height: 97 mm

Weight: 87 g

Cadmium Free Yellow Light (889) S3

0044390 - #887452997740

Length: 40 mm

Width: 40 mm

Height: 97 mm

Weight: 90 g

Yellow Medium Azo (412) S2

0045260 - #887452998587

Length: 40 mm

Width: 40 mm

Height: 97 mm

Weight: 84 g

Cadmium Free Yellow Medium (890) S3

0044400 - #887452997757

Length: 40 mm

Width: 40 mm

Height: 97 mm

Weight: 100 g

Cadmium Free Yellow Deep (891) S3

0044380 - #887452997764

Length: 40 mm

Width: 40 mm

Height: 97 mm

Weight: 93 g

Indian Yellow (324) S2

0044620 - #887452998020

Length: 40 mm

Width: 40 mm

Height: 97 mm

Weight: 80 g

Yellow Orange Azo (414) S2

0045270 - #887452998594

Length: 40 mm

Width: 40 mm

Height: 97 mm

Weight: 83 g

Pyrrole Orange (323) S4

0044990 - #887452998310

Length: 40 mm

Width: 40 mm

Height: 97 mm

Weight: 85 g

Vivid Red Orange (620) S3

0045240 - #887452998563

Length: 40 mm

Width: 40 mm

Height: 97 mm

Weight: 86 g

Fluorescent Orange (982) S2

0044540 - #887452997948

Length: 40 mm

Width: 40 mm

Height: 97 mm

Weight: 87 g

Cadmium Free Orange (892) S4

0044350 - #887452997771

Length: 40 mm

Width: 40 mm

Height: 97 mm

Weight: 100 g

Light Pink (810) S1

0044760 - #887452998150

Length: 40 mm

Width: 40 mm

Height: 97 mm

Weight: 99 g

Medium Magenta (500) S1

0044780 - #887452998174

Length: 40 mm

Width: 40 mm

Height: 97 mm

Weight: 87 g

Fluorescent Pink (987) S2

0044550 - #887452997955

Length: 40 mm

Width: 40 mm

Height: 97 mm

Weight: 86 g

Naphthol Red Light (294) S2

0044870 - #887452998198

Length: 40 mm

Width: 40 mm

Height: 97 mm

Weight: 88 g

Cadmium Free Red Light (893) S5

0044360 - #887452997788

Length: 40 mm

Width: 40 mm

Height: 97 mm

Weight: 93 g

Fluorescent Red (983) S2

0044560 - #887452997962

Length: 40 mm

Width: 40 mm

Height: 97 mm

Weight: 87 g

Quinacridone Red (112) S3

0045050 - #887452998372

Length: 40 mm

Width: 40 mm

Height: 97 mm

Weight: 83 g

Cadmium Free Red Medium (894) S5

0044370 - #887452997795

Length: 40 mm

Width: 40 mm

Height: 97 mm

Weight: 96 g

Pyrrole Red (321) S4

0045000 - #887452998327

Length: 40 mm

Width: 40 mm

Height: 97 mm

Weight: 86 g

Naphthol Crimson (292) S2

0044850 - #887452998181

Length: 40 mm

Width: 40 mm

Height: 97 mm

Weight: 86 g

Cadmium Free Red Deep (895) S4

0044340 - #887452997801

Length: 40 mm

Width: 40 mm

Height: 97 mm

Weight: 93 g

Pyrrole Crimson (326) S4

0044980 - #887452998303

Length: 40 mm

Width: 40 mm

Height: 97 mm

Weight: 83 g

Quinacridone Red Orange (109) S3

0045060 - #887452998389

Length: 40 mm

Width: 40 mm

Height: 97 mm

Weight: 83 g

Quinacridone Crimson (110) S3

0045030 - #887452998358

Length: 40 mm

Width: 40 mm

Height: 97 mm

Weight: 86 g

Quinacridone Magenta (114) S3

0045040 - #887452998365

Length: 40 mm

Width: 40 mm

Height: 97 mm

Weight: 87 g

Deep Magenta (300) S3

0044500 - #887452997894

Length: 40 mm

Width: 40 mm

Height: 97 mm

Weight: 83 g

Alizarin Crimson Hue Permanent (116) S2

0044260 - #887452997665

Length: 40 mm

Width: 40 mm

Height: 97 mm

Weight: 83 g

Muted Pink (504) S3

0044820 - #887452028468

Length: 40 mm

Width: 40 mm

Height: 97 mm

Weight: 83 g

Muted Violet (502) S3

0044840 - #887452028475

Length: 40 mm

Width: 40 mm

Height: 97 mm

Weight: 82 g

Prism Violet (391) S2

0044960 - #887452998280

Length: 40 mm

Width: 40 mm

Height: 97 mm

Weight: 86 g

Quinacridone Blue Violet (118) S3

0045010 - #887452998334

Length: 40 mm

Width: 40 mm

Height: 97 mm

Weight: 85 g

Quinacridone Burnt Orange (108) S3

0045020 - #887452998341

Length: 40 mm

Width: 40 mm

Height: 97 mm

Weight: 82 g

Light Blue Violet (680) S1

0044740 - #887452998136

Length: 40 mm

Width: 40 mm

Height: 97 mm

Weight: 101 g

Brilliant Purple (590) S1

0044290 - #887452997696

Length: 40 mm

Width: 40 mm

Height: 97 mm

Weight: 86 g

Dioxazine Purple (186) S2

0044480 - #887452997900

Length: 40 mm

Width: 40 mm

Height: 97 mm

Weight: 80 g

Indanthrene Blue (322) S3

0044610 - #887452998013

Length: 40 mm

Width: 40 mm

Height: 97 mm

Weight: 83 g

Prussian Blue Hue (320) S2

0044970 - #887452998297

Length: 40 mm

Width: 40 mm

Height: 97 mm

Weight: 83 g

Phthalocyanine Blue (Green Shade) (316) S1

0044920 - #887452998242

Length: 40 mm

Width: 40 mm

Height: 97 mm

Weight: 83 g

Phthalocyanine Blue (Red Shade) (314) S2

0044930 - #887452998259

Length: 40 mm

Width: 40 mm

Height: 97 mm

Weight: 81 g

Ultramarine Blue (Green Shade) (380) S1

0045180 - #887452998518

Length: 40 mm

Width: 40 mm

Height: 97 mm

Weight: 87 g

Ultramarine Blue (Red Shade) (382) S1

0045190 - #887452998525

Length: 40 mm

Width: 40 mm

Height: 97 mm

Weight: 90 g

Cobalt Blue (170) S4

0044440 - #887452054474

Length: 40 mm

Width: 40 mm

Height: 97 mm

Weight: 95 g

Cobalt Blue Hue (381) S1

0044450 - #887452997856

Length: 40 mm

Width: 40 mm

Height: 97 mm

Weight: 90 g

Cerulean Blue (164) S3

0044410 - #887452997818

Length: 40 mm

Width: 40 mm

Height: 97 mm

Weight: 96 g

Cerulean Blue Hue (470) S2

0044420 - #887452997825

Length: 40 mm

Width: 40 mm

Height: 97 mm

Weight: 90 g

Fluorescent Blue (984) S2

0044520 - #887452997924

Length: 40 mm

Width: 40 mm

Height: 97 mm

Weight: 86 g

Brilliant Blue (570) S1

0044280 - #887452997689

Length: 40 mm

Width: 40 mm

Height: 97 mm

Weight: 93 g

Light Blue Permanent (770) S1

0044730 - #887452998129

Length: 40 mm

Width: 40 mm

Height: 97 mm

Weight: 91 g

Cobalt Teal (172) S4

0044460 - #887452054481

Length: 40 mm

Width: 40 mm

Height: 97 mm

Weight: 90 g

Bright Aqua Green (660) S1

0044270 - #887452997672

Length: 40 mm

Width: 40 mm

Height: 97 mm

Weight: 86 g

Muted Turquoise (503) S3

0044830 - #887452028499

Length: 40 mm

Width: 40 mm

Height: 97 mm

Weight: 83 g

Cobalt Turquoise (169) S4

0044470 - #887452054498

Length: 40 mm

Width: 40 mm

Height: 97 mm

Weight: 95 g

Transparent Viridian Hue (327) S2

0045300 - #887452998495

Length: 40 mm

Width: 40 mm

Height: 97 mm

Weight: 83 g

Viridian Hue Permanent (398) S1

0045210 - #887452998549

Length: 40 mm

Width: 40 mm

Height: 97 mm

Weight: 86 g

Hookers Green Deep Hue Permanent (225) S1

0044590 - #887452997993

Length: 40 mm

Width: 40 mm

Height: 97 mm

Weight: 83 g

Hooker's Green Hue Permanent (224) S1

0044600 - #887452998006

Length: 40 mm

Width: 40 mm

Height: 97 mm

Weight: 86 g

Sap Green Permanent (315) S2

0045100 - #887452998426

Length: 40 mm

Width: 40 mm

Height: 97 mm

Weight: 86 g

Phthalocyanine Green (Blue Shade) (317) S1

0044940 - #887452998266

Length: 40 mm

Width: 40 mm

Height: 97 mm

Weight: 89 g

Phthalocyanine Green (Yellow Shade) (319) S1

0044950 - #887452998273

Length: 40 mm

Width: 40 mm

Height: 97 mm

Weight: 83 g

Muted Green (501) S3

0044790 - #887452028482

Length: 40 mm

Width: 40 mm

Height: 97 mm

Weight: 83 g

Deep Green Permanent (350) S2

0044490 - #887452997887

Length: 40 mm

Width: 40 mm

Height: 97 mm

Weight: 82 g

Chromium Oxide Green (166) S2

0044430 - #887452997832

Length: 40 mm

Width: 40 mm

Height: 97 mm

Weight: 100 g

Emerald Green (450) S2

0044510 - #887452997917

Length: 40 mm

Width: 40 mm

Height: 97 mm

Weight: 83 g

Light Green Permanent (312) S2

0044750 - #887452998143

Length: 40 mm

Width: 40 mm

Height: 97 mm

Weight: 83 g

Fluorescent Green (985) S2

0044530 - #887452997931

Length: 40 mm

Width: 40 mm

Height: 97 mm

Weight: 86 g

Vivid Lime Green (740) S1

0045220 - #887452998556

Length: 40 mm

Width: 40 mm

Height: 97 mm

Weight: 86 g

Brilliant Yellow Green (840) S1

0044300 - #887452997702

Length: 40 mm

Width: 40 mm

Height: 97 mm

Weight: 83 g

Naples Yellow Hue (601) S2

0044880 - #887452998204

Length: 40 mm

Width: 40 mm

Height: 97 mm

Weight: 104 g

Turner's Yellow (730) S2

0045170 - #887452998501

Length: 40 mm

Width: 40 mm

Height: 97 mm

Weight: 86 g

Yellow Oxide (416) S1

0045290 - #887452998600

Length: 40 mm

Width: 40 mm

Height: 97 mm

Weight: 94 g

Transparent Raw Sienna (332) S3

0045150 - #887452998471

Length: 40 mm

Width: 40 mm

Height: 97 mm

Weight: 89 g

Raw Sienna (330) S1

0045070 - #887452998396

Length: 40 mm

Width: 40 mm

Height: 97 mm

Weight: 97 g

Red Oxide (335) S1

0045090 - #887452998419

Length: 40 mm

Width: 40 mm

Height: 97 mm

Weight: 97 g

Burnt Sienna (127) S1

0044320 - #887452997726

Length: 40 mm

Width: 40 mm

Height: 97 mm

Weight: 93 g

Transparent Burnt Sienna (129) S3

0045120 - #887452998440

Length: 40 mm

Width: 40 mm

Height: 97 mm

Weight: 85 g

Raw Umber (331) S1

0045080 - #887452998402

Length: 40 mm

Width: 40 mm

Height: 97 mm

Weight: 90 g

Transparent Burnt Umber (130) S2

0045130 - #887452998457

Length: 40 mm

Width: 40 mm

Height: 97 mm

Weight: 86 g

Burnt Umber (128) S1

0044330 - #887452997733

Length: 40 mm

Width: 40 mm

Height: 97 mm

Weight: 91 g

Transparent Raw Umber (333) S2

0045160 - #887452998488

Length: 40 mm

Width: 40 mm

Height: 97 mm

Weight: 89 g

Green Gold (325) S4

0044580 - #887452997986

Length: 40 mm

Width: 40 mm

Height: 97 mm

Weight: 80 g

Iridescent Rich Gold (235) S2

0044680 - #887452998082

Length: 40 mm

Width: 40 mm

Height: 97 mm

Weight: 89 g

Iridescent Antique Gold (237) S2

0044630 - #887452998037

Length: 40 mm

Width: 40 mm

Height: 97 mm

Weight: 86 g

Iridescent Bright Gold (234) S2

0044640 - #887452998044

Length: 40 mm

Width: 40 mm

Height: 97 mm

Weight: 93 g

Bronze Yellow (530) S1

0044310 - #887452997719

Length: 40 mm

Width: 40 mm

Height: 97 mm

Weight: 83 g

Iridescent Rich Bronze (229) S2

0044660 - #887452998068

Length: 40 mm

Width: 40 mm

Height: 97 mm

Weight: 88 g

Iridescent Rich Copper (230) S2

0044670 - #887452998075

Length: 40 mm

Width: 40 mm

Height: 97 mm

Weight: 89 g

Iridescent Bright Silver (236) S2

0044650 - #887452998051

Length: 40 mm

Width: 40 mm

Height: 97 mm

Weight: 87 g

Iridescent Rich Silver (239) S2

0044700 - #887452998099

Length: 40 mm

Width: 40 mm

Height: 97 mm

Weight: 86 g

Mars Black (276) S1

0044770 - #887452998167

Length: 40 mm

Width: 40 mm

Height: 97 mm

Weight: 100 g

Ivory Black (244) S1

0044720 - #887452998112

Length: 40 mm

Width: 40 mm

Height: 97 mm

Weight: 86 g

Payne's Gray (310) S1

0044910 - #887452998235

Length: 40 mm

Width: 40 mm

Height: 97 mm

Weight: 90 g

Muted Grey (505) S3

0044800 - #887452028505

Length: 40 mm

Width: 40 mm

Height: 97 mm

Weight: 83 g

Neutral Gray 5 (599) S1

0044890 - #887452998211

Length: 40 mm

Width: 40 mm

Height: 97 mm

Weight: 95 g

Parchment (436) S1

0044900 - #887452998228

Length: 40 mm

Width: 40 mm

Height: 97 mm

Weight: 103 g

Unbleached Titanium (434) S1

0045200 - #887452998532

Length: 40 mm

Width: 40 mm

Height: 97 mm

Weight: 91 g

Transparent Mixing White (430) S1

0045140 - #887452054504

Length: 40 mm

Width: 40 mm

Height: 97 mm

Weight: 99 g

Iridescent White (238) S2

0044710 - #887452998105

Length: 40 mm

Width: 40 mm

Height: 97 mm

Weight: 83 g

Titanium White (432) S1

0045110 - #887452998433

Length: 40 mm

Width: 40 mm

Height: 97 mm

Weight: 100 g
 
Barcode
Length (mm)
Width (mm)
Height (mm)
Weight (g)

EDP:0044570

Fluorescent Yellow (981) S2

887452997979
40
40
97
87

EDP:0045250

Yellow Light Hansa (411) S1

887452998570
40
40
97
87

EDP:0044390

Cadmium Free Yellow Light (889) S3

887452997740
40
40
97
90

EDP:0045260

Yellow Medium Azo (412) S2

887452998587
40
40
97
84

EDP:0044400

Cadmium Free Yellow Medium (890) S3

887452997757
40
40
97
100

EDP:0044380

Cadmium Free Yellow Deep (891) S3

887452997764
40
40
97
93

EDP:0044620

Indian Yellow (324) S2

887452998020
40
40
97
80

EDP:0045270

Yellow Orange Azo (414) S2

887452998594
40
40
97
83

EDP:0044990

Pyrrole Orange (323) S4

887452998310
40
40
97
85

EDP:0045240

Vivid Red Orange (620) S3

887452998563
40
40
97
86

EDP:0044540

Fluorescent Orange (982) S2

887452997948
40
40
97
87

EDP:0044350

Cadmium Free Orange (892) S4

887452997771
40
40
97
100

EDP:0044760

Light Pink (810) S1

887452998150
40
40
97
99

EDP:0044780

Medium Magenta (500) S1

887452998174
40
40
97
87

EDP:0044550

Fluorescent Pink (987) S2

887452997955
40
40
97
86

EDP:0044870

Naphthol Red Light (294) S2

887452998198
40
40
97
88

EDP:0044360

Cadmium Free Red Light (893) S5

887452997788
40
40
97
93

EDP:0044560

Fluorescent Red (983) S2

887452997962
40
40
97
87

EDP:0045050

Quinacridone Red (112) S3

887452998372
40
40
97
83

EDP:0044370

Cadmium Free Red Medium (894) S5

887452997795
40
40
97
96

EDP:0045000

Pyrrole Red (321) S4

887452998327
40
40
97
86

EDP:0044850

Naphthol Crimson (292) S2

887452998181
40
40
97
86

EDP:0044340

Cadmium Free Red Deep (895) S4

887452997801
40
40
97
93

EDP:0044980

Pyrrole Crimson (326) S4

887452998303
40
40
97
83

EDP:0045060

Quinacridone Red Orange (109) S3

887452998389
40
40
97
83

EDP:0045030

Quinacridone Crimson (110) S3

887452998358
40
40
97
86

EDP:0045040

Quinacridone Magenta (114) S3

887452998365
40
40
97
87

EDP:0044500

Deep Magenta (300) S3

887452997894
40
40
97
83

EDP:0044260

Alizarin Crimson Hue Permanent (116) S2

887452997665
40
40
97
83

EDP:0044820

Muted Pink (504) S3

887452028468
40
40
97
83

EDP:0044840

Muted Violet (502) S3

887452028475
40
40
97
82

EDP:0044960

Prism Violet (391) S2

887452998280
40
40
97
86

EDP:0045010

Quinacridone Blue Violet (118) S3

887452998334
40
40
97
85

EDP:0045020

Quinacridone Burnt Orange (108) S3

887452998341
40
40
97
82

EDP:0044740

Light Blue Violet (680) S1

887452998136
40
40
97
101

EDP:0044290

Brilliant Purple (590) S1

887452997696
40
40
97
86

EDP:0044480

Dioxazine Purple (186) S2

887452997900
40
40
97
80

EDP:0044610

Indanthrene Blue (322) S3

887452998013
40
40
97
83

EDP:0044970

Prussian Blue Hue (320) S2

887452998297
40
40
97
83

EDP:0044920

Phthalocyanine Blue (Green Shade) (316) S1

887452998242
40
40
97
83

EDP:0044930

Phthalocyanine Blue (Red Shade) (314) S2

887452998259
40
40
97
81

EDP:0045180

Ultramarine Blue (Green Shade) (380) S1

887452998518
40
40
97
87

EDP:0045190

Ultramarine Blue (Red Shade) (382) S1

887452998525
40
40
97
90

EDP:0044440

Cobalt Blue (170) S4

887452054474
40
40
97
95

EDP:0044450

Cobalt Blue Hue (381) S1

887452997856
40
40
97
90

EDP:0044410

Cerulean Blue (164) S3

887452997818
40
40
97
96

EDP:0044420

Cerulean Blue Hue (470) S2

887452997825
40
40
97
90

EDP:0044520

Fluorescent Blue (984) S2

887452997924
40
40
97
86

EDP:0044280

Brilliant Blue (570) S1

887452997689
40
40
97
93

EDP:0044730

Light Blue Permanent (770) S1

887452998129
40
40
97
91

EDP:0044460

Cobalt Teal (172) S4

887452054481
40
40
97
90

EDP:0044270

Bright Aqua Green (660) S1

887452997672
40
40
97
86

EDP:0044830

Muted Turquoise (503) S3

887452028499
40
40
97
83

EDP:0044470

Cobalt Turquoise (169) S4

887452054498
40
40
97
95

EDP:0045300

Transparent Viridian Hue (327) S2

887452998495
40
40
97
83

EDP:0045210

Viridian Hue Permanent (398) S1

887452998549
40
40
97
86

EDP:0044590

Hookers Green Deep Hue Permanent (225) S1

887452997993
40
40
97
83

EDP:0044600

Hooker's Green Hue Permanent (224) S1

887452998006
40
40
97
86

EDP:0045100

Sap Green Permanent (315) S2

887452998426
40
40
97
86

EDP:0044940

Phthalocyanine Green (Blue Shade) (317) S1

887452998266
40
40
97
89

EDP:0044950

Phthalocyanine Green (Yellow Shade) (319) S1

887452998273
40
40
97
83

EDP:0044790

Muted Green (501) S3

887452028482
40
40
97
83

EDP:0044490

Deep Green Permanent (350) S2

887452997887
40
40
97
82

EDP:0044430

Chromium Oxide Green (166) S2

887452997832
40
40
97
100

EDP:0044510

Emerald Green (450) S2

887452997917
40
40
97
83

EDP:0044750

Light Green Permanent (312) S2

887452998143
40
40
97
83

EDP:0044530

Fluorescent Green (985) S2

887452997931
40
40
97
86

EDP:0045220

Vivid Lime Green (740) S1

887452998556
40
40
97
86

EDP:0044300

Brilliant Yellow Green (840) S1

887452997702
40
40
97
83

EDP:0044880

Naples Yellow Hue (601) S2

887452998204
40
40
97
104

EDP:0045170

Turner's Yellow (730) S2

887452998501
40
40
97
86

EDP:0045290

Yellow Oxide (416) S1

887452998600
40
40
97
94

EDP:0045150

Transparent Raw Sienna (332) S3

887452998471
40
40
97
89

EDP:0045070

Raw Sienna (330) S1

887452998396
40
40
97
97

EDP:0045090

Red Oxide (335) S1

887452998419
40
40
97
97

EDP:0044320

Burnt Sienna (127) S1

887452997726
40
40
97
93

EDP:0045120

Transparent Burnt Sienna (129) S3

887452998440
40
40
97
85

EDP:0045080

Raw Umber (331) S1

887452998402
40
40
97
90

EDP:0045130

Transparent Burnt Umber (130) S2

887452998457
40
40
97
86

EDP:0044330

Burnt Umber (128) S1

887452997733
40
40
97
91

EDP:0045160

Transparent Raw Umber (333) S2

887452998488
40
40
97
89

EDP:0044580

Green Gold (325) S4

887452997986
40
40
97
80

EDP:0044680

Iridescent Rich Gold (235) S2

887452998082
40
40
97
89

EDP:0044630

Iridescent Antique Gold (237) S2

887452998037
40
40
97
86

EDP:0044640

Iridescent Bright Gold (234) S2

887452998044
40
40
97
93

EDP:0044310

Bronze Yellow (530) S1

887452997719
40
40
97
83

EDP:0044660

Iridescent Rich Bronze (229) S2

887452998068
40
40
97
88

EDP:0044670

Iridescent Rich Copper (230) S2

887452998075
40
40
97
89

EDP:0044650

Iridescent Bright Silver (236) S2

887452998051
40
40
97
87

EDP:0044700

Iridescent Rich Silver (239) S2

887452998099
40
40
97
86

EDP:0044770

Mars Black (276) S1

887452998167
40
40
97
100

EDP:0044720

Ivory Black (244) S1

887452998112
40
40
97
86

EDP:0044910

Payne's Gray (310) S1

887452998235
40
40
97
90

EDP:0044800

Muted Grey (505) S3

887452028505
40
40
97
83

EDP:0044890

Neutral Gray 5 (599) S1

887452998211
40
40
97
95

EDP:0044900

Parchment (436) S1

887452998228
40
40
97
103

EDP:0045200

Unbleached Titanium (434) S1

887452998532
40
40
97
91

EDP:0045140

Transparent Mixing White (430) S1

887452054504
40
40
97
99

EDP:0044710

Iridescent White (238) S2

887452998105
40
40
97
83

EDP:0045110

Titanium White (432) S1

887452998433
40
40
97
100