Winsor & Newton Liquin Original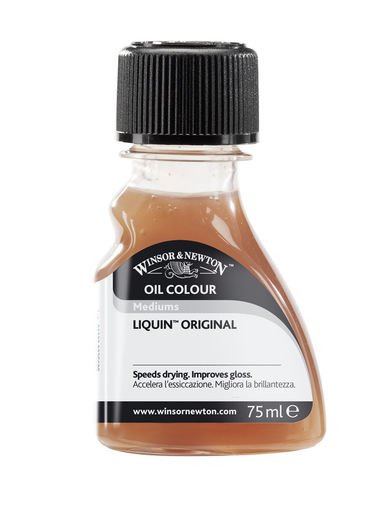 The Liquin Original is a reliable favourite that acts as a general purpose semi gloss medium which speeds drying, improves flow and reduces brush stroke retention.
Halves the drying time of conventional oil colour (touch dry in 1-6 days depending on colour and film thickness).
Resists yellowing.
It is not suitable as a varnish or final coat.
75ml

0116052 - #0884955016404

Length: 36 mm

Width: 58 mm

Height: 99 mm

Weight: 102 g

250ml

0116069 - #0884955016381

Length: 50 mm

Width: 80 mm

Height: 148 mm

Weight: 270 g

500ml

0115885 - #0884955016398

Length: 65 mm

Width: 94 mm

Height: 181 mm

Weight: 500 g

1 Litre

0149993 - #0884955016367

Length: 68 mm

Width: 117 mm

Height: 196 mm

Weight: 1050 g
|   | Barcode | Length (mm) | Width (mm) | Height (mm) | Weight (g) |
| --- | --- | --- | --- | --- | --- |
| | 0884955016404 | 36 | 58 | 99 | 102 |
| | 0884955016381 | 50 | 80 | 148 | 270 |
| | 0884955016398 | 65 | 94 | 181 | 500 |
| | 0884955016367 | 68 | 117 | 196 | 1050 |
Winsor & Newton Liquin Original

Download