Paint By Numbers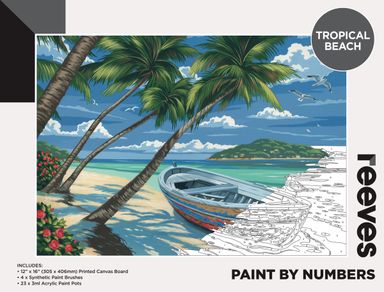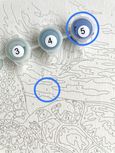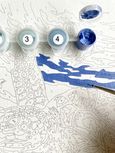 Paint By Numbers is a popular pastime enjoyed by many as a recreational and relaxing hobby.
Combining the properties of number and colour recognition, in a way that stimulates our mind and encourages creativity and motor skills, while motivating the individual to complete the work of art.
The best part is it's easy and fun to do!
Each set contains:
1pc 12x16" pre-printed canvas board

Solid MDF Core
280gsm stretched & glued canvas board

4pcs synthetic brushes

1 Medium Flat
1 Medium Round
2 Small Round

3ml Paints (assorted as per design)
1pc Printed Instructions, Tips & Techniques
Abstract Frog

0112240 - #9311960112247

Length: 410 mm

Width: 25 mm

Height: 310 mm

Weight: 100 g

Kitten

0112310 - #9311960112315

Length: 410 mm

Width: 25 mm

Height: 310 mm

Weight: 100 g

Abstract Gorilla

0112250 - #9311960112254

Length: 410 mm

Width: 25 mm

Height: 310 mm

Weight: 100 g

Abstract Lion

0112230 - #9311960112230

Length: 410 mm

Width: 25 mm

Height: 310 mm

Weight: 100 g

Butterfly

0112290 - #9311960112292

Length: 410 mm

Width: 25 mm

Height: 310 mm

Weight: 100 g

Cheetah

0112270 - #9311960112278

Length: 410 mm

Width: 25 mm

Height: 310 mm

Weight: 100 g

Flamingo Love

0112280 - #9311960112285

Length: 410 mm

Width: 25 mm

Height: 310 mm

Weight: 100 g

Lorikeet

0112260 - #9311960112261

Length: 410 mm

Width: 25 mm

Height: 310 mm

Weight: 100 g

Hot Air Balloons

0092480 - #9311960092488

Length: 410 mm

Width: 25 mm

Height: 310 mm

Weight: 100 g

Koala

0092510 - #9311960092518

Length: 410 mm

Width: 25 mm

Height: 310 mm

Weight: 100 g

Mountain Scape

0092500 - #9311960092501

Length: 410 mm

Width: 25 mm

Height: 310 mm

Weight: 100 g

Parrot

0092490 - #9311960092495

Length: 410 mm

Width: 25 mm

Height: 310 mm

Weight: 100 g

Red Scooter

0092470 - #9311960092471

Length: 410 mm

Width: 25 mm

Height: 310 mm

Weight: 100 g

Sunflower

0092460 - #9311960092464

Length: 410 mm

Width: 25 mm

Height: 310 mm

Weight: 100 g

Tropical Beach

0078400 - #9311960078406

Length: 410 mm

Width: 25 mm

Height: 310 mm

Weight: 100 g

Sea Turtle

0078410 - #9311960078413

Length: 410 mm

Width: 25 mm

Height: 310 mm

Weight: 100 g

Tree Frog

0078420 - #9311960078420

Length: 410 mm

Width: 25 mm

Height: 310 mm

Weight: 100 g

Labrador

0078430 - #9311960078437

Length: 410 mm

Width: 25 mm

Height: 310 mm

Weight: 100 g

Pony

0078440 - #9311960078444

Length: 410 mm

Width: 25 mm

Height: 310 mm

Weight: 100 g

Playful Dolphins

0078450 - #9311960078451

Length: 410 mm

Width: 25 mm

Height: 310 mm

Weight: 100 g

Unicorn Dreaming

0078460 - #9311960078468

Length: 410 mm

Width: 25 mm

Height: 310 mm

Weight: 100 g

Mystical Tiger

0078470 - #9311960078475

Length: 410 mm

Width: 25 mm

Height: 310 mm

Weight: 100 g
 
Barcode
Length (mm)
Width (mm)
Height (mm)
Weight (g)

EDP:0112240

Abstract Frog

9311960112247
410
25
310
100
9311960112315
410
25
310
100

EDP:0112250

Abstract Gorilla

9311960112254
410
25
310
100

EDP:0112230

Abstract Lion

9311960112230
410
25
310
100
9311960112292
410
25
310
100
9311960112278
410
25
310
100

EDP:0112280

Flamingo Love

9311960112285
410
25
310
100
9311960112261
410
25
310
100

EDP:0092480

Hot Air Balloons

9311960092488
410
25
310
100
9311960092518
410
25
310
100

EDP:0092500

Mountain Scape

9311960092501
410
25
310
100
9311960092495
410
25
310
100
9311960092471
410
25
310
100
9311960092464
410
25
310
100

EDP:0078400

Tropical Beach

9311960078406
410
25
310
100
9311960078413
410
25
310
100
9311960078420
410
25
310
100
9311960078437
410
25
310
100
9311960078444
410
25
310
100

EDP:0078450

Playful Dolphins

9311960078451
410
25
310
100

EDP:0078460

Unicorn Dreaming

9311960078468
410
25
310
100

EDP:0078470

Mystical Tiger

9311960078475
410
25
310
100