Paint Pad Artist: Watercolour Flowers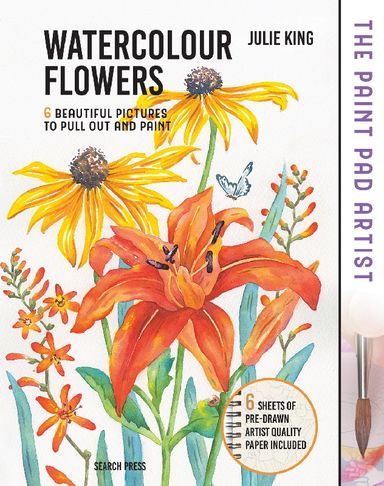 ISBN 9781782216261
Publisher Search Press
Format BC Hardback + 6 watercolour paper sheets
Dimensions 216mm x 280mm
Page Extent 102
Pub Date August 2018
Description
Use the pre-printed outlines on the watercolour paper provided to create six beautiful flower paintings including popular favourites clematis, white rose and sweet pea and learn all the skills you need to become an accomplished artist.
This inspiring watercolour flowers book is part of the exciting and innovative Paint Pad Artist series. Whether a beginner or more experienced artist, you will be amazed at how quickly you will acquire the skills needed to produce beautiful paintings, and with the initial outlines for the six stunning projects provided on watercolour paper, you can start creating amazing works of art straight away.
Written by professional artist and tutor Julie King, this guide begins with notes on how to use the pre-printed watercolour paper to achieve the best results, and how to make copies of the outlines should you want to attempt the projects again.
Following this there is a short what you need' section, enabling you to gather together the paints, brushes and basic equipment required to start painting, and some brief guidance on general techniques such as how to hold the brush, how to add water to your paint and how to mix colour, plus how to frame and display your finished work.
The six stunning step-by-step projects that follow build in difficulty as you work through the book, introducing new techniques as they are used and incorporating numerous handy hints and tips from the author to help you progress on your painting journey. The six sheets of watercolour paper are pre-printed with the initial outline drawing for each of the projects, enabling you to start painting straight away and giving you the best possible chance of achieving a successful painting.
About the Author
Julie lives in Kent. She was brought up in March in Cambridgeshire where she attended Cambridge College of Arts and Technology to pursue a Foundation in Art, followed by a degree in Printed Textile design, at Trent Polytechnic Nottingham achieving a First class (Hons). She then went on to design household textiles, wallpapers and prints for ceramics inspired by her love of flowers.
Following a Certificate in Education, Julie began teaching and inspiring adults to paint in watercolour, not only to share her painting skills but for the benefits of well-being and good health. Teaching venues include gardens, galleries and cruise liners. Julie exhibited at Watts Gallery in Surrey whilst serving as Artist-in-Residence.
Her awards have included the Society of Botanical Artists' Certificate of Botanical Merit for a freestyle interpretation of an iris and the Elizabeth Smail Memorial Award for Colour and Composition while exhibiting at Florum in Kent. Julie is a regular contributor to the Leisure Painter magazine, and has written a number of art books.
Book

0024450 - #9781782216261

Length: 0 mm

Width: 0 mm

Height: 0 mm

Weight: 0 g
|   | Barcode | Length (mm) | Width (mm) | Height (mm) | Weight (g) |
| --- | --- | --- | --- | --- | --- |
| | 9781782216261 | 0 | 0 | 0 | 0 |