Winsor & Newton Designers' Gouache Colour 37ml
Winsor & Newton have been producing fine artist Designers' Gouache since the mid 1930's. Today, the Designers' Gouache range benefits from significant developments in technology and is smoother, flatter, more opaque and more brilliant than ever before.
Designers' Gouache colours are a range of opaque watercolours, mainly used by designers, illustrators and commercial artists to create vibrant illustrations in solid colour. Gouache is also widely used in fine art as an opaque watercolour. Can be used thinly for a wash at the start of a painting then applied in thicker layers towards the end. Unlike transparent watercolour, where you need to plan and reserve the white of the paper, gouache is more controllable and enables you to remove mistakes and re-paint.
Retail Specifications
Barcode
Length
(mm)
Width
(mm)
Height
(mm)
Weight
(g)
EDP: 0121729 Ivory Black (331)
0000050947188
106
40
26
60
EDP: 0121745 Lamp Black (337)
0000050947164
106
40
26
60
EDP: 0121737 Jet Black (335)
0000050947171
106
40
26
60
EDP: 0121753 Permanent White (512)
0000050947157
106
40
26
60
EDP: 0121761 Zinc White (748)
0000050947140
39
25
106
100
Download
Winsor & Newton Designers' Gouache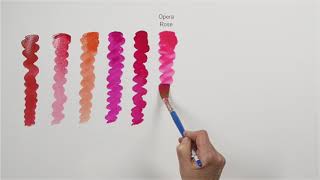 What different pinks do Winsor and Newton offer? | Winsor & Newton Masterclass
This masterclass shows the different pinks Winsor and Newton offer in watercolour and in gouache.
Here we learn a bit about the sourcing and development of pinks, where pigments originate from and their properties.
For example, did you know that the now synthetic colour Carmine used to come from crushed beetles or that Rose Madder still comes from a plant root discovered by George Field?
Related Items