Reeves Fine Artists Watercolour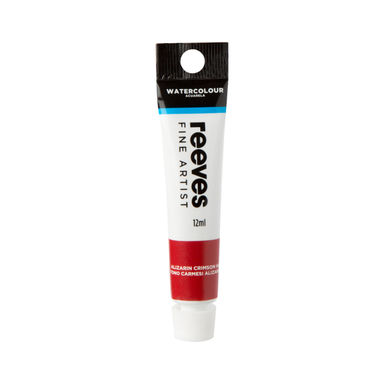 Reeves Fine Artist Watercolour 12ml paint is perfect for hobbyists, students and artists.
Bright & beautiful pigments that you can dilute and mix with water or other colours.
Excellent lightfastness and colour brilliance.
Available in a spectrum of 36 premium colours.
The 6 recommended cool and warm primary colours will result in both a clean and bright secondary mixes.
Chinese White

0053960 - #9311960053960

Length: 12 mm

Width: 12 mm

Height: 12 mm

Weight: 18 g

Lemon Yellow Hue

0053970 - #9311960053977

Length: 12 mm

Width: 12 mm

Height: 12 mm

Weight: 18 g

Cadmium Yellow Hue

0054000 - #9311960054004

Length: 12 mm

Width: 12 mm

Height: 18 mm

Weight: 18 g

Gamboge Hue

0053990 - #9311960053991

Length: 12 mm

Width: 12 mm

Height: 12 mm

Weight: 18 g

Cadmium Orange Hue

0054010 - #9311960054011

Length: 12 mm

Width: 12 mm

Height: 18 mm

Weight: 18 g

Cadmium Reed Light Hue

0054020 - #9311960054028

Length: 12 mm

Width: 12 mm

Height: 18 mm

Weight: 18 g

Cadmium Red Hue

0054030 - #9311960054035

Length: 12 mm

Width: 12 mm

Height: 18 mm

Weight: 18 g

Cadmium Red Deep Hue

0054040 - #9311960054042

Length: 12 mm

Width: 12 mm

Height: 18 mm

Weight: 18 g

Permanent Rose

0054060 - #9311960054066

Length: 12 mm

Width: 12 mm

Height: 18 mm

Weight: 18 g

Alizarin Crimson Hue

0054050 - #9311960054059

Length: 12 mm

Width: 12 mm

Height: 18 mm

Weight: 18 g

Magenta

0054070 - #9311960054073

Length: 12 mm

Width: 12 mm

Height: 18 mm

Weight: 18 g

Dioxazine Purple

0054080 - #9311960054080

Length: 12 mm

Width: 12 mm

Height: 18 mm

Weight: 18 g

Prussian Blue

0054130 - #9311960054134

Length: 12 mm

Width: 12 mm

Height: 18 mm

Weight: 18 g

Ultramarine

0054090 - #9311960054097

Length: 12 mm

Width: 12 mm

Height: 18 mm

Weight: 18 g

Cobalt Blue Hue

0054100 - #9311960054103

Length: 12 mm

Width: 12 mm

Height: 18 mm

Weight: 18 g

Cerulean Blue Hue

0054110 - #9311960054110

Length: 12 mm

Width: 12 mm

Height: 18 mm

Weight: 18 g

Phthalo Blue

0054120 - #9311960054127

Length: 12 mm

Width: 12 mm

Height: 18 mm

Weight: 18 g

Turquoise

0054140 - #9311960054141

Length: 12 mm

Width: 12 mm

Height: 18 mm

Weight: 18 g

Phthalo Green (BS)

0054150 - #9311960054158

Length: 12 mm

Width: 12 mm

Height: 18 mm

Weight: 18 g

Hookers Green Dark

0054180 - #9311960054189

Length: 12 mm

Width: 12 mm

Height: 18 mm

Weight: 18 g

Hookers Green Light

0054190 - #9311960054196

Length: 12 mm

Width: 12 mm

Height: 18 mm

Weight: 18 g

Phthalo Green (YS)

0054160 - #9311960054165

Length: 12 mm

Width: 12 mm

Height: 18 mm

Weight: 18 g

Leaf Green

0054170 - #9311960054172

Length: 12 mm

Width: 12 mm

Height: 18 mm

Weight: 18 g

Olive Green

0054200 - #9311960054202

Length: 12 mm

Width: 12 mm

Height: 18 mm

Weight: 18 g

Raw Sienna

0054210 - #9311960054219

Length: 12 mm

Width: 12 mm

Height: 18 mm

Weight: 18 g

Yellow Ochre

0054220 - #9311960054226

Length: 12 mm

Width: 12 mm

Height: 18 mm

Weight: 18 g

Raw Umber

0054230 - #9311960054233

Length: 12 mm

Width: 12 mm

Height: 18 mm

Weight: 18 g

Burnt Sienna

0054240 - #9311960054240

Length: 12 mm

Width: 12 mm

Height: 18 mm

Weight: 18 g

Light Red

0054250 - #9311960054257

Length: 12 mm

Width: 12 mm

Height: 18 mm

Weight: 18 g

Indian Red

0054260 - #9311960054264

Length: 12 mm

Width: 12 mm

Height: 18 mm

Weight: 18 g

Burnt Umber

0054270 - #9311960054271

Length: 12 mm

Width: 12 mm

Height: 18 mm

Weight: 18 g

Sepia

0054280 - #9311960054288

Length: 12 mm

Width: 12 mm

Height: 18 mm

Weight: 18 g

Indigo

0054290 - #9311960054295

Length: 12 mm

Width: 12 mm

Height: 18 mm

Weight: 18 g

Payne's Grey

0054300 - #9311960054301

Length: 12 mm

Width: 12 mm

Height: 18 mm

Weight: 18 g

Ivory Black

0054310 - #9311960054318

Length: 12 mm

Width: 12 mm

Height: 18 mm

Weight: 18 g

Lamp Black

0054320 - #9311960054325

Length: 12 mm

Width: 12 mm

Height: 18 mm

Weight: 18 g
 
Barcode
Length (mm)
Width (mm)
Height (mm)
Weight (g)

EDP:0053960

Chinese White

9311960053960
12
12
12
18

EDP:0053970

Lemon Yellow Hue

9311960053977
12
12
12
18

EDP:0054000

Cadmium Yellow Hue

9311960054004
12
12
18
18
9311960053991
12
12
12
18

EDP:0054010

Cadmium Orange Hue

9311960054011
12
12
18
18

EDP:0054020

Cadmium Reed Light Hue

9311960054028
12
12
18
18

EDP:0054030

Cadmium Red Hue

9311960054035
12
12
18
18

EDP:0054040

Cadmium Red Deep Hue

9311960054042
12
12
18
18

EDP:0054060

Permanent Rose

9311960054066
12
12
18
18

EDP:0054050

Alizarin Crimson Hue

9311960054059
12
12
18
18
9311960054073
12
12
18
18

EDP:0054080

Dioxazine Purple

9311960054080
12
12
18
18

EDP:0054130

Prussian Blue

9311960054134
12
12
18
18
9311960054097
12
12
18
18

EDP:0054100

Cobalt Blue Hue

9311960054103
12
12
18
18

EDP:0054110

Cerulean Blue Hue

9311960054110
12
12
18
18
9311960054127
12
12
18
18
9311960054141
12
12
18
18

EDP:0054150

Phthalo Green (BS)

9311960054158
12
12
18
18

EDP:0054180

Hookers Green Dark

9311960054189
12
12
18
18

EDP:0054190

Hookers Green Light

9311960054196
12
12
18
18

EDP:0054160

Phthalo Green (YS)

9311960054165
12
12
18
18
9311960054172
12
12
18
18
9311960054202
12
12
18
18
9311960054219
12
12
18
18
9311960054226
12
12
18
18
9311960054233
12
12
18
18
9311960054240
12
12
18
18
9311960054257
12
12
18
18
9311960054264
12
12
18
18
9311960054271
12
12
18
18
9311960054288
12
12
18
18
9311960054295
12
12
18
18
9311960054301
12
12
18
18
9311960054318
12
12
18
18
9311960054325
12
12
18
18
5398-64 Reeves Watercolour 12 Paint

Download