Pebble Pets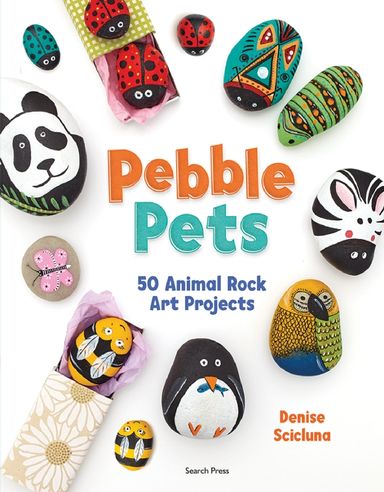 ISBN 9781782216629
Publisher Search Press
Format BC Paperback
Dimensions 180mm x 230mm
Page Extent 128
Pub Date July 2018
Description
Over 50 adorable animal rock art designs for the ultimate stress-free family menagerie!
From Denise Scicluna, the author of Rock Art, comes this guide to creating cute and characterful animal rock art projects in a variety of styles.
Getting started in rock art couldn't be simpler. It doesn't require expensive materials or complicated techniques all you need is a rock, some paint or marker pens and your imagination! It's great for beginner and more seasoned artists alike, and is the perfect family craft.
Discover more than 50 adorable rock art ideas for animals in a variety of styles. Projects include woodland creatures such as foxes and squirrels, zoo favourites like pandas and tigers, birds, bees, butterflies, bugs, and a whole host of other animals for you to recreate.
With clear step-by-step instructions accompanying each design, lots of variations, and bags of inspiration, Pebble Pets will soon have you on your way to creating your own rock art menagerie.
About the Authors
Based in London and born in Malta surrounded by sea and sun, Denise Scicluna is an art psychotherapist, painter and author who enjoys nature, creativity and pebble painting. You can find more of her work at http://denisescicluna.tumblr.com and on her Instagram @denisescicluna
Book

0024430 - #9781782216629

Length: 0 mm

Width: 0 mm

Height: 0 mm

Weight: 0 g
|   | Barcode | Length (mm) | Width (mm) | Height (mm) | Weight (g) |
| --- | --- | --- | --- | --- | --- |
| | 9781782216629 | 0 | 0 | 0 | 0 |