Kent Spectra Graphic Design Marker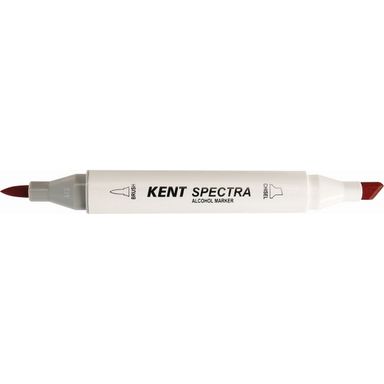 Kent Spectra is an alcohol-based markers with dual-tip for project flexibility (Chisel for broad strokes and Brush for fine detailing and lettering).
Ideal for illustrators, designers, artists, students and hobbyists.
Available in 60 colours including a colourless blender, download colour chart here.
Also available in assorted sets.
Lemon Yellow

0026460 - #9311960026469

Length: 0 mm

Width: 0 mm

Height: 0 mm

Weight: 0 g

Canaria Yellow

0026500 - #9311960026506

Length: 0 mm

Width: 0 mm

Height: 0 mm

Weight: 0 g

Pastel Yellow

0026470 - #9311960026476

Length: 0 mm

Width: 0 mm

Height: 0 mm

Weight: 0 g

Pastel Peach

0026430 - #9311960026438

Length: 0 mm

Width: 0 mm

Height: 0 mm

Weight: 0 g

Orange

0026420 - #9311960026421

Length: 0 mm

Width: 0 mm

Height: 0 mm

Weight: 0 g

Vermilion

0026390 - #9311960026391

Length: 0 mm

Width: 0 mm

Height: 0 mm

Weight: 0 g

Coral Red

0026380 - #9311960026384

Length: 0 mm

Width: 0 mm

Height: 0 mm

Weight: 0 g

Carmine

0026370 - #9311960026377

Length: 0 mm

Width: 0 mm

Height: 0 mm

Weight: 0 g

Cherry Pink

0026330 - #9311960026339

Length: 0 mm

Width: 0 mm

Height: 0 mm

Weight: 0 g

Old Red

0026320 - #9311960026322

Length: 0 mm

Width: 0 mm

Height: 0 mm

Weight: 0 g

Deep Red

0026310 - #9311960026315

Length: 0 mm

Width: 0 mm

Height: 0 mm

Weight: 0 g

Vivid Pink

0026340 - #9311960026346

Length: 0 mm

Width: 0 mm

Height: 0 mm

Weight: 0 g

Cosmos

0026350 - #9311960026353

Length: 0 mm

Width: 0 mm

Height: 0 mm

Weight: 0 g

Pale Pink

0026360 - #9311960026360

Length: 0 mm

Width: 0 mm

Height: 0 mm

Weight: 0 g

Pape Purple

0026690 - #9311960026698

Length: 0 mm

Width: 0 mm

Height: 0 mm

Weight: 0 g

Azalea Purple

0026680 - #9311960026681

Length: 0 mm

Width: 0 mm

Height: 0 mm

Weight: 0 g

Vivid Purple

0026670 - #9311960026674

Length: 0 mm

Width: 0 mm

Height: 0 mm

Weight: 0 g

Lavender

0026660 - #9311960026667

Length: 0 mm

Width: 0 mm

Height: 0 mm

Weight: 0 g

Ultramarine

0026620 - #9311960026629

Length: 0 mm

Width: 0 mm

Height: 0 mm

Weight: 0 g

Deep Violet

0026650 - #9311960026650

Length: 0 mm

Width: 0 mm

Height: 0 mm

Weight: 0 g

Cobalt Blue

0026610 - #9311960026612

Length: 0 mm

Width: 0 mm

Height: 0 mm

Weight: 0 g

Brilliant Blue

0026630 - #9311960026636

Length: 0 mm

Width: 0 mm

Height: 0 mm

Weight: 0 g

Prussian Blue

0026600 - #9311960026605

Length: 0 mm

Width: 0 mm

Height: 0 mm

Weight: 0 g

Cerulean Blue

0026570 - #9311960026575

Length: 0 mm

Width: 0 mm

Height: 0 mm

Weight: 0 g

Ice Blue

0026580 - #9311960026582

Length: 0 mm

Width: 0 mm

Height: 0 mm

Weight: 0 g

Sky Blue

0026640 - #9311960026643

Length: 0 mm

Width: 0 mm

Height: 0 mm

Weight: 0 g

Pastel Blue

0026590 - #9311960026599

Length: 0 mm

Width: 0 mm

Height: 0 mm

Weight: 0 g

Pale Green

0026550 - #9311960026551

Length: 0 mm

Width: 0 mm

Height: 0 mm

Weight: 0 g

Peacock Green

0026560 - #9311960026568

Length: 0 mm

Width: 0 mm

Height: 0 mm

Weight: 0 g

Emerald Green

0026540 - #9311960026544

Length: 0 mm

Width: 0 mm

Height: 0 mm

Weight: 0 g

Viridian

0026530 - #9311960026537

Length: 0 mm

Width: 0 mm

Height: 0 mm

Weight: 0 g

Dark Green

0026520 - #9311960026520

Length: 0 mm

Width: 0 mm

Height: 0 mm

Weight: 0 g

Deep Olive Green

0026490 - #9311960026490

Length: 0 mm

Width: 0 mm

Height: 0 mm

Weight: 0 g

Yellow Green

0026510 - #9311960026513

Length: 0 mm

Width: 0 mm

Height: 0 mm

Weight: 0 g

Olive Green

0026480 - #9311960026483

Length: 0 mm

Width: 0 mm

Height: 0 mm

Weight: 0 g

Chocolate

0026710 - #9311960026711

Length: 0 mm

Width: 0 mm

Height: 0 mm

Weight: 0 g

Bronze

0026730 - #9311960026735

Length: 0 mm

Width: 0 mm

Height: 0 mm

Weight: 0 g

Natural Oak

0026700 - #9311960026704

Length: 0 mm

Width: 0 mm

Height: 0 mm

Weight: 0 g

Brick Brown

0026720 - #9311960026728

Length: 0 mm

Width: 0 mm

Height: 0 mm

Weight: 0 g

Raw Umber

0026750 - #9311960026759

Length: 0 mm

Width: 0 mm

Height: 0 mm

Weight: 0 g

Terracotta

0026410 - #9311960026414

Length: 0 mm

Width: 0 mm

Height: 0 mm

Weight: 0 g

Brown Grey

0026760 - #9311960026766

Length: 0 mm

Width: 0 mm

Height: 0 mm

Weight: 0 g

Yellow Ochre

0026740 - #9311960026742

Length: 0 mm

Width: 0 mm

Height: 0 mm

Weight: 0 g

Blue Grey 1

0026830 - #9311960026834

Length: 0 mm

Width: 0 mm

Height: 0 mm

Weight: 0 g

Blue Grey 3

0026850 - #9311960026858

Length: 0 mm

Width: 0 mm

Height: 0 mm

Weight: 0 g

Blue Grey 5

0026860 - #9311960026865

Length: 0 mm

Width: 0 mm

Height: 0 mm

Weight: 0 g

Blue Grey 7

0026870 - #9311960026872

Length: 0 mm

Width: 0 mm

Height: 0 mm

Weight: 0 g

Blue Grey 9

0026880 - #9311960026889

Length: 0 mm

Width: 0 mm

Height: 0 mm

Weight: 0 g

Cool Grey 1

0026780 - #9311960026780

Length: 0 mm

Width: 0 mm

Height: 0 mm

Weight: 0 g

Cool Grey 3

0026790 - #9311960026797

Length: 0 mm

Width: 0 mm

Height: 0 mm

Weight: 0 g

Cool Grey 5

0026800 - #9311960026803

Length: 0 mm

Width: 0 mm

Height: 0 mm

Weight: 0 g

Cool Grey 7

0026810 - #9311960026810

Length: 0 mm

Width: 0 mm

Height: 0 mm

Weight: 0 g

Cool Grey 9

0026820 - #9311960026827

Length: 0 mm

Width: 0 mm

Height: 0 mm

Weight: 0 g

Warm Grey 1

0026900 - #9311960026902

Length: 0 mm

Width: 0 mm

Height: 0 mm

Weight: 0 g

Warm Grey 2

0026910 - #9311960026919

Length: 0 mm

Width: 0 mm

Height: 0 mm

Weight: 0 g

Warm Grey 4

0026920 - #9311960026926

Length: 0 mm

Width: 0 mm

Height: 0 mm

Weight: 0 g

Warm Grey 6

0026930 - #9311960026933

Length: 0 mm

Width: 0 mm

Height: 0 mm

Weight: 0 g

Warm Grey 8

0026940 - #9311960026940

Length: 0 mm

Width: 0 mm

Height: 0 mm

Weight: 0 g

Black

0026770 - #9311960026773

Length: 0 mm

Width: 0 mm

Height: 0 mm

Weight: 0 g

Blender

0026440 - #9311960026445

Length: 0 mm

Width: 0 mm

Height: 0 mm

Weight: 0 g
 
Barcode
Length (mm)
Width (mm)
Height (mm)
Weight (g)
9311960026469
0
0
0
0

EDP:0026500

Canaria Yellow

9311960026506
0
0
0
0

EDP:0026470

Pastel Yellow

9311960026476
0
0
0
0
9311960026438
0
0
0
0
9311960026421
0
0
0
0
9311960026391
0
0
0
0
9311960026384
0
0
0
0
9311960026377
0
0
0
0
9311960026339
0
0
0
0
9311960026322
0
0
0
0
9311960026315
0
0
0
0
9311960026346
0
0
0
0
9311960026353
0
0
0
0
9311960026360
0
0
0
0
9311960026698
0
0
0
0

EDP:0026680

Azalea Purple

9311960026681
0
0
0
0
9311960026674
0
0
0
0
9311960026667
0
0
0
0
9311960026629
0
0
0
0
9311960026650
0
0
0
0
9311960026612
0
0
0
0

EDP:0026630

Brilliant Blue

9311960026636
0
0
0
0

EDP:0026600

Prussian Blue

9311960026605
0
0
0
0

EDP:0026570

Cerulean Blue

9311960026575
0
0
0
0
9311960026582
0
0
0
0
9311960026643
0
0
0
0
9311960026599
0
0
0
0
9311960026551
0
0
0
0

EDP:0026560

Peacock Green

9311960026568
0
0
0
0

EDP:0026540

Emerald Green

9311960026544
0
0
0
0
9311960026537
0
0
0
0
9311960026520
0
0
0
0

EDP:0026490

Deep Olive Green

9311960026490
0
0
0
0
9311960026513
0
0
0
0
9311960026483
0
0
0
0
9311960026711
0
0
0
0
9311960026735
0
0
0
0
9311960026704
0
0
0
0
9311960026728
0
0
0
0
9311960026759
0
0
0
0
9311960026414
0
0
0
0
9311960026766
0
0
0
0
9311960026742
0
0
0
0
9311960026834
0
0
0
0
9311960026858
0
0
0
0
9311960026865
0
0
0
0
9311960026872
0
0
0
0
9311960026889
0
0
0
0
9311960026780
0
0
0
0
9311960026797
0
0
0
0
9311960026803
0
0
0
0
9311960026810
0
0
0
0
9311960026827
0
0
0
0
9311960026902
0
0
0
0
9311960026919
0
0
0
0
9311960026926
0
0
0
0
9311960026933
0
0
0
0
9311960026940
0
0
0
0
9311960026773
0
0
0
0
9311960026445
0
0
0
0