Winsor & Newton Professional Watercolour Sticks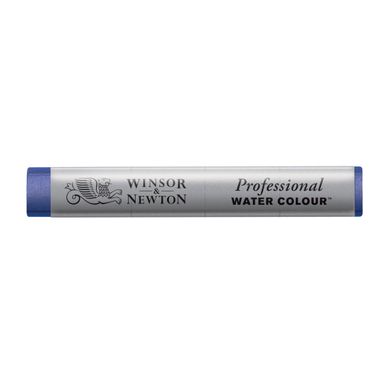 From drawing to watercolour! Adding a unique dimension to art work, the colour can be applied dry and directly onto paper like a pencil, then wet with water to create stunning, soft watercolour washes — even years later. Offering the same exceptional colour performance as Winsor & Newton Professional Watercolours, but in a stick format for increased versatility.
Professional Watercolour Sticks are fully intermixable with Winsor & Newton Watercolour tubes, Watercolour Markers and Mediums. Transportable for use on-the-go as easily as in the studio.
Set of 10 Contains:
10 x Professional Watercolour Sticks: Cadmium Yellow Hue, Alizarin Crimson, Yellow Ochre, Ivory Black, Burnt Umber, Winsor Yellow, Prussian Blue, Cadmium Red Hue, French Ultramarine and Winsor Green (Blue Shade). Colours are subject to variations.
Set of 10

0404112 - #0884955033111

Length: 23 mm

Width: 170 mm

Height: 139 mm

Weight: 170 g

Lemon Yellow (347)

0407298 - #884955033456

Length: 58 mm

Width: 8 mm

Height: 8 mm

Weight: 6 g

Winsor Yellow (730)

0407350 - #884955033463

Length: 9 mm

Width: 9 mm

Height: 58 mm

Weight: 11 g

Aureolin (016)

0407264 - #884955033470

Length: 9 mm

Width: 9 mm

Height: 58 mm

Weight: 10 g

Cadmium Yellow Hue (109)

0407274 - #884955033494

Length: 9 mm

Width: 9 mm

Height: 58 mm

Weight: 10 g

New Gambodge (267)

0407286 - #884955033487

Length: 9 mm

Width: 9 mm

Height: 58 mm

Weight: 10 g

Indian Yellow (319)

0407292 - #884955033500

Length: 9 mm

Width: 9 mm

Height: 58 mm

Weight: 10 g

Cadmium Orange Hue (090)

0407270 - #884955033517

Length: 9 mm

Width: 9 mm

Height: 58 mm

Weight: 10 g

Scarlet lake (603)

0407330 - #884955033524

Length: 9 mm

Width: 9 mm

Height: 58 mm

Weight: 10 g

Cadmium Red Hue (095)

0407272 - #884955033531

Length: 9 mm

Width: 9 mm

Height: 58 mm

Weight: 6 g

Quinacridone Red (548)

0407324 - #884955033548

Length: 9 mm

Width: 9 mm

Height: 58 mm

Weight: 10 g

Winsor Red Deep (725)

0407348 - #884955033555

Length: 9 mm

Width: 9 mm

Height: 58 mm

Weight: 11 g

Alizarin Crimson (004)

0407260 - #884955033562

Length: 9 mm

Width: 9 mm

Height: 58 mm

Weight: 9 g

Permanent Rose (502)

0407314 - #884955033579

Length: 9 mm

Width: 9 mm

Height: 58 mm

Weight: 11 g

Opera Rose (448)

0407306 - #884955033586

Length: 9 mm

Width: 9 mm

Height: 58 mm

Weight: 11 g

Quinacridone Magenta (545)

0407320 - #884955033593

Length: 9 mm

Width: 9 mm

Height: 58 mm

Weight: 11 g

Permanent Magenta (489)

0407312 - #884955033609

Length: 9 mm

Width: 9 mm

Height: 58 mm

Weight: 11 g

Ultramarine Violet (672)

0407338 - #884955033616

Length: 9 mm

Width: 9 mm

Height: 58 mm

Weight: 11 g

Winsor Violet (733)

0407352 - #884955033623

Length: 9 mm

Width: 9 mm

Height: 58 mm

Weight: 11 g

Cobalt Blue (178)

0407278 - #884955033647

Length: 9 mm

Width: 9 mm

Height: 58 mm

Weight: 10 g

Winsor Blue (Red Shade) (709)

0407344 - #884955033654

Length: 9 mm

Width: 9 mm

Height: 58 mm

Weight: 11 g

Antwerp Blue (010)

0407262 - #884955033661

Length: 9 mm

Width: 9 mm

Height: 58 mm

Weight: 10 g

Prussian Blue (538)

0407318 - #884955033678

Length: 9 mm

Width: 9 mm

Height: 58 mm

Weight: 11 g

Cerulean Blue (137)

0407276 - #884955033685

Length: 9 mm

Width: 9 mm

Height: 58 mm

Weight: 11 g

Manganese Blue Hue (379)

0407300 - #884955033692

Length: 9 mm

Width: 9 mm

Height: 58 mm

Weight: 11 g

Winsor Green (Blue Shade) (719)

0407346 - #884955033715

Length: 9 mm

Width: 9 mm

Height: 58 mm

Weight: 10 g

Viridian Hue (696)

0407342 - #884955033722

Length: 9 mm

Width: 9 mm

Height: 58 mm

Weight: 11 g

Terre Verte (637)

0407334 - #884955033739

Length: 9 mm

Width: 9 mm

Height: 58 mm

Weight: 10 g

Hooker's Green (311)

0407288 - #884955033753

Length: 9 mm

Width: 9 mm

Height: 58 mm

Weight: 11 g

Permanent Sap Green (503)

0407316 - #884955033760

Length: 9 mm

Width: 9 mm

Height: 58 mm

Weight: 10 g

Olive Green (447)

0407304 - #884955033777

Length: 9 mm

Width: 9 mm

Height: 58 mm

Weight: 10 g

Naples Yellow (422)

0407302 - #884955033784

Length: 9 mm

Width: 9 mm

Height: 58 mm

Weight: 10 g

Yellow Ochre (744)

0407354 - #884955033791

Length: 9 mm

Width: 9 mm

Height: 58 mm

Weight: 11 g

Raw Sienna (552)

0407326 - #884955033807

Length: 9 mm

Width: 9 mm

Height: 58 mm

Weight: 10 g

Quinacridone Gold (547)

0407322 - #884955033814

Length: 9 mm

Width: 9 mm

Height: 58 mm

Weight: 10 g

Burnt Sienna (074)

0407266 - #884955033821

Length: 9 mm

Width: 9 mm

Height: 58 mm

Weight: 11 g

Indian Red (317)

0407290 - #884955033838

Length: 9 mm

Width: 9 mm

Height: 58 mm

Weight: 11 g

Raw Umber (554)

0407328 - #884955033845

Length: 9 mm

Width: 9 mm

Height: 58 mm

Weight: 10 g

Burnt Umber (076)

0407268 - #884955033852

Length: 9 mm

Width: 9 mm

Height: 58 mm

Weight: 10 g

Vandyke Brown (676)

0407340 - #884955033869

Length: 9 mm

Width: 9 mm

Height: 58 mm

Weight: 11 g

Ivory Black (331)

0407296 - #884955033906

Length: 9 mm

Width: 9 mm

Height: 58 mm

Weight: 11 g

Davy's Grey (217)

0407282 - #884955033913

Length: 9 mm

Width: 9 mm

Height: 58 mm

Weight: 10 g

Titanium White (644)

0407336 - #884955033920

Length: 9 mm

Width: 9 mm

Height: 58 mm

Weight: 10 g
 
Barcode
Length (mm)
Width (mm)
Height (mm)
Weight (g)
0884955033111
23
170
139
170

EDP:0407298

Lemon Yellow (347)

884955033456
58
8
8
6

EDP:0407350

Winsor Yellow (730)

884955033463
9
9
58
11

EDP:0407264

Aureolin (016)

884955033470
9
9
58
10

EDP:0407274

Cadmium Yellow Hue (109)

884955033494
9
9
58
10

EDP:0407286

New Gambodge (267)

884955033487
9
9
58
10

EDP:0407292

Indian Yellow (319)

884955033500
9
9
58
10

EDP:0407270

Cadmium Orange Hue (090)

884955033517
9
9
58
10

EDP:0407330

Scarlet lake (603)

884955033524
9
9
58
10

EDP:0407272

Cadmium Red Hue (095)

884955033531
9
9
58
6

EDP:0407324

Quinacridone Red (548)

884955033548
9
9
58
10

EDP:0407348

Winsor Red Deep (725)

884955033555
9
9
58
11

EDP:0407260

Alizarin Crimson (004)

884955033562
9
9
58
9

EDP:0407314

Permanent Rose (502)

884955033579
9
9
58
11

EDP:0407306

Opera Rose (448)

884955033586
9
9
58
11

EDP:0407320

Quinacridone Magenta (545)

884955033593
9
9
58
11

EDP:0407312

Permanent Magenta (489)

884955033609
9
9
58
11

EDP:0407338

Ultramarine Violet (672)

884955033616
9
9
58
11

EDP:0407352

Winsor Violet (733)

884955033623
9
9
58
11

EDP:0407278

Cobalt Blue (178)

884955033647
9
9
58
10

EDP:0407344

Winsor Blue (Red Shade) (709)

884955033654
9
9
58
11

EDP:0407262

Antwerp Blue (010)

884955033661
9
9
58
10

EDP:0407318

Prussian Blue (538)

884955033678
9
9
58
11

EDP:0407276

Cerulean Blue (137)

884955033685
9
9
58
11

EDP:0407300

Manganese Blue Hue (379)

884955033692
9
9
58
11

EDP:0407346

Winsor Green (Blue Shade) (719)

884955033715
9
9
58
10

EDP:0407342

Viridian Hue (696)

884955033722
9
9
58
11

EDP:0407334

Terre Verte (637)

884955033739
9
9
58
10

EDP:0407288

Hooker's Green (311)

884955033753
9
9
58
11

EDP:0407316

Permanent Sap Green (503)

884955033760
9
9
58
10

EDP:0407304

Olive Green (447)

884955033777
9
9
58
10

EDP:0407302

Naples Yellow (422)

884955033784
9
9
58
10

EDP:0407354

Yellow Ochre (744)

884955033791
9
9
58
11

EDP:0407326

Raw Sienna (552)

884955033807
9
9
58
10

EDP:0407322

Quinacridone Gold (547)

884955033814
9
9
58
10

EDP:0407266

Burnt Sienna (074)

884955033821
9
9
58
11

EDP:0407290

Indian Red (317)

884955033838
9
9
58
11

EDP:0407328

Raw Umber (554)

884955033845
9
9
58
10

EDP:0407268

Burnt Umber (076)

884955033852
9
9
58
10

EDP:0407340

Vandyke Brown (676)

884955033869
9
9
58
11

EDP:0407296

Ivory Black (331)

884955033906
9
9
58
11

EDP:0407282

Davy's Grey (217)

884955033913
9
9
58
10

EDP:0407336

Titanium White (644)

884955033920
9
9
58
10
Winsor & Newton Watercolour Sticks

Download