Reeves Fine Artist Watercolour Sets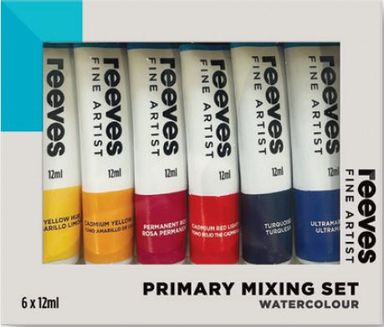 Reeves Fine Artist Watercolour Paints are well respected amongst artists and art enthusiasts for their purity, quality and reliability, offering a wide choice of pigmented colours with high permanence.
The beauty of watercolour in its immediacy creates luscious washes of colour. Unique in its versatility to be re-wet and re-used from a tube or palette, makes it perfect for portable creative pursuits.
This set contains the key cool & warm primary colours, when used together result in both clean and bright secondary colour mixes.
Cool
Lemon Yellow Hue
Permanent Rose
Turquoise
Warm
Cadmium Yellow Hue
Cadmium Red Light Hue
Ultramarine
Primary Mixing Set

0082530 - #9311960082533

Length: 50 mm

Width: 100 mm

Height: 50 mm

Weight: 100 g
 
Barcode
Length (mm)
Width (mm)
Height (mm)
Weight (g)

EDP:0082530

Primary Mixing Set

9311960082533
50
100
50
100