Reeves Fine Artists Oil Colour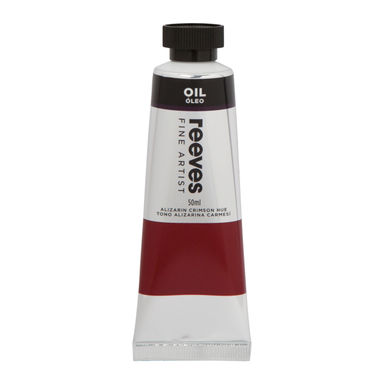 Reeves Fine Artist Oil 50ml paints are highly pigmented and permanent.
A smooth and buttery consistency, the paint can be easily spread with a palette knife or brush.
Ideal for painting techniques such as blending, glazing and impasto.
Oil paint typically has a long drying time allowing extra time to refine work.
Available in a spectrum of 32 premium colours.
Lemon Yellow

0054920 - #9311960054929

Length: 85 mm

Width: 15 mm

Height: 15 mm

Weight: 75 g

Medium Yellow

0054930 - #9311960054936

Length: 85 mm

Width: 15 mm

Height: 75 mm

Weight: 75 g

Deep Yellow

0054940 - #9311960054943

Length: 85 mm

Width: 15 mm

Height: 75 mm

Weight: 75 g

Indian Yellow

0088550 - #9311960088559

Length: 85 mm

Width: 15 mm

Height: 15 mm

Weight: 75 g

Cadmium Red Light Hue

0054970 - #9311960054974

Length: 85 mm

Width: 15 mm

Height: 75 mm

Weight: 75 g

Orange

0088560 - #9311960088566

Length: 85 mm

Width: 15 mm

Height: 15 mm

Weight: 75 g

Scarlet

0054990 - #9311960054998

Length: 85 mm

Width: 15 mm

Height: 75 mm

Weight: 75 g

Cadmium Red Hue

0055000 - #9311960055001

Length: 85 mm

Width: 15 mm

Height: 75 mm

Weight: 75 g

Alizarin Crimson Hue

0055010 - #9311960055018

Length: 85 mm

Width: 15 mm

Height: 75 mm

Weight: 75 g

Quinacridone Magenta

0055020 - #9311960055025

Length: 85 mm

Width: 15 mm

Height: 75 mm

Weight: 75 g

Dioxazine Violet

0055040 - #9311960055049

Length: 85 mm

Width: 15 mm

Height: 75 mm

Weight: 75 g

Permanent Purple

0088650 - #9311960088658

Length: 85 mm

Width: 15 mm

Height: 15 mm

Weight: 75 g

Prussian Blue

0055110 - #9311960055117

Length: 85 mm

Width: 15 mm

Height: 75 mm

Weight: 75 g

Phthalo Blue

0055100 - #9311960055100

Length: 85 mm

Width: 15 mm

Height: 75 mm

Weight: 75 g

Ultramarine

0055050 - #9311960055056

Length: 85 mm

Width: 15 mm

Height: 75 mm

Weight: 75 g

Cobalt Blue Hue

0055060 - #9311960055063

Length: 85 mm

Width: 15 mm

Height: 75 mm

Weight: 75 g

Cerulean Blue Hue

0055080 - #9311960055087

Length: 85 mm

Width: 15 mm

Height: 75 mm

Weight: 75 g

Manganese Blue Hue

0055090 - #9311960055094

Length: 85 mm

Width: 15 mm

Height: 75 mm

Weight: 75 g

Duck Egg Blue

0088660 - #9311960088665

Length: 85 mm

Width: 15 mm

Height: 15 mm

Weight: 75 g

Cobalt Turquoise Hue

0088610 - #9311960088610

Length: 85 mm

Width: 15 mm

Height: 15 mm

Weight: 75 g

Peacock Green

0088600 - #9311960088603

Length: 85 mm

Width: 15 mm

Height: 15 mm

Weight: 75 g

Cobalt Emerald

0088630 - #9311960088634

Length: 85 mm

Width: 15 mm

Height: 15 mm

Weight: 75 g

Cobalt Leaf Green

0088620 - #9311960088627

Length: 85 mm

Width: 15 mm

Height: 15 mm

Weight: 75 g

Green Grey

0088640 - #9311960088641

Length: 85 mm

Width: 15 mm

Height: 15 mm

Weight: 75 g

Chrome Oxide

0055180 - #9311960055186

Length: 85 mm

Width: 15 mm

Height: 75 mm

Weight: 75 g

Sap Green

0055170 - #9311960055179

Length: 85 mm

Width: 15 mm

Height: 75 mm

Weight: 75 g

Olive Green

0055150 - #9311960055155

Length: 85 mm

Width: 15 mm

Height: 75 mm

Weight: 75 g

Phthalo Green (BS)

0055120 - #9311960055124

Length: 85 mm

Width: 15 mm

Height: 75 mm

Weight: 75 g

Naples Yellow

0055200 - #9311960055209

Length: 85 mm

Width: 15 mm

Height: 75 mm

Weight: 75 g

Yellow Ochre

0055210 - #9311960055216

Length: 85 mm

Width: 15 mm

Height: 75 mm

Weight: 75 g

Cameo Brown

0088590 - #9311960088597

Length: 85 mm

Width: 15 mm

Height: 15 mm

Weight: 75 g

Sandstone

0088570 - #9311960088573

Length: 85 mm

Width: 15 mm

Height: 15 mm

Weight: 75 g

Gold Ochre

0055220 - #9311960055223

Length: 85 mm

Width: 15 mm

Height: 75 mm

Weight: 75 g

Burnt Sienna

0055230 - #9311960055230

Length: 85 mm

Width: 15 mm

Height: 75 mm

Weight: 75 g

Red Ochre

0088580 - #9311960088580

Length: 85 mm

Width: 15 mm

Height: 15 mm

Weight: 75 g

Vandycke Brown

0055260 - #9311960055261

Length: 85 mm

Width: 15 mm

Height: 75 mm

Weight: 75 g

Burnt Umber

0055240 - #9311960055247

Length: 85 mm

Width: 15 mm

Height: 75 mm

Weight: 75 g

Raw Umber

0055250 - #9311960055254

Length: 85 mm

Width: 15 mm

Height: 75 mm

Weight: 75 g

Carbon Black

0055290 - #9311960055292

Length: 85 mm

Width: 15 mm

Height: 75 mm

Weight: 75 g

Ivory Black

0055300 - #9311960055308

Length: 85 mm

Width: 15 mm

Height: 75 mm

Weight: 75 g

Payne's Grey

0055280 - #9311960055285

Length: 85 mm

Width: 15 mm

Height: 75 mm

Weight: 75 g

Blue Grey

0088690 - #9311960088696

Length: 85 mm

Width: 15 mm

Height: 15 mm

Weight: 75 g

Yellow Grey

0088680 - #9311960088689

Length: 85 mm

Width: 15 mm

Height: 15 mm

Weight: 75 g

Orange Grey

0088700 - #9311960088702

Length: 85 mm

Width: 15 mm

Height: 15 mm

Weight: 75 g

Gold

0088710 - #9311960088719

Length: 85 mm

Width: 15 mm

Height: 15 mm

Weight: 75 g

Silver

0088720 - #9311960088726

Length: 85 mm

Width: 15 mm

Height: 15 mm

Weight: 75 g

Buff Titanium

0055190 - #9311960055193

Length: 85 mm

Width: 15 mm

Height: 75 mm

Weight: 75 g

Titanium White

0054890 - #9311960054899

Length: 85 mm

Width: 15 mm

Height: 15 mm

Weight: 75 g

Zinc White

0054900 - #9311960054905

Length: 85 mm

Width: 15 mm

Height: 15 mm

Weight: 75 g
 
Barcode
Length (mm)
Width (mm)
Height (mm)
Weight (g)
9311960054929
85
15
15
75

EDP:0054930

Medium Yellow

9311960054936
85
15
75
75
9311960054943
85
15
75
75

EDP:0088550

Indian Yellow

9311960088559
85
15
15
75

EDP:0054970

Cadmium Red Light Hue

9311960054974
85
15
75
75
9311960088566
85
15
15
75
9311960054998
85
15
75
75

EDP:0055000

Cadmium Red Hue

9311960055001
85
15
75
75

EDP:0055010

Alizarin Crimson Hue

9311960055018
85
15
75
75

EDP:0055020

Quinacridone Magenta

9311960055025
85
15
75
75

EDP:0055040

Dioxazine Violet

9311960055049
85
15
75
75

EDP:0088650

Permanent Purple

9311960088658
85
15
15
75

EDP:0055110

Prussian Blue

9311960055117
85
15
75
75
9311960055100
85
15
75
75
9311960055056
85
15
75
75

EDP:0055060

Cobalt Blue Hue

9311960055063
85
15
75
75

EDP:0055080

Cerulean Blue Hue

9311960055087
85
15
75
75

EDP:0055090

Manganese Blue Hue

9311960055094
85
15
75
75

EDP:0088660

Duck Egg Blue

9311960088665
85
15
15
75

EDP:0088610

Cobalt Turquoise Hue

9311960088610
85
15
15
75

EDP:0088600

Peacock Green

9311960088603
85
15
15
75

EDP:0088630

Cobalt Emerald

9311960088634
85
15
15
75

EDP:0088620

Cobalt Leaf Green

9311960088627
85
15
15
75
9311960088641
85
15
15
75
9311960055186
85
15
75
75
9311960055179
85
15
75
75
9311960055155
85
15
75
75

EDP:0055120

Phthalo Green (BS)

9311960055124
85
15
75
75

EDP:0055200

Naples Yellow

9311960055209
85
15
75
75
9311960055216
85
15
75
75
9311960088597
85
15
15
75
9311960088573
85
15
15
75
9311960055223
85
15
75
75
9311960055230
85
15
75
75
9311960088580
85
15
15
75

EDP:0055260

Vandycke Brown

9311960055261
85
15
75
75
9311960055247
85
15
75
75
9311960055254
85
15
75
75
9311960055292
85
15
75
75
9311960055308
85
15
75
75
9311960055285
85
15
75
75
9311960088696
85
15
15
75
9311960088689
85
15
15
75
9311960088702
85
15
15
75
9311960088719
85
15
15
75
9311960088726
85
15
15
75

EDP:0055190

Buff Titanium

9311960055193
85
15
75
75

EDP:0054890

Titanium White

9311960054899
85
15
15
75
9311960054905
85
15
15
75