Reeves Oil Colour Brush Sets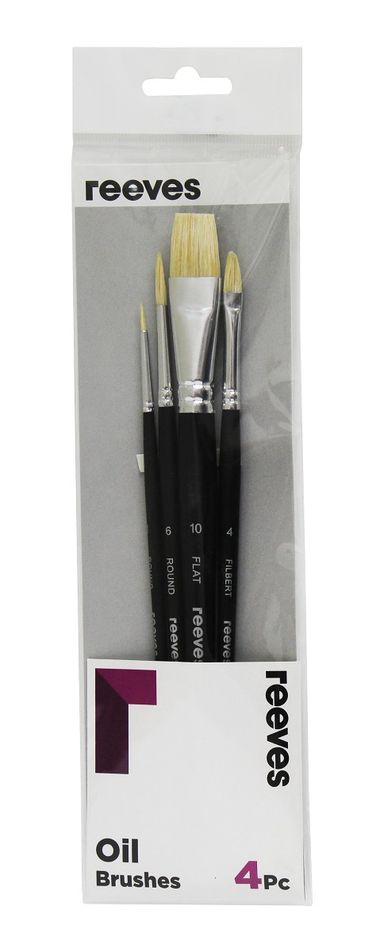 The Reeves Artist Brush Sets, made using hog hair bristles, is suitably created for Reeves range of Oil Colour paints.
Each set contains a selection of varied sized brushes to suit all projects.
Sets include short or long handle brushes. Short handle length is approx. 14cm and long handle length is approx. 24cm.
Great as a gift for beginners.
Hog Bristle Short Handle 7pc (No. 1 3 6 Round; No. 4 10 14 Flat; No. 3 Filbert)

0018010 - #9311960018013

Length: 74 mm

Width: 50 mm

Height: 280 mm

Weight: 25 g

Hog Bristle Short Handle 4pc (No. 1 6 Round; No. 10 Flat; No. 4 Filbert)

0018000 - #9311960018006

Length: 74 mm

Width: 50 mm

Height: 280 mm

Weight: 25 g

Hog Bristle Long Handle 4pc (No. 1 Round; No. 4 10 Flat; No. 3 Filbert)

0017980 - #9311960017986

Length: 70 mm

Width: 50 mm

Height: 380 mm

Weight: 25 g

Short Handle Set of 4 (No. 4 Filbert; No. 10 Flat; No. 1 & 6 Round)

0069680 - #9311960069688

Length: 20 mm

Width: 74 mm

Height: 280 mm

Weight: 120 g

Short Handle Set of 7 (No. 4, 8 & 12 Round; No. 12 Flat; No. 6 Flat; No. 4 & 8 Flat)

0069690 - #9311960069695

Length: 20 mm

Width: 74 mm

Height: 280 mm

Weight: 120 g
 
Barcode
Length (mm)
Width (mm)
Height (mm)
Weight (g)

EDP:0018010

Hog Bristle Short Handle 7pc (No. 1 3 6 Round; No. 4 10 14 Flat; No. 3 Filbert)

9311960018013
74
50
280
25

EDP:0018000

Hog Bristle Short Handle 4pc (No. 1 6 Round; No. 10 Flat; No. 4 Filbert)

9311960018006
74
50
280
25

EDP:0017980

Hog Bristle Long Handle 4pc (No. 1 Round; No. 4 10 Flat; No. 3 Filbert)

9311960017986
70
50
380
25

EDP:0069680

Short Handle Set of 4 (No. 4 Filbert; No. 10 Flat; No. 1 & 6 Round)

9311960069688
20
74
280
120

EDP:0069690

Short Handle Set of 7 (No. 4, 8 & 12 Round; No. 12 Flat; No. 6 Flat; No. 4 & 8 Flat)

9311960069695
20
74
280
120