Reeves Pre-Mixed Acrylic Pour Paint Sets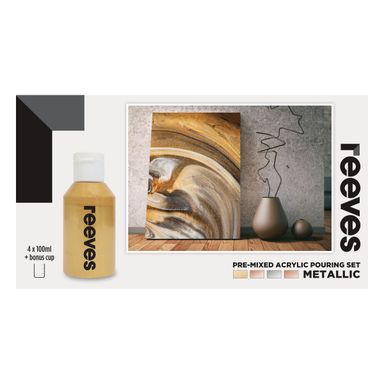 This great set includes Acrylic Paint mixed with pouring medium. Easy, ready to use pour-on formula. No mixing required. 4x 100ml Paints PLUS bonus 100ml pouring cup.
Satin Finish. Water Based. Non Toxic.
Instructions of use:
Shake well before use.
Pour colours directly onto the surface or layer multiple colours into a cup and then pour onto the surface.
Shift or swirl the surface to spread the colours.
4 hours touch dry, 24 hours dried.
Sealer can be applied after 24 hours.
Clean with soap and water.
Always test on a small area before applying to entire surface.
Drop sheet and disposable gloves are recommended during painting process.
NOTE: Do not add any water in paints or mixing cups as this will result in the paints cracking after drying.
Complete 41pc Set

0082500 - #9311960082502

Length: 50 mm

Width: 100 mm

Height: 50 mm

Weight: 100 g

Autumn Set 4

0083980 - #9311960083981

Length: 190 mm

Width: 51 mm

Height: 410 mm

Weight: 510 g

Jewel Set 4

0083970 - #9311960083974

Length: 190 mm

Width: 51 mm

Height: 410 mm

Weight: 510 g

Magnolia Set 4

0083960 - #9311960083967

Length: 190 mm

Width: 51 mm

Height: 410 mm

Weight: 510 g

Paisley Set 4

0083950 - #9311960083950

Length: 190 mm

Width: 51 mm

Height: 410 mm

Weight: 510 g

Metallic Set 4

0052350 - #9311960052352

Length: 190 mm

Width: 51 mm

Height: 510 mm

Weight: 510 g

Primary Set 4

0052330 - #9311960052338

Length: 190 mm

Width: 51 mm

Height: 140 mm

Weight: 510 g

Galaxy Set 4

0052320 - #9311960052321

Length: 190 mm

Width: 51 mm

Height: 140 mm

Weight: 510 g

Ocean Set 4

0052310 - #9311960052314

Length: 190 mm

Width: 51 mm

Height: 140 mm

Weight: 510 g
 
Barcode
Length (mm)
Width (mm)
Height (mm)
Weight (g)

EDP:0082500

Complete 41pc Set

9311960082502
50
100
50
100
9311960083981
190
51
410
510
9311960083974
190
51
410
510

EDP:0083960

Magnolia Set 4

9311960083967
190
51
410
510

EDP:0083950

Paisley Set 4

9311960083950
190
51
410
510

EDP:0052350

Metallic Set 4

9311960052352
190
51
510
510

EDP:0052330

Primary Set 4

9311960052338
190
51
140
510
9311960052321
190
51
140
510
9311960052314
190
51
140
510